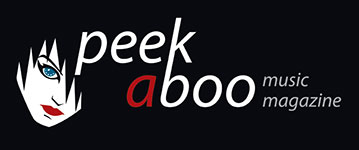 like this interview
---
EX-RZ
A post BIMFEST interview with Peter Slabbynck - The man without a master plan!
13/01/2017, Jurgen BRAECKEVELT
photos: © Benny Serneels
---
Do you have any New Year resolutions for 2017? And if yes, which ones?
For several years it also has been a mystery to me how the new year will evolve. So I don't do resolutions anymore. At the end of 2017 I could be playing in 5 bands. Or in none at all. Surprises are never excluded. I am a man without a masterplan, which incidentally would be a great title for a new dutch single.
Which event(s) in the past year has/have stayed with you the most? And why?
Globally: the brutal attack on Brussels, on my son's birthday, and the unlikely election of Trump. Musically: the many deceased...a true annus horribilis. Luckily I was able to close the year in a great way musically with a performance of New Dark Age in Ostend after the Belgian premiere of 'Walking in the opposite direction', the movie about Adrian Borland of The Sound. A very emotional night. Both for me and for the many fans of The Sound that were present.
EX-RZ is tributary to Red Zebra. You still play Red Zebra songs, next to new material. Why return to the Post-punk/Wave of yesteryear with Ex-RX?
Because for me these were the best years of Red Zebra. I question our later work. Some of the songs are good, some of the songs should perhaps have never been recorded.
EX-RZ is working on their first album, 'Future Retard'. What can we expect?
Work on the album has been suspended. We had a handfull of good songs, but not enough to fill a CD. I didn't want to make the same mistake again and record a full CD that contains songs with which I would not be 100% happy afterwards. The record company did not want an EP. And because I have for a long time wanted to record a version of '17 seconds' of The Cure with a female vocalist we chose to co-operate with Fenne of Whispering Sons. What a voice! But to get back to your question: let's say that the 'future' of EX-RZ has some 'retard' at the moment.
What, to you, is the difference between the work of Red Zebra and what you do with EX-RZ?
Red Zebra is Red Zebra and EX-RZ is EX-RZ. We mainly start from the same songs but treat them differently. It was an enrichment for me to base myself on the dual cast of EX-RZ with Frits and an electro adaptation of the songs. It is very interesting to play the songs I have been playing for years in a new way.
Bankers Will Never Be Beggars was one of the first recongnised songs of EX-RZ. You keep kicking around like an anarchist. Why?
An anarchist? That's a bit exaggerated. I am a critical citizen and that seeps through in my lyrics. That doesn't take any extra effort. It is like that and it will stay like that. It is a pity that there aren't more of my fellow writers here that do that, but each to his own.
There have already been several performances of EX-RZ, both national and international, with your partner in crime guitarist Frits Standaert. Also the Living Room-marathon in spring 2015 followed by the Living Room-sprint in 2016. But at BIMFEST it was the first time you played with a 'full band'. How and where did you find these new musicians and how was the experience?
We indeed tried something else there. That should be possible. To be honest I am not sure yet if this is the right way forward for EX-RZ. But you only learn by trying. If it works in rehearsal that doesn't automatically mean it works on stage. I have learned that, with some patience eventually everything will fall in place. Ask me again in a few months and I might know the answer. In any case Steve and Steven are excellent musicians.
Peter, you are still busy with a number of tribute bands, The Rotten Pistols (Sex Pistols tribute) and New Dark Age (plays The Sound songs). What are your reasons for honouring these Punk heroes?
Those are two separate cases. In my opinion there was not enough attention here for 40 years of Punk last year and that's why I decided to start The Rotten Pistols. We will still do a few gigs this year before we stop. New Dark Age is something completely different, not just for fun but to pay tribute to Adrian Borland and The Sound. I don't try to imitate Adrian but I try to put as much emotion in those fantastic songs as he did. Initially we planned only a few performances but in the meantime the interest in New Dark Age is growing and we even receive requests from abroad. Next weekend for example we will be doing 2 performances in Spain togheter with Curtis.
You already played BIMFEST with Red Zebra and now with EX-RZ. Does this festival have a special meaning to you?
It is a nice and very well-organized festival. How can you refuse that? I was delighted to see how many people were there to see an all Belgian line-up! Hats off to them!
Did you have the opportunity to watch any of the other bands at BIMFEST? If yes, who did you see and what did you think of them?
Unfortunately I could not stay long because I had a train to catch, but I did manage to see Struggler and it was a pleasant surprise to see them on stage again. But otherwise I mainly focused on our own performance because of the different cast. There was some healthy stress in the air.
Last but not least: is there anything you want to say to our readers?
Stay true to yourself. The rest is already complicated enough. And don't give up. Look at me now: I'm almost 55 years old and I have never performed as often as in the past years. Who could have imagined that? Not me.
Jurgen BRAECKEVELT
13/01/2017
---