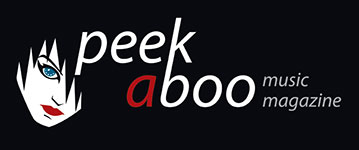 like this interview
---
A;GRUMH...
The post-BIMFEST interview...
25/01/2017, Fred GADGET
---
Hello gentlemen, the New Year has started and so far we are all still alive!
SΔ3: Are we?

First of all, we would like to thank you, and I guess I can speak for every single à;GRUMH fan who attended your unique show at BIMFEST, so much for putting on such a great performance! But how was YOUR experience of this adventure?
SΔ3: Well. The day after I was walking like a 30000 year old dinosaur and I'm not that old. But the thing itself was fun. We were, of course, very proud to be chosen to headline such an important event and happy and proud to see so many people coming from countries all around the world. 15 from Sweden, a couple from Norway, Switzerland, many Germans too, one Canadian and guys from Brazil! All we missed was T@25, Stefan and Mina Yamada!
JΔ3: It was fucking amazing!!! I was in a trance. To be on stage with a wild audience was great, so fucking great!!! Thank you Girls and Boys!!! Hell-ooo to The Swedish Area!!!
JΔ55: It was memorable! It was an honour for me to play with à;GRUMH......there were crisps and beer in the dressing room! But S3 forgets to say that there were also people from Ham-Sur-Heure and the audience was great!
SΔ3: Weren't they from Nalinnes? Anyway, I was very annoyed that one of my synths was NOT working during both Ayatollah and Danger Zone and neither was my guitar... some major art was missed there, humph. We are planning to sue! That is the problem with the technical side at festivals....you have less control and God knows I don't enjoy that. Oh, and we liked the crisps in the dressing room too. Crisps are nice.
Personally, I loved the way you managed to switch quite well from pure EBM to pure Noise songs. Who and how did you decide on the set-list? I can imagine it must have been a painstaking task to distil a playlist from your complete back catalogue.
SΔ3: J@3 didn't want to sing Danger Zone at first. I had to insist a LOT. He wanted Hammam instead. Finally he loved singing it and I saw audience members singing with their arms in the air "Who's got the riiiight...". That song is dear to my heart, I think it's the best I have written, along with MDA, CBB and strangely, Loco Loco which I re-discovered lately, and I had totally forgotten.
JΔ3: It took some brainstorming but quickly we decided to choose some EBM classics and also to express our industrial and ritual side... à;GRUMH... versus nEGAPADRES.3.3.
SΔ3: About the ambient/industrial, we always did that. On the 89/90 tour there was EBM but also industrial/ambient songs, such as the Unclean cover (Psychic TV) but I must say that the version we played at Bimfest is, by far, the best we have done, ever: with J@55 on guitar + àRCHET (bow) and me on two synths, we really created a magical result. Oh yeah, and J@3's screams too.
JΔ55: The balance was very good in the choice of tracks. It was important to show the different aspects of à;GRUMH... I totally agree with S3, the cover of Unclean was an amazing moment. J3 was completely possessed!!! The first time I tried to play the guitar with a bow, I heard "Schrzzzzzzzwwwwwgnnnnniiiiiiiiii" and thought "it's great!". So I proposed this solution to S3 and J3 who accepted because I am very smart and they love me very much.
SΔ3: Very wise of you. The other noisy song, Transe ov Extrophy is a nEGAPADRES.3.3. song from the first album J@3 and I made in the 2000s "Extrophy of Amphigouris" (Hermetique Records). I'm very proud of it, and even more of the next one "La Phobie du Cheval" also on Hermetique. We have another one ready, finished, by the way and we are looking for a label to release it ! I would have loved to play CBB and Kill and Hamman, Chilly Willy, Gina du Plaza, etc... but we are old, and one hour was the maximum we could plan for the main set, knowing we would have three encores or more. Puratos was a last minute addition, I suggested doing it the week before the concert. It was on the very first record and a symbol of the original à;GRUMH... eXpression : Puratos ! Putasse, TOY !
Besides the strong set-list we also noticed also some pig heads amongst your stage attributes. Can you explain to us why you love pig heads so much?
JΔ55: It reminds me of someone in my family. Both for appearance and smell.
SΔ3: It's very tasty! J@3 and his pigs, you know.
JΔ3 : But mEEE mYSELF and III, wEEE hate, HATE pig heads !!! WEEE wanna go sea fishing …
SΔ3: For the 89/90 world tour we had Naf-Naf, a pig head made of papier-maché and paint, by Lio. It was fun and less smelly but you should check some pictures from the 2008 n.3.3. Berlin Bruit performance.
What's the story of the throne SΔ3 sat on and what will become of it now?
SΔ3: It was an idea of Peter MadBoum (from Boumfest) :-). My weight is 0.21 tons (I'm proud of it, btw) and thus I cannot stand on stage for more than 5 minutes without intense pain in the hips or knees. So I must sit. At the Coliseum performance in Charleroi I sat on a cinema chair placed on a flightcase. Peter was good enough to imagine and fabricate this throne for me. It was AMAZING looking and I cannot thank him enough for making it!
As what will become of it, we are thinking of putting it in my wine bar (saka20.com - come visit) if/when Peter finds the opportunity to bring it to Charleroi as personally I ran out of camels. So maybe it will be there as a permanent attraction.
Fans from all over the world came to see you and expectations were high…
How did this make you feel before, during and after your performance?
SΔ3: Before: quite proud ! During: quite proud ! After: quite proud !
JΔ3: Before, I was nervous. During the show, I was a eLLL bEASTO!!! After our performance, I was flying so high, so high...
JΔ55: Proud, of course! Excited! After the performance, I was wondering "was this real?" but I saw the photos, so, yes, I guess it was.
If I'm not mistaken you played two cover songs, 'Unclean' and 'Der Mussolini'. Why those tracks specifically?
SΔ3: Unclean is from Psychic TV, the band of Genesis P-Orridge, formerly the singer/star of T.G. or Throbbing Gristle. I think we played it for the first time in 1988. We used to play "Discipline" from T.G. just with rhythm and noises, very powerful. "Der Mussolini" is "the" star song of the genre. I remember seeing DAF live in Brussels in 1981 or 82. What a great sound. I think our version is very respectful of the original and I am glad to see people enjoying it so much. However I insist on adding some extra lyrics to it, "Tanz der Jean-Marie Le Pen" and "Tanz der Donald Trump" being some of those.
JΔ55: I had proposed covers of Trisomy 21, Culture Club and Helmut Lotti, but they did not agree. I still don't understand why.
JΔ3 : 'Unclean' is one of my favourite songs of Psychic TV. Ritual and industrial music to touch the sky... Jesus is here motherfuckers, with his lies. It's so obscene and I love it. 'Der Mussolini'? We are puppets, we follow the leaders and we obey blindly. Well, wake up, stand up and be yourself!!!
For this unique occasion you inaugurated a new member JΔ55 and invited Jean-Marc Lederman. Why and how did this happen?
SΔ3: J@55 eKOJ aka Joke Magnussen already played with us at the Coliseum performance three years ago. He is a long time fan of à;GRUMH... and about ten years ago he became one of my dearest friends. He is one of the most clever and funniest people I know.
JΔ55: Oh merci mon chéri, dis.
SΔ3: De rien, mon chéri.
JΔ55: Indeed, I have been a fan for a very long time. A few years ago I had remixed several tracks of à;GRUMH... just for fun. So when S3 asked me to play with them, I didn't even think, I answered "yes!"… or "gniii", I don't remember very well.
JΔ3: Jean-Marc is insane and he likes to make insane music.
SΔ3: J@55 also has a very beautiful wife, and two children, sadly. His son is apparently completely mad. He's very proud of him/it.
JΔ55: My wife is the most perfect in the world. She is marvellous. Indeed, my son is absolutely crazy. It's a kind of mix between Jim Carrey and Jerry Lewis.
SΔ3: I initially sent invites to several "music friends" or colleagues from our musical past we had played with or we knew during our career. Guests included Rodney Orpheus from The Cassandra Complex, cEVIN Key from Skinny Puppy, Paul McCartney, George Michael and Micky Mike from Snowy Red, etc. They all said ok if they would be in the area but they weren't in the end. Micky Mike did not reply, the bastard! I wish him dead now. ;-) George said he was too busy dying. Pfff, lazy Greeks... no wonder their country is in recession! Haha.
Jean-Marc Lederman was the first to reply and accept. He is a dear friend and a great star (of absolute and utter class) and even though he HATES the stage, he agreed to come for us. We also had invited Marc and Didier of La Muerte who wanted to come, but in the end had to finish studio work on their new album and were working on it that weekend.
Which à;GRUMH… song or album do you personally like the most?
SΔ3: Joke, you're the fan, you start!
JΔ55: The first album I stole... erm, bought, was 'Rebearth'. It was very fun to play it at very loud volume at home, while my parents looked at me with sadness, saying "Moooooondjeu" (a kind of "Oh My Godddd" in Walloon). I think the album "No Way Out" is my favourite. It is very difficult to choose. Every time I bought an à;GRUMH... record, I was surprised and satisfied.
JΔ3: ARMI (Ambient / Ritual / Minimal(istic) / Industrial) MUSIC is a way of life … my favourite album is REBEARTH, released as à;GRUMH... but to be considered now as the first nEGAPADRES.3.3. album really. Songs? 'New Fashion', 'Sucking Energy', 'Danger Zone', 'Drama In The Subway', 'Edito', 'Hapeople', 'Hammam', 'Ayotollah Jackson', 'Caterpillar' are chronicles of our life, of your life, of their life if you see what I mean...
SΔ3: As I composed those songs, they are all like babies to me. So it's hard to choose. I'd say amongst the EBM ones I love 'Penser et Agir' best, and also 'Ayatollah Jackson'. Amongst the more "EBpop" songs, 'CBB' and 'Danger Zone'. And also I love slower stuff like 'An Island Called or Bucaresse'. I love all the albums and records we made. They all contain great tracks, I'm sorry to sound a bit pretentious but they really do! Sometimes there are weaker songs, but most of all those were good records. I am also totally proud of all the nEGAPADRES.3.3., Theee Rebearth Corporation and Polar Praxis records I made. In total it's 26 releases plus the most recent releases: that is a LOT of babies!
Scoop: There is a re-release of my early Polar Praxis material in preparation for 2017 as well as a Circle Records anthology box !
Do you have any further musical plans with à;GRUMH… or other side/solo projects?

JΔ3: We have proposals of labels to re-issue our albums (originals and best of ) and to sell new t-shirts...

SΔ3: Musically, except re-releases or compilations, no. Since we have a new nEGAPADRES.3.3. (J@3 and me) album ready and finished, I think we should find a label to release that one before doing anything else. Anyway, if we do anything new musically, J@55 will be part of it. We love her like our own daughter. Her dancing makes me euphoric and weirdly Bosnian.
JΔ55: I want to record a Bossa-Nova cover album of à;GRUMH... with the London Philharmonic Orchestra and Mariah Carey. I have sent them several requests, but no one has yet answered. I do not despair.
SΔ3: But Mariah Carey (aka Conchita Rectangle aka Cette Enorme Pouffe) passed away recently, didn't you hear?
Which event of 2016, besides BIMFEST of course, impressed you the most?
SΔ3: The Golden Globe Awards. I love it!!! And the Lakeside Dart Championship, hot men there woohh... and great nights in my wine bar :-)
JΔ3: The Runes and Men Festival in Leipzig.
JΔ55: I think of La Kermesse de Purnode. "A l'dicause di Purnode, on bwèt pus qu'on r'naude.
Do you have any (good) New Year resolutions? And if, so what are they?
JΔ55: 1680x1050 pixels.
JΔ3: Be mYSELFFF in the Dark !
SΔ3: My resolution is NOT to have any New Year resolutions.
Last but not least … when will we ever see à;GRUMH… play live again?
SΔ3: There was 23 years between the last concert in 1991 and the Coliseum performance. Then 3 years counted (14,15,16) between that and Bimfest. So now logically we must wait either 13 years or 33 years.
JΔ3: No !
JΔ55: What more can be said? No way!
SΔ3: Well...
Well, thank you so much for your time! Maybe a last message to the world?
SΔ3: If any guys reading this are between 16 and 70, between 125kg and 250kg and at least a little hairy, send me pictures of yourself without a shirt at: philippe@saka20.com
Apart from that, remember life is short and you need to have FUN while you're alive. Eat, Drink, Laugh, Have sex, Love people, and create emotions! Build happy souvenirs for you and for others. It's the best way you'll be remembered.
JΔ55: à;GRUMH... says "it's a cunt". We were à;GRUMH... and they were not!
SΔ3: Yes, It's a Cunt! Cunt buy me lo-ove, Cunt buy me looooove...
JΔ3: UNITED, WE STAND! DIVIDED WE FALL!
SΔ3: PURATOS!
Fred GADGET
25/01/2017
---