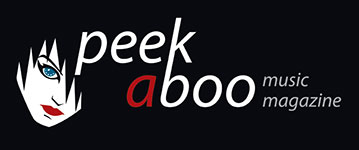 like this interview
---
DANIEL HALL
An artist is as good as their reference.
26/10/2016, Stef COLDHEART
---
Can you first of all introduce yourself revealing your musical background and main sources of inspiration?Daniel: Music has been a labor of love since I was a child. Having been brought up in a home in the UK and then South Africa, my father always had music playing (he was a jazz drummer in his youth) and it left an indelible mark on me. In the early 80s, my father would bring back from his overseas business trips cassette tapes of new pop groups and this got me hooked. I was always in choirs at schools and just loved singing. In my teens I started saving my pocket money and bought as many records and tapes as I could. That synth sound just captivated me, like Gary Numan, Depeche Mode, The Human League, Camouflage, Erasure, Tears For Fears etc. As a teenager, I saved up for a nice stereo unit and keyboard whilst working in the holidays. After finishing University, the family moved to New Zealand and I started to dabble around making some of my own material on a 4 track mixer and mike. I released my first album in 1992 on cassette and entered an 89FM music competition where I was runner up at which time I received a bit of NZ radio airplay. It was hard to do and looking back it sounded pretty rough. With travel and work commitments there was a hiatus of creating, but I never lost the passion.
How do you see yourself (as a musician) and what kind of sound do you compose?
Daniel: As a designer, I am highly creative. I keep a notebook and pen next to my bed and in my car as I am always coming up with ideas, lyrics and tunes and need to write them down as quickly as possible before I forget them. I am more of a composer than a good musician or keyboard player. An artist is as good as his references, so I spend a lot of time listening to different sounds and songs for inspiration. The electronic, electro-pop and new-wave undertones are always in my material, however I try and bring in instruments and sounds from other genres to make things more interesting and original. Most of the lyrics in my songs are about what I have lived through, so it is very personal. They are stories of life, love and loss. With all these highs and lows, it makes great writing material. Sometimes it is a way of getting what I want to say out and it is a healing process. It is a cathartic release. I produce everything myself and remain unsigned and independent. Going forward, I am hoping to do more collaboration's and hopefully write for other artists that might like to work with me in the future. I have loads of ideas.
How do you look back on each of your releases and do you see an evolution in sound, recording, production?
Daniel: Technology has had a massive effect on me in business as a designer and music. It made things so much easier. If it were not for this, I probably would not have gone down the path creating more music. I moved to Sydney, Australia in 1995 and with a lot of encouragement from family and friends I decided to challenge myself and create my 1st full studio album, do it properly and test the old vocals out. I released Deep Down in 2011 via Tunecore. The album paid for itself from sales, which was amazing.
Encouraged, I decided to keep with that style, tune up the vocals and make it more about me going forward. I have not looked back since then and I am currently working on my 8th full studio album. Each album is an improvement on the last as I have settled into my sound, but I am always searching for something different to keep reactivating the creative juices.
On my last 2 albums, I have introduced female vocals to add a different dimension and keep people wondering what is coming next. I keep things a lot tighter now, am more selective and far more critical of myself. Technology is amazing. I do everything at home and liaise with sound engineers and other artists around the world all online. If I can do it, so can anyone else if they wanted to. The people I work with, I have still not met face-to-face but have built up great musical relationships and friendships.
I was impressed by the quality of your sound production and mixing, which is an essential aspect of a record. How do you see this part of the work?
Daniel: You have to test and try different things. A lot is about who you know, opportunities and the crossing of paths. My album Deep Down was a big test. Once it was complete and I knew I could do it, I made sure that I put myself out there to find the right people to produce and master my material. Luckily I have known talented and creative people from the industry I work in. From word of mouth and recommendations, it led me to working with Tom Eales a sound engineer based in London. It was a vast improvement and Tom mastered the next 5 albums for me: Evoke, Magnum Opus, Dizzy Heights, Light & Dark (best of compilation) and Romantic Tendencies.
The single One Reason from Romantic Tendencies was a little breakthrough for me, earning a commendation from the 2015 UK Songwriting Competition. Tom also did 2 remixes for me, which were great and has played them in night clubs he DJ's at. My 7th album Hope includes female vocals on 3 tracks. It has been my most successful album to date with online fans commenting how they could relate to the lyrics and songs from their life experiences. Janne (my very talented female vocalist) and I, by complete chance, found each other on Songbay. She is based in Manilla in the Philippines. Music creation in this day and age, has no global limits. She recommended a friend of hers to me who has his own recording studio in Manilla. So I gave Joey from Aural Canvas Records 2 songs to master and was very impressed. It took things to the next level. Times change and it is the way of the world unfortunately but I was able to save a lot of money contracting the work out to the Philippines rather than the UK. I made the decision to do the next album with Joey.
Next to music, you're busy with graphism as well, which probably explains your numerous and high-tech clips. Tell us a bit more about this part?
Daniel: As mentioned I am a designer. Graphics is my trade but I have also worked in textiles, fashion and the promotional product industry. I have even worked and designed products for the last 5 Olympic Games. I am always selling concepts, which is from the soul, so it is a natural course to combine my music with graphics and motion for more impact. A picture paints a thousands words! I have not have any formal training in video and film making, but just gave it a go and just do my best putting clips together with the tools that I have and the footage that I can find.
I take inspiration from Anton Corbijn who works a lot with Depeche Mode and many other artists. Ideally I would love to make my very own videos but I have not crossed paths yet with someone who can assist, so this would be my next exciting challenge.
I think you're already working on a new album. Can you reveal some details and possible evolutions in sound?
Daniel: Yes my 8th full studio album is well under way. I am pleased to announce that it will be called Together Again. It is probably my most heart felt album to date with many things happening in and around my life presently. The production and mastering will be done all online with the recording studio Aural Canvas Records and I am very excited to work with Joey again. Janne and I also have a good crack at our first duet!
Whilst at work on the new album, I submitted a number of tracks and lyrics to the 2016 UK Songwriting Competition. I have had some very pleasing news that my lyrics for Smoke & Mirrors (from my 2nd album Evoke) have made it through to the semi-finals. All my other submissions, including 2 new tracks of Together Again are up for commendations so it will be very exciting to find out the final results in November. I don't want to give too much away but below is a sneak peak of the album cover art for Together Again. The album is due for release in January 2017 and will be available worldwide through all good music stores.
Stef COLDHEART
26/10/2016
---