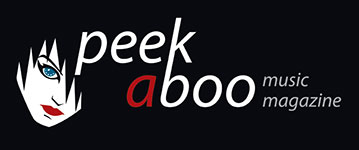 like this interview
---
THE MISSION
I think I am The Mission's strongest weapon, but also it's weakest link.
15/09/2016, Didier BECU
photos: © Marquis(pi)X
---
The Mission exists for 30 years now. The band just started an European tour and has a new album (Another Fall From Grace) out. Peek-A-Boo is very proud to have talked with Wayne Hussey.
Dear Wayne. The Mission celebrates its 30th anniversary. All our readers know the history, so there's no need in repeating that, but if you would pick up the highlight of those three decades, what would it be?
In general terms it has to be the fact that we're still alive and still able to make records and tour. Specifically I'd have to say the Liverpool Royal Court benefit show we played in April 1989 for the 96 Liverpool football fans that lost their lives at a match. I wouldn't say it was a highlight but it was, for me, probably the most emotional moment I've experienced with the band, having lived in Liverpool for 6 years in the late 70s early 80s and being a LFC supporter. It's something that has and will always stay with me.

With both The Sisters Of Mercy and The Mission you became one of the greatest icons of the goth rock scene. Even though I hate to think in terms of categories myself, what does this genre mean to you.
Well, to be totally frank, not a lot. I have always thought of The Mission as a more conventional rock band, a very good one, but conventional nonetheless, although our audience has always been predominantly gothic. One thing I will say for our audience is that it has been incredibly loyal despite our very best efforts to throw it off the scent. What I mean by that is that we have made some records that definitely went against the grain for the fans and must've tested the loyalty of even the most devout. As a way of life then I guess, even more so when I was younger, I gravitated to the darker side of music, literature, films, and fashion, etc. Still do, I guess. I prefer an European art house film to a Hollywood blockbuster and recent reading material has focused on the Russian revolution.
During all those years you created melancholic music, sometimes dark, but always music with a high dose of hope as well. For many fans your music was one of the main powers to get through this life. How is that for yourself? Is making art a sort of way to escape the sometimes hard world? And do you do something else art wise, outside composing music?
Making music caters to many aspects in my life. It can be cathartic, it can be a release, it can be an escape, it can fulfil a need as well as a desire. It can be a job of work and it can be fun. It's something I've been doing since I was a teenager and I am now 58 and I still feel the NEED to make music. Besides music I don't really dabble in other arts, maybe a little bit of writing but I lack the self discipline needed to evolve that into a book. I do like playing around with little films that I make as well, but nothing too serious. I have, coincidentally, been asked to act in a film next year though. Whether it'll happen remains to be seen, but the role is that of a reclusive and necrophiliac rock star. I don't think I really need to act to play the role of a reclusive rockstar although maybe the necrophiliac might be a bit of a stretch, eh?
It wasn't always that easy, but I think you took a lot of risks. You made ten albums with The Mission, and even if there is that particular familiar sound, you always tried something new. I have a lot of respect forit, as after all it would have been a lot easier (in terms of success) to reproduce the sound of your debut. Were you never afraid that some choices would mean the end of the band's success?
Well, I never intentionally set out to make any album that isn't successful and wouldn't appeal to our audience. I guess a big part of the process for me before starting to even write songs for a new album is to think long and hard about what kind of album I want to make at that time. And budgets are also a consideration, even more so now that the band members live all over the world and just getting us together in a room is logistically problematic. Any album is really just a testament to where I am individually and we are collectively at any given time. I never consider failure in the same way, I never consider success when making an album. Those considerations come into play once the record is done. I think the biggest hindrance to the Mission achieving even bigger success than we have done through the years is actually a personal issue rather than a musical one. I think I am The Mission's strongest weapon, but also it's weakest link. I remember having a conversation with producer Dave Allen whilst working on The Brightest Light and he said to me, and I paraphrase: Wayne, you would be so much bigger if you didn't take so many risks and didn't have such a sense of humour about yourself. Kind of sums it up, I think.
The Mission was always a band, made by the fans. I mean, during those decades you had a very loyal following. Fans know how important they're for you, but let me ask this... are you a fan yourself of someone and can you understand that some travel the whole world to see you?
Absolutely, although I'm not sure I'd go to the same lengths as some people do for us. I have traveled, taken flights, to see Radiohead, Depeche Mode, Morrissey, amongst others… and in about 1988-89, I went on tour with The Waterboys for about a week as a kind of groupie. We shared the same tour manager at the time, so I just tagged along with Mike Scott and his boys, ended up staying in the same hotels, drinking and singing and playing in the hotel bars with the band after the shows… Yeh, I was such a huge fan of Mike Scott at that time.
In the past 30 years the whole music industry changed. In your early days everyone wanted to have those EP's in his collection, now music is on some USB-stick. What is your opinion about that?
I don't think music has the same value for kids today as it did for us. It's a lot easier to get hold of music now, which isn't necessarily a bad thing, but I can't believe that a young 14 year old owning an MP3 of his current favourite song is anywhere near as exciting as it was when I was a kid in the early 70s and would go into the city on the bus and buy a 7" vinyl single or, if I was lucky, a 12" vinyl album. And on the bus journey home I would look at the sleeve and the inner sleeve notes and read every word and in a lot of cases this was the only information you could find about the band. And then my friends would come around to the house and we would all have a listening party together, reverentially sitting there listening to the album together. Now it's just a click on the internet and you get all the music and far too much information about your favourite bands. No mystique and very little value.
In 2008 you decided to stop with The Mission. Of course you were never away as you performed solo, but what made you decide to reform The Mission and record a brand new album?
I was persuaded to get back together with Simon and Craig in 2011 for the band's 25th anniversary. We enjoyed ourselves so much that we decided to extend the tour, which then evolved into wanting to make a new album. And so on and so on. It's like that Pacino scene in Scarface: I keep trying to get away but it keeps dragging me back...
You worked with Tim Palmer with whom you did your most succesful albums and EP's. How was it to work with him again?
Ah, it was great. It immediately felt very natural with Tim, like no time had passed. I mean, he and I had kept in touch on and off through the years, so just extending that relationship to working together again was very easy for us. Tim gets me, gets the band. He was involved, encouraging and supportive to me through the whole process of writing and recording at a time when I really needed it and wasn't really getting it elsewhere, apart from maybe George our manager. I really like and need collaboration and I got that from Tim.
You described the newest album as the missing link between First, Last And Always and God's Own Medicine. After listening to it, I can only agree. Did it come automatically or did you really search for that particular sound to celebrate your 30th anniversary?
I've already said this many times, but I had the occasion to play First, Last And Always for the first time in its entirety since I left The Sisters Of Mercy, and I enjoyed it and was able to listen without rancour and bitterness. I particularly liked the way I played guitar on that album and God's Own Medicine and wanted to make a new album where I played more guitar than I had done so on the last few albums. That was the starting point for this new album. The only real dilemma I had was whether or not I was being too retrogressive. I'm not a big fan of nostalgia and generally prefer to look forward rather than backwards, but I felt with this album I had something to prove to myself and to do that I had to acknowledge and even embrace my past. I would say to a degree I contrived how the music should sound for this album, but I had no control over the lyrics. They come as they are and are impossible to contrive.
The new album is a master piece. I don't know if you're planned to go for that 40th anniversary, but with an album as such, it seems like The Mission is reborn. Do you see that as such, I mean you opt for the old Mission sound, but I hear a very fresh approach and energy.
Well, only time will tell what this album means to me, the band, and our audience. I'll continue making music and playing shows because that's what I do, but whether or not it's with the band and for how long remains to be seen.
Of course I hear goth rock, but in a way The Mission never sounded so melancholic as on Another Fall From Grace. Has this sound something to do with the current sad state the world is in, or is it just the person you are?
Yeah, I did go dark with this album. It was a difficult album for me to make, perhaps the most difficult ever. I know that my physical, spiritual, and emotional health has suffered as a result of this album. It has left me damaged. I felt very isolated a lot of the time making this album and I'm not sure it's an experience I want to go through again regardless of the result. I can't yet be fond of this album, it is still too close and raw for me. The dichotomy is that to be creative you have to be emotionally sensitive and open, but at the same time you have to have the skin of a rhino to withstand all the shit that gets written and talked about once the music goes public.
There is also the 30th anniversary tour, an event many fans are looking forward to. Can you tell us something more about it, and what songs can we expect to hear?
Well, I've given a list of 43 songs to the band members to learn for the tour so they're not too happy with me at the moment... :) They'd prefer to play the same 12 songs every night but I get easily bored doing that and like to change the set around all the time. Makes life more interesting for us, keeps us on our toes, and for those who travel to see us and come to two or more shows it means they don't get to see and hear the same songs night after night. The 43 songs cover every period of the band. We will also be joined on stage for the tour by Evi Vine, guesting on backing vocals. Evi toured with me when I played a short solo tour in April and also ended up contributing backing vocals to a couple of tracks on the album.
I always ask it to everyone, so what's the all time favourite record of Wayne Hussey and why?
Changes daily, but today I am waking up and desiring to hear Nimrod by Elgar. A beautiful melody, it touches my soul in a way that music with lyrics can't. I am listening to a lot of classical music at the moment as I'm kind of burned out by rock music after the intensity of making Another Fall From Grace.
Didier BECU
15/09/2016
---