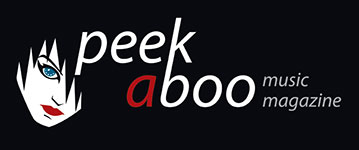 like this interview
---
REUTOFF
Music for us is the main way to understand the world and to manifest ourselves in it
30/08/2016, Stef COLDHEART
---
Reutoff is a Russian industrial formation that was set up in 1998 in a small suburb of Moscow called Reutov. The place where they were born and still live today inspired Arnold pR, Mitya N and WoWa [BT] to find a band name. Today, Reutoff is driven by the duo Arnold pR - WoWa [BT]. The band has released an impressive number of productions featuring multiple collaborations and split-releases with other formations on different labels like House Of Mirkmoon (for the early releases), Ewers Tonkust, Eibon Records, Divine comedy Records, Hau Ruck!, Zhelezobeton, Cyclic Law, NEN Records and a few more. While they've already new releases in the pipeline it was high time for an interview with the band.
Can you analyze your evolution as musicians from the very beginning of Reutoff till today?
Reutoff: Evolution is easy to follow, but ain't easy to analyze it, at least to analyze it in brief. From metaphysical point of view we've passed through an important transformation. In earlier days Reutoff was a group that sought to look beyond the underside of the reality. Now we are exactly there, on the other side of everyday life. If you look more formally, we did everything we wanted. We got releases on every continent, and on every label we respect, we played with all the groups we wanted. Now we are in a state of terrible and dizzying freedom. We are free stylistically and conceptually. Perhaps, the next release will be a techno one, maybe not. There is no doubt that we've break on through into space.
I often get the impression that every new Reutoff production sounds like an exploration of new ideas and influences while the main basis remains industrial-like. How do you explain this diversity?
Reutoff: We do not set ourselves a task to sound in a certain way or to fit any concept. We just do what we like. It's simple - we change, music changes too.
So where did you get your inspiration from and how do you guys working together?
Reutoff: Music for us is the main way to understand the world and to manifest ourselves in it. So we got no shortage of inspiration sources. Any impression and experience move us in the right direction. How do to work together? Previously we had a studio, where we worked together quiet a lot. Circumstances had changed, so now we both sit in our home studios, exchanging material through the network. This approach has its pros and cons. There are more cons, to be clear, but so it goes.
I noticed that you're still releasing cassettes, which today is pure underground phenomenon. What's the importance of the format (vinyl, CD, cassette, digital) you're releasing your work and what do you especially like in cassettes?
Reutoff: We just like cassettes... And music on physical media in general. In times when our musical taste evolved, we had a great collection of records on tape, so the nostalgia matters. Well, there is a lot of things to say for the benefit of the tape. Tape binds a listener to the author's intention in more strict way than any other format. It is much harder to skip a track or listen to it in different order. So it asks for efforts, requires attention. The tapes gives a special compression and tonality we like. It's not easy to imitate. All physical mediums feel good at hand. And if you want to destroy the music, the tape is the funniest thing. You can break the case, unwind the tape, throw a charming performance demanding activity of some sort. The tape requires interaction with it, it is harder to ignore it.
You guys seem like releasing split-albums. You already worked with some great artists like Bad Sector, Deutsch Nepal, Der Blutharsch or Troum. What fascinates you in releasing split-productions and what have been the contacts with the other bands?
Reutoff: The most important thing is to go beyond everything usual and settled. An unexpected approach of other musicians to our material, a different perspective on music that our collaborators material gives to us. The fun is always on the edge, right on the intersection of things that never met before. Our first split was with Antlers Mulm, (then were Troum, Deutsch Nepal, Der Blutharsh, Sal Solaris to mention but a few). To keep you up to date: we've just finished a cover that will appear on Antlers Mulm remix album at NEN Records. Two of our songs reworked by Majdanek Waltz will appear at its album. And now we are working on a joint full-length album with Lina (Deutsch Nepal).
Do you have more further plans?
Reutoff: As mentioned above, you may look forward to hear the joint album with Lina and the collection of rare tracks released on various compilations. We also have live plans: in September we play together with Deutsch Nepal in Moscow, and perform at 'Wroclaw Industrial Festival' in November. And no more studio collaborations to follow (for some period) as the new Reutoff is coming, and it will be bizarre and weird.
Stef COLDHEART
30/08/2016
---
Reutoff is een Russische industriële formatie die werd opgericht in 1998 in een kleine voorstad van Moskou: Reutov. De plek waar ze geboren zijn en nog steeds wonen inspireerden Arnold pR, Mitya N en WoWa [BT] om een bandnaam te vinden. Vandaag bestaat Reutoff uit het duo Arnold pR en WoWa [BT]. De band heeft een indrukwekkend aantal producties van meerdere samenwerkingen en split-releases met andere bands op verschillende labels als House Of Mirkmoon (de vroege releases), Ewers Tonkust, Eibon Records, Divine Comedy Records, Hau Ruck!, Zhelezobeton, Cyclic Law, NEN Records en anderen. Omdat ze alweer een aantal nieuwe releases in de pijplijn hebben was het hoog tijd voor een interview met de band.
Kun je je evolutie als muzikanten van Reutoff van het begin tot vandaag analyseren?
Reutoff: Evolutie is gemakkelijk te volgen, maar niet gemakkelijk te analyseren, althans niet in het kort. Vanuit een metafysisch oogpunt hebben we een belangrijke transformatie gehad. In de vroege dagen was Reutoff een groep die trachtte verder te kijken dan de onderkant van de realiteit. Nu zijn we daar, aan de andere kant van het dagelijkse leven. Als je meer formeel kijkt, deden we alles wat we wilden. We hebben releases op ieder continent gehad, en op elk label waarvoor we respect hebben en we speelden we met alle groepen waarmee we wilden spelen. Nu zitten we in een toestand van een verschrikkelijke duizelingwekkende vrijheid. We zijn vrij stilistisch en conceptueel. Misschien zal de volgende release techno zijn, misschien ook niet. Er is geen twijfel aan dat we in de ruimte zullen doorbreken!
Ik krijg vaak de indruk dat iedere nieuwe plaat van Reutoff een verkenning is van nieuwe ideeën en invloeden, terwijl de belangrijkste basis toch industrial blijft. Hoe leg je deze diversiteit uit?
Reutoff: We leggen onszelf geen taak op om op een bepaalde manier te klinken. We doen wat we willen. Het is eenvoudig hoor: we veranderen, muziek verandert ook.
Waar haal je je inspiratie uit en hoe werken jullie samen?
Reutoff: Muziek is voor ons de belangrijkste manier om de wereld te begrijpen en om onszelf erin te manifesteren. We hebben geen gebrek aan inspiratiebronnen. Elke indruk en ervaring brengt ons naar de goede richting. Hoe we samenwerken? Vroeger hadden we een studio, waar rustig werd gewerkt. De omstandigheden waren veranderd, nu zitten we allebei in onze huisstudio's, het uitwisselen van materiaal is via het netwerk. Deze aanpak heeft zijn voor- en nadelen. Er zijn meer nadelen om eerlijk te zijn, maar zo gaat dat nu eenmaal.
Ik heb gemerkt dat je nog steeds cassettes uitbrengt, vandaag is dat een puur underground fenomeen. Wat is het belang van het formaat (vinyl, CD, cassette, digitale) en wat vind je zo leuk aan die cassettes?
Reutoff: We houden van cassettes... en muziek op fysieke media in het algemeen. Toen we onze muzikale smaak ontwikkelden, hadden we een grote verzameling tapes, nostalgie werkt nu eenmaal. Nou, tapes hebben heel wat voordelen, het bindt de luisteraar meer dan elk ander formaat. Het is veel moeilijker om een ​​track over te slaan of om het in een andere volgorde te beluisteren. Dus het vraagt ​​inspanningen en aandacht. Tapes geeft een speciale compressie en de tonaliteit die we willen. Het is niet makkelijk om dat te imiteren. En als je de muziek wil vernietigen, dan blijft een tape het grappigste. Je kan het doosje breken, de tapeband eruit trekken. De tape vereist interactie, het is moeilijker om het te negeren.
Jullie maakten heel wat split-albums. Je hebt al met een aantal grote artiesten gewerkt zoals Bad Sector, Deutsch Nepal, Der Blutharsch of Troum. Wat fascineert je aan die split-releases en hoe zijn de contacten met de andere bands geweest?
Reutoff: Het allerbelangrijkste is dat alles niet als normaal verloopt. Een onverwachte aanpak van ons materiaal door andere muzikanten, een ander perspectief op onze muziek. Het leuke is altijd als je op het randje gaat, de kruising van de dingen die je nooit eerder hebt ontmoet. Onze eerste split was met Antlers Mulm, (daarna kwamen Troum, Deutsch Nepal, Der Blutharsh en Sal Solaris om er een paar op te noemen). We hebben net een cover klaar die op het Antlers Mulm remix album bij NEN Records zal verschijnen. Twee van onze nummers werden door Majdanek Waltz herwerkt en zal op het album verschijnen. En we werken aan een gezamenlijk full-length album met Lina van Deutsch Nepal.
Heb je nog verdere plannen?
Reutoff: Zoals hierboven vermeld, kan je je binnenkort verheugen op het gezamenlijke album met Lina en een verzameling van zeldzame tracks die op verschillende compilaties werden uitgebracht. We hebben ook live plannen: in september spelen we samen met Deutsch Nepal in Moskou, en we spelen ook op het Wroclaw Industrial Festival in november. En we stoppen voor een tijdje met samenwerkingen. Eerst komt de nieuwe Reutoff er, het zal bizar en raar zijn.
Stef COLDHEART
30/08/2016
---