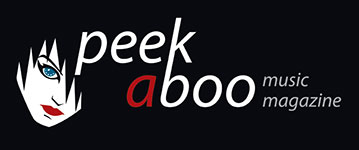 like this interview
---
THE JUGGERNAUTS
Funny that apparently only bands as Front 242, NEB and Skinny Puppy tend to created clones? What about the zillion of Beatles/Smiths/Joy Division/etc. sounding bands out there? Oh right, they are 'just' inspired!
05/07/2016, Didier BECU
photos: © Marquis(pi)X
---
The Juggernauts just released its might debut, so time for a chat! As this is EBM how EBM should sound like...

For those who don't know: who are The Juggernauts and what's your goal?
The Juggernauts is a collective of warriors that was send to Earth in the year 2012 to try and save this planet from an apocalypse. So far we managed to ward off the Apocalypse as the Mayans predicted, but there's still a lot of work to do to save and protect the world and the human race from their downfall.
Just as so many other bands, The Juggernauts did it all by themselves with not one word of the media's attention. And yet, you ended up on one of European's leading label in the black scene (Out Of Line). How did that happen?
We didn't do it all by ourselves, we had a great and massive support from our friends and fans from the very beginning. If we wanted media attention we should have worked out another musical concept and style.
But we believe in what we do! We love what we do! We respect our friends and fans! People and fans tend to return that respect by their support. How we ended up on Out Of line Records? Well, we met the Out Of Line boss on a festival in Montreal and told him how exited we were about this new project. He asked us if we some tracks to listen to… Maybe even to put on their, at that time, upcoming Awake The Machines Vol. 7 compilation. Some days later we send them Phoenix, actually our only finished track so far and that we had recorded only a week or so before. They liked it and so it was featured on their compilation album. Apparently EBM fans from all over the world seemed to like our track, as interview and concert request began to come in fast … It was a sort of rollercoaster ride and before we even had released anything else, apart from that one compilation song, we were playing almost every important city and independent festival in Europe.
There is a gap of three years behind the Phoenix-EP and your debut album. Why?
Funny how these days everybody is so focused on quantity instead of quality. We prefer having a gap in between our releases than having to release crap to fill the gap. In fact, wasn't it the overload of releases that begun in the early nineties that was also the beginning of the downward spiral of today's independent music industry? We think so. Anyway, one of main reasons was the lack of time and opportunity to get together in the studio and to actually work on finalizing our tracks. Because of the fact that we were so 'lucky' to play our very first live shows on high-end festivals in front of a big crowd we felt we needed to spend most of our time together to fine-tune our live sound and shows. On our second show ever, on the Industrial Booom Fesival in Budapest, we even had to close the night AFTER Front 242 had played right before us. You can only try to imagine the fear and stress this brought upon us. But the audience didn't run out the venue and gave us a warm and sympathetic welcome. Of course, a flooded studio, some studio moves, health issues and our intensive involvement with other musical projects in between didn't speed up the release of this album neither.
If I may so, there is a huge difference between the EP and the album, as The Juggernauts Are Coming really captures the live energy your performances have. Do you agree on this?
Of course, it's hard to say ourselves how energetic our live shows are but they seem to go down well from the start. As for the difference between the EP and this album we really don't know, as we have been playing most of these tracks live now for some time. They must have grown and evolved on the go … Zillion of versions were recorded, played, tried and reviewed … Time and time again … Until we were (quite) satisfied enough to record them for real. Also we took /got some more time to record and produce this album, a luxury we didn't had back then when we recorded and released the Phoenix EP.
It has to be said, but if people mention The Juggernauts they always talk about the helmets. Are you never tired of them, I mean they don't seem to be that comfortable to wear on stage.
The helmets are a part of our uniform, and as you know you only wear a uniform if you are proud of what you do or stand for. Soldiers, fire fighters, police, and nurses they all wear uniforms to show who they are and what they stand for. You don't ask fire fighters if their helmets are confortable, do you? So, we are The Juggernauts and we wear helmets!
Those who know you personally know it's a band fronted by guys who love EBM. It is a genre that has too many clones if you ask me, but with The Juggernauts it really feels like if you're heading for an own style, even if you always will hear Nitzer Ebb or Front 242.
Funny that apparently only bands as Front 242, NEB and Skinny Puppy tend to created clones? What about the zillion of Beatles/Smiths/Joy Division/etc. sounding bands out there? Oh right, they are 'just' inspired! And even that simple fact some of those 'clones' don't dare to acknowledge.
But yeah! You are right! We do have our own style! We don't sound like anything else! We do blend styles in a manner nobody did before!
What a load of crap! Yes! We are influence by those bands but also many others, but since we can't figure it out how they did it, we try to do it our own way.
I think the lyrics are important too. Many tracks despise the world we're living in. Even if we always had to be hopeful for our children, do you think this planet is lost?
What do you think!? Just look around! We sometimes wonder and ask ourselves what happened and when/why did musicians stopped taking a stand? Who the fuck want's to know if Pharrel Williams is Happy? Or why Justin Timberlake 'can't stop the feeling'... to dance? While bombs are dropped on schools, people have to abandon their homes and drown or starve to death? While children are being abducted for the use as sex slaves, soldiers or even suicide bombers. While politicians keep defending nuclear power, even if there still no solution for the toxic waste. While we are suffocating and poisoning all what breathes with our selfish plastic needs.
We hear more and more people say they stopped watching the news because they can't take it anymore … Too much misery they say …
Well yeah! That will help this world becomming a better place! Because when you don't see or know it, it's not happening, right?
People became so egocentric and ignorant and that's exactly what big brother wants us to be! Scared, anxious easily controllable beings.
Dare to speak up! Resist and fight this legacy!
Are there any gigs planned by The Juggernauts?
We will be presenting our album on the German EBM feast called Familientreffen XII on July 9th in Sandersleben, and at the Nocturnal Cult Nights Festival on September 4th in Deutzen, Germany. More shows are being negotiated as we speak.
As you know, everyone has the same questions to end with. What's your favorite record of all time and please state why.
This is a hard question as we like a lot of records … It depends on our mood and the atmosphere around us…Today we would say 'Some Great Reward' by Depeche Mode because it has two of the greatest 'protest' songs ever written on it. 'People are People' and 'Blasphemous Rumours'. Sadly we've have all heard those songs so many times that it became uncool and unfashionable to amid their beauty publicly. Tomorrow it can be 'Pretty Hate Machine' by Nine Inch Nails.
With whom wouldn't you mind to be alone in an elevator for 8 hours and what would you do then?
We wish no one the horror of being stuck with us for 8 hours in any place for that matter. Unless it is God, Allah, Yahweh, Buddha, Jehovah or what ever he likes to be called so we could ask him why he has indeed such sick sense of humor.
The last words are yours…
Be aware … The Juggernauts are coming … Watching you! Every move!
Facebook
Didier BECU
05/07/2016
---