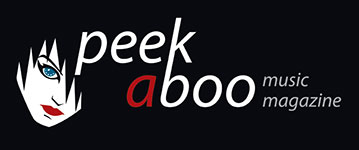 like this interview
---
WILD ROSES FOR THE EXIT
I really want the experimental side to take over eventually but I do love the beauty of a classic pop song.
24/06/2016, Didier BECU
---
Some weeks ago Peek-A-Boo was very enthusiastic about Wild Roses For The Exit, we spoke with creator James Fiction.
Hello James. Wild Roses For The Exit is a solo project, but it really does have the sound of a real band. Was there a special reason why you wanted to do everything yourself?
I actually started it as an experiment because I didn't want to rely on other people regarding commitment and passion so I thought I would try it all myself plus a long time musical hero of mine, Todd Rundgren was an inspiration for this way of recording.
You started everything two years ago, but it looks like you have developed a real sound in that short time. What did you have in mind when you started?
As I said it was an experiment, I was really into a band from Germany called Warning!, they made 2 albums in the early 80s and its hard to describe them, but the vocals are very doomy so I was planning on singing in that style and making the music totally experimental, but as soon as I started recording and I uploaded the first song 'This New Heaven' people started saying it sounded like The Sisters Of Mercy and The Fields Of Nephilim
Talking about that sound. It graces you, but almost every track sounds different and in a way you sounds like an artist who actually can't choose whether he wants to compose synth pop or goth rock, and it's that dilemma which makes it all unique I think.
Yes, I have struggled with that from the start. I mentioned Todd Rundgren earlier, he would often have albums with soul,acoustic,rock,pop,show tunes all on one album and I really like that diversity although I do like the idea of a more uniform sound. A song like Dog Rose Of The Wild Forces was one that I was unsure of putting on the first album as it is more pop but the people around me that had heard it convinced me to put it on and it became very popular.
Let's start with the most nasty question I have in mind. The UK has been the birth place of countless goth bands, but it's also the country that almost has no respect for goth acts. The press is really underground, and it's hard to get a gig. So how's it for being a goth artist in the UK?
Well it's always been the same in the UK, whatever the latest sound is in vogue which for the past 20 years is usually some form of jingly jangly Kooks/Libertines indie rock sound, the press and the industry will flock and want to find replicas, but from a mainstream point of view I haven't heard anything that has excited me from the UK in a long time.I don't think we have produced anything decent since the 90's with bands like Suede, Mansun and The Verve.Brett Anderson once said post 2000 that 'Indie' had become a dirty word to him. I certainly wouldn't compromise my own creativity just to fit in the mold.
In fact, do you think you're a Goth artist?
No. My words and my music have always been dark and I think my voice mixed with my production gives a classic Goth sound some of the time, but not consistently and I will naturally evolve in the future and wouldn't put myself in a box
I hear a lot of 80s influences as well, especially New Romantics-bands like Duran Duran or Alphaville. Were they an inspiration?
I don't know much Alphaville, but I am a big Duran Duran fan and also from that period one of my favourite bands of all time is Japan and they are a huge influence on me.
Your compositions are dark, but it's clear that you like pop, not?
I fight with myself on this subject. I would say half my brain wants to be experimental and the other half wants to be commercial and structured. I really want the experimental side to take over eventually but I do love the beauty of a classic pop song.
You are currently working on a new album. Can we expect the same or will it be something completely different as it seems like you're an artist who can't be put in one category.
It's hard to know how others will view it because its still my voice, but I think the new album is going to sound significantly different. I am using real drums rather than electronic,more guitars than synths this time and the whole sound and theme is more primal,animalistic,raw and heavy.It has a running theme and a prevalent mystical feel running through it.
What's your favourite record of all time and why.
I have to say Physical Graffiti by Led Zeppelin.I wanted to be Jimmy Page for years and I was heavily into them growing up, but this album has always stayed with me especially songs like In The Light and Ten Years Gone that are just so haunting and also so very English.
I always ask this, so don't worry. With whom wouldn't you mind to be alone in an elevator for 8 hours and what would you do then?
How about some transcendental meditation with David Lynch?!
The last word is yours...
Night Of The Raven coming soon!
Didier BECU
24/06/2016
---