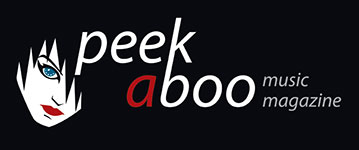 like this interview
---
JOHN FRYER (BLACK NEEDLE NOISE)
The future is always the past and the past is always the future.
14/06/2016, Didier BECU
---
Some things make you smile, some things make you proud and some things make you feel inhuman. Talking with John Fryer for example. The list of records he produced is immense (from the masterpieces on 4AD to Depeche Mode), and of course he also was the man behind This Mortal Coil. Today John is back with his new musical project: Black Needle Noise.
Hello John. Everyone looks to the future, of course, but allow me to go with you to the past for a couple of questions. Most people know you as a producer, even one of the most important producers as in a way you developed the sound of dark wave. How does that feel, especially because it's a genre you like yourself?
Dark Wave, Goth, all labels I don't really understand and all labels I get tagged in. It's a press thing, a box they put you in. I like music, all kinds of music, I like music that can create an emotion in you. Music I make is music that creates emotion and can take you on an emotional journey. If music is slightly left of centre, then it is dark waves/goth. I played my song I Face The Wall to a friend the other day and when it finished, she said, I like it, but its very dark, but to me its pop, noise pop, it's catchy, has a beat and has melody. Is Black Needle Noise Dark Wave?
This might be a hard question, but I guess you are the perfect person to answer it. During the 80s you worked with tons of bands that changed the world of music because of their individual talent. These days many people state that the current music scene is like recycling. Are we just deaf or do you agree on this?
To be honest, music and fashion go around in cycles, it always repeats itself. People are influenced from the past, everything you see and hear has been influence from the past, but you have to take it and bring it up to date, do it in your own way. The future is always the past and the past is always the future.
Of course you are also one of the main producers of 4­AD. In those days (how we sound nostalgic!), record labels had a real face, with 4­AD and Factory as the most known examples. Today you can't see that, and there's the collapse of the music industry. Who is to blame? The digitalisation or just the fact that in those days everything was different (I dare not to use the word "better").
Well, let me just talk about 4AD. 4AD was what it was because of Ivo mainly. It was his idea that it had a unified look with 23 Envelope handling the art, an unified sound using me in the studio and Ivo himself in signing the bands. He was the filter in letting you hear what he thought was worth hearing. There are awesome bands out there, like my own band Black Needle Noise. Now, you just have to look harder as there is no one there to tell you what to listen to.
From 4­AD to Black Needle Noise is a very small step. So tell us, how was this project born? You were involved in This Mortal Coil, and I really do hear that sound in Black Needle Noise as well, and it even has the same concept (different guest singers). Can I say that Before The Tears Come is like the fourth album by This Mortal Coil?
You have to understand, I have my own sound and style, you can hear it in every record I have worked on. My finger prints are all over them. Black Needle Noise was made for today, there are no rules for it. I want to make what ever kind of music I want and have whom ever I want to sing on it. Today in the digital world. After talking to people and the way they listen to music. Most people are streaming or playing there music on random. So I'm making music that has a unified sound but can be played in any random order and it will still work.
So far, it is just a digital release, are there any plans to release it on record?
Yes, so far it's just a digital release but there will be a vinyl in the near future.
Who did the compositions? Were the vocals just meant as "guest singers" or were they involved in the writing process?
I write all the music and send it to the singers and ask them to compose the vocal melodies and words so the song is a 50/50 collaboration. I like it this way, so the song is personal to them and they don't feel like a hired gun just singing. I want them to feel apart of the song and not just a featured artist. The songs belong to both of us.

I guess Black Needle Noise is a project that will go on. Is it possible that you will choose other musicians for the next album? Tell us your wish list.
Yes, Black Needle Noise will go on and on, like a forever refilling cup, for when you think the cup is almost empty another song will appear. There is one person I would have loved to work with, but alas, he is no longer with us, Dead Star is a tribute to him, but there are so many singers out there I will be honoured for them to sing on my songs.
The music is dominated by soundscapes that are rather dark. Even the title is: Before The Tears Came. Is Black Needle Noise dark music or a bringer of hope?
I would not say the sound is dark myself, emotional cinematic soundscapes that take you on a journey, where the journey takes you is totally up to you and your own mind. The name Before The Tears Came is not confined to being sad, it could be tears of joy, why should the tears be sad, they could be full of joy and hope.

As for yourself, John, what are your plans as a producer?
I will carry on making my music, but looking forward to making more film and TV music, but any band that wants to work with me, just has to contact me. They just have to ask.
I know this is a hard question for someone like you, but I ask everyone: what's your favourite record of all time and why?
Well, today it's the Black Needle Noise album Before The Tears Came. It's very personal to me.
With whom wouldn't you mind to be alone in an elevator for 8 hours and what would you do then?
The two Davids, David Bowie & David Lynch. I think it would be so amazing to talk to them, I think your head would be spinning by the time you left after 8 hours. Don't you????
Didier BECU
14/06/2016
---