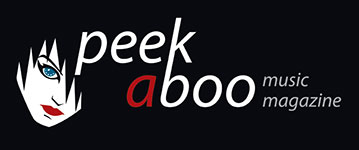 like this interview
---
DIEGO BITTENCOURT (N3VOA)
I'm never making the same sounds or using the same bass lines, and that comes from a varied musical background.
29/05/2016, Britta Tabrit
---
Britta Pirkko had a chat with Diego Bittencourt from N3VOA on his past, the present and his latest projects.
Thank you Diego for taking some time out for an interview with Peek-A-Boo. Could you please introduce yourself to our readers! Tell us something about yourself and your musical background.
First, I would like to say thanks for having me!!! My name is Diego Bittencourt and I'm the man behind "N3VOA". At the age of 12, after moving from Sao Paulo, Brazil to Westchester, New York, I developed an acute passion for music. Initially, I played as the lead drummer for a Death Metal band called Deathrune - we toured and opened for some huge names within the industry such as Deicide, Morbid Angel, Malevolent Creation, Unleashed, Grave, Suffocation, Immolation, Incantation - I think this enhanced my capacities as a musician. Parallel to my death metal project, I also listened to EBM and synthpop.
The latest N3VOA EP Wasted Memories, has just been released. It was produced by Claus Larsen from Leaether strip and Jarkko Tuohimaa from the Finnish technopop project Neuroactive. So tell us something about this album, about the process of developing it, the work with your producers a.s.o.?
When I look back at my debut album Solitude, it was an emotionally charged project. A lot of grief and anger went into that. So Wasted Memories was geared towards improving myself as an artist; being more creative and introducing new sounds and compositions and being able to be more free, conceptually. I really can't say enough about these two guys I worked with. Genuine people and amazing artists who were willing to listen to my ideas and help shape them into a finalized product. Just being able to work with them, having grown up listening to them and idolizing their talent, has been a fascinating experience.
The EP was quite successful so far. Did you expect it to be?
I do music because I love music. I've worked hard independently without a label to get to this point and it's rewarding to see your work ethic pay off. But everything so far has been unexpected. Believe it or not, Jarkko and Claus weren't surprised by the response it received, especially when it was in the Top 20 of the DAC charts. It's humbling and very exciting.
What else is planned for 2016? I heard about some box set coming later this year?
2016 has been a tough year so far. With my brother's loss, I feel like I'm thrust back into an emotional whirlwind and I think that that eventually feeds into this new project. I was inspired by a box set I own by Project Pitchfork; it's beautifully made and I wanted to have something similar to that. My brother Julio Bittencourt, who has won international photography prizes, is selecting the artwork from his personal archives. It's a 3 CD box set, with multiple producers like Jarkko Tuohimaa, Claus Larsen and Daniel Myer from Haujobb. There will be a whole CD with remixes featuring Front 242, Haujobb, Assemblage 23 and many more.
Anything else on your mind when it comes to new music?
I believe my eclectic taste in music shines through with N3VOA. I'm never making the same sounds or using the same bass lines, and that comes from a varied musical background.
You also do a lot of remixes for other bands. Which did you enjoy the most? Can you please name a few?
It's very humbling to have a fellow artist who asks you to work on his music. That's a lot of responsibility. Claus Larsen once told me that the whole point of a remix isn't to change or make the song better, but to actually highlight the original song in all of its glory. I enjoyed working with Coma Frequency on his song Three Paths (Without Innocence).
What about live shows?
I'm working on some personal issues this year, but I'm planning to play next year. I'm planning on bringing Jarkko Tuohimaa along for the ride!
When you're alone at home what kind of music do you prefer?
It really depends on the day; it could be Depeche Mode or a solo classical guitar player like Segovia. It may sound odd, but I listen to a lot of my own music at home. Since I'm constantly working on new projects, it's vital to keep things fresh and innovative. It's the kind of hard work that allows me to continuously improve.
Do you have any hobbies besides music?
When my knees allow me, I still try to play soccer.
I'd like to spend my next holidays…on an abandoned beach …hiking in the mountain area …in an all-inclusive vacation resort …2 weeks on a reindeer farm …going on a Caribbean cruise!?
Playing for fans around Europe !
Some words to our readers at the end?!
I'd like to say thank you to my fans in Brazil, the United States and all across Europe. It's amazing to be able to see the support I've received from across the world. It can't be done without you guys. Again, it's humbling but very fulfilling.
Britta Tabrit
29/05/2016
---