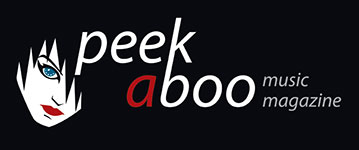 like this interview
---
THE ARCH
We feel comfortable on the dark planet under the gothic sky.
25/05/2016, Didier BECU
photos: © Marquis(pi)X
---
The Arch released one of its best albums so far (perhaps simply the best): Fates, and that is of course a mighty reason to talk to the band.
I honestly think Fates is the best album you made so far. You have never been away of course, but I really do hear a band that is ready for a complete new start.
We feel grateful for your compliment. One might say, in a way, a new album filled with unheard songs, always can be assessed as a new start. But, it is just a next step on the road. However, you are right: it is a fresh start for us, because of the new collaboration with Kenny KGB. We are very happy with his skilled work on the mixing and mastering of Fates. His contribution is essential. Like Ludo Camberlin in our early years, but less dominant.
In a way I think Fates is a quite poppy album. In fact it is the very first time in my life I tend to sing some songs by The Arch when being alone. Was it a quest to go after that perfect three minute pop song, even if you don't sound pop.
We don't plan how a next album will sound. We just let it happen: songs are born out of jams without knowing what the results will be. Like rats, suddenly appearing in your house: will they be white, brown of black? So we have no idea yet, where the songs of our next album will float. We also believe that there are some exotic songs on Fates like Immerzu and Frozen Jungle. And that we have made some poppy stuff in the past.
The Arch often is categorized as goth rock. If you'd force me, I guess I would do the same, but I think you are so much more. Goth rock sounds as if you isolate The Arch. How would you describe it?
There is no control about it. We give birth to your songs, people press a stamp on it, et voilà: so it will be. But we have no problems to be categorized in the goth scene. We love that genre and are satisfied with the reactions we get. We feel comfortable on the dark planet under the gothic sky. We distillate songs, out of our inspiration and it has no sense to disagree with what people think of us.
On that album, there's a track on which Ronny Moorings is featured. How did this happen?
We met Clan of Xymox by doing curtain-raisers for them. To us, Ronny (as well as the other Xymoxers) proved to be a charming personality. Monsters & I is a song with chromatic chord changes: one of the trademarks of Clan of Xymox. So the idea came to ask Ronny to perform some vocal tracks. He was in for it and did the job in a great way.
There are many unusual tracks on the album. Like Immerzu, a song in German. Can you tell us something about it?
The text is a poem of the German girl Pia, a friend of Ivan, who is quite fascinated by her. The music is built on a slow blues jam and we combined it with that poetry of Pia. We agree on the strangeness of the song: it is different wit its 3/4 beat. Actually, we play it to open our gigs.
The album is out on Why2Kmusic and digitally available on Trisol. I know you're all dedicated music freaks, how important is a digital release for you?
Living in 2016, it is inevitable. Every release, vinyl, CD or on the web, will gain yields. Even illegal releases, down from the cellars of the internet.
Talking about The Arch isn't always funny if we mention Belgium. For some reasons, The Arch is big in the underground scene but in Belgium itself it is hard to find a gig. A schizophrenic situation, do you have an explanation for it or do we just have to blame Belgium?
We are not the only ones. Once again: it just happens and so it will be. It is senseless to get nuts about that. But as a matter of fact, there is some response in Belgium. Last year, we played again on the Belgian Independent Music (BIM) festival. We do have our gigs in Belgium. We don't consider it to be a problem.
I recently saw you on stage and in all honesty, I think The Arch live has another extra dimension. You exist for quite some time now, what is the most beautiful memory of your long career?
The Spinal Tap moments: spicy and crazy stories. They are just too long to write them down. Touring with a band really can be a burning anarchy.
Actually a long career, but I really do think that The Arch has another unique side. It started as a DIY-project with cheap material, which is completely different now. I mean, now you have a wide range of techniques, and it seems like The Arch can adapt itself...
You have to be open minded to technical evolutions. Following that evolution is not only necessary: it is fascinating. The time of the Portastudio 144 has gone. But from a technical point of view, we like the things we did on that 4-track cassette recorder in the eighties. However, we have to be prudent with all those new possibilities: we have to use them to crystalize the music out of our head, our phantasy. Nothing more.
It would be easier if you would turn yourself into a jukebox and hang on to the past. Thank God, you don't, what do you think of all those bands who haven't changed their set in twenty years, but still are able to pack venues?
Let it be and let them be. Our former member Wim Danzig is touring with Rodger Hodgson of Supertramp. He is still playing all those seventies songs, why not? We try to find some balance between old and new songs. By now, the accent is on the new work, because of the release of Fates.
Let's end with the impossible question you need to answer. Pick your favourite Arch song!
Ice in your eyes? Spang? Immerzu? Bariton Baby, Ribdancer, Babsi ist tot? As a matter of fact, our favorite songs are the tracks we will make in the future.
Didier BECU
25/05/2016
---