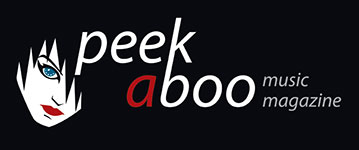 like this interview
---
NEW DARK AGE (PETER SLABBYNCK)
Oh, just listen to the records and let Adrian rest in peace.
26/04/2016, Didier BECU
photos: © Mina Van Elewyck
---
This year, it has been seventeen years since Adrian Borland died on April 26. Forget all those theories, and celebrate Adrian for what he missed when he was alive: the glorification of his music. We spoke with Peter Slabbynck who soon will tour with New Dark Age, the cover band of The Sound.

Hello Peter, what is going on? Last month you became Johnny Rotten, and now you are Adrian Borland. Explain!
I think those two are under my skin. We already done some shows with New Dark Age, and now we are back. The Rotten Pistols is new. To my surprise, the 40th birthday of punk is not celebrated over here. Somebody has to do it, so Slabbynck does...
Joking aside, we know you are a big fan of The Sound. But after all it is a sad story of ups and (mostly) downs. What does The Sound mean for you?
I played a few times with them in Red Zebra. An honor. It was a huge band to which we looked up, particularly when From The Lion's Mouth came out. It was also a bit strange, because we realized that we could never make such a masterpiece. But really, I can't judge. I only know that the group didn't make it easy for itself, which adorns the guys.
New Dark Age is formed by Steven Janssens , Frits Standaert, Niels Verheest and Joost Van den Broeck. I assume they are also big fans of The Sound, how did you find each other?
Joost has now been replaced by Kurt De Waele, also a big fan of The Sound. It started with Frits and me. It was a dream for us to create a cover band of The Sound. Frits and Steven joined, and then it went fast. I still get goose bumps at every rehearsal. And during one of the performances, I forgot my text, because I was completely absorbed in the music.
Weren't you afraid? I am an avid fan of The Sound and for me the result really has to be excellent!
Why should I be afraid? We treat the songs with great respect and I try not to imitate Adrian. Nobody is forced to check us out, you can just listen to the records at home. No problem!
How did you select the songs?
Steven and I decided to take only songs from the first two LPs. You need to make a choice and so there is a great unity in the set. But it is a very arbitrary choice.

Have you ever met Adrian? I heard he was a kind man, but not an easy boy.
I met him a few times but I haven't said that much, I was just too timid at the time. I have heard a few things, but who am I to judge him as I know him only slightly. There are also people who think I'm not an easy man myself. Oh, just listen to the records and let Adrian rest in peace.
I hope I do not offend you with this, Peter, but I see similarities between you and Adrian. In the sense that Adrian had to fight to get his material heard (especially his solo career that never got off the ground).
I was offended so many times, so please do! Just kidding. I'm not complaining, I have to fight sometimes, but I'm not losing the battle. Adrian's frustration must have been very deep. You make the ultimate new wave album, but all other bands steal your thing. But has this driven him to suicide? I do not know.

When I read the tragic news in Melody Maker in April 1999, I burst out into tears. What do you remember, Peter?
I heard it on Studio Brussel. A small message. They even made a joke about it. What else can you expect, how would they know that Adrian meant a lot to me and to so many others.
It is a hard question, but you have to. What is your favorite Sound-track and why?
Possession.

Tell us why people need to see you.
Need? Everything is free!
Didier BECU
26/04/2016
---
Dit jaar is het zeventien jaar geleden dat Adrian Borland op 26 april uit het leven stapte. Laten we alle theorieën voor wat ze zijn en Adrian eren voor wat niet het geval is toen hij leefde: het ophemelen van zijn muziek. We spraken met Peter Slabbynck die binnenkort op toer gaat met New Dark Age: de coverband van The Sound.
Dag Peter, wat is er met jou aan de hand. Deze maand kroop je in de huid van Johnny Rotten, en nu in die van Adrian, Borland. Leg uit!
Ik denk dat die twee al lang onder mijn huid zitten. Met New Dark Age hebben we al enkele optredens gedaan, nu zitten er weer wat aan te komen. The Rotten Pistols zijn nieuw. Tot mijn verbazing wordt 40 jaar punk hier niet gevierd. Iemand moet toch iets doen, Slabbynck doet het dan maar…
Alle gekheid op een stokje, we weten dat je een grote fan bent van The Sound. Maar al bij al is het een trieste geschiedenis, want hun verhaal was er een van (vooral) vallen en opstaan. Wat betekent The Sound voor jou?
Met Red Zebra heb ik een paar keer samen met hen opgetreden. Een hele eer. Het was een groep waar we enorm naar opkeken, zeker toen From The Lion's Mouth uitkwam. Het was ook een beetje ontmoedigend, want we beseften dat we zo'n meesterwerk nooit zouden kunnen maken. Maar echt oordelen over hoe het fout gegaan is met The Sound, kan ik niet. Ik weet wel een paar dingen en de groep heeft het zich zeker niet gemakkelijk gemaakt, wat haar siert.
New Dark Age wordt gevormd door Steven Janssens, Frits Standaert , Niels Verheest en Joost Van den Broeck. Ik neem aan dat dit ook grote fans van The Sound zijn, hoe hebben jullie elkaar gevonden?
Joost is intussen vervanger door Kurt De Waele, een grote fan van The Sound. Het begon bij Frits en bij mij. Het was voor ons een droom om een coverband van The Sound op te richten. Frits haalde Steven erbij en toen ging het plots snel. Ik krijg nog tijdens elke repetitie kippenvel. En tijdens één van de optredens vergat ik een stuk tekst omdat ik volledig opging in de muziek.
Was je daar eigenlijk niet bang voor? Ik ben zelf een fervente fan van The Sound en het resultaat moet goed zijn om het woord heiligschennis niet in de mond te nemen...
Waarvoor zou ik bang moeten zijn? We behandelen de nummers met groot respect en ik probeer Adrian niet te imiteren. Niemand is verplicht om te komen kijken, je kunt gewoon thuis naar de platen luisteren. Mij ook goed.
Hoe zijn jullie te werk gegaan bij de keuze van de songs?
Steven en ik hebben beslist om alleen songs te brengen van de twee eerste lp's. Je moet ergens een keuze maken en zo zit er een grote eenheid in de set. Maar het is een zeer arbitraire keuze.
Heb je zelf Adrian ooit ontmoet? Wat ik van hem heb gelezen is dat het een vriendelijke man was, maar doordat hij vaak met zichzelf in de hoop lag ook geen gemakkelijke jongen.
Ik heb hem een paar keer ontmoet maar ik denk niet dat ik toen veel gezegd heb tegen hem, daarvoor zal ik op dat moment te timide geweest zijn. Ik heb wel het een en ander gehoord, maar wie ben ik om over hem te oordelen als ik hem nauwelijks ken. Er zijn ook mensen die denken dat ze mij kennen en mij geen makkelijk iemand vinden. Ach, luister gewoon naar die platen en laat Adrian in vrede rusten.
Ik hoop dat ik je hiermee niet beledig, Peter, maar ik zie wel gelijkenissen met jou en Adrian. In de zin dat Adrian werkelijk moest vechten om zijn materiaal gehoord te krijgen (ik denk vooral aan zijn solocarrière die nooit van de grond kwam).
Ik ben al zo vaak beledigd, dit kan er nog wel bij. Grapje. Ik ga niet klagen, het is misschien af en toe vechten, maar niet tegen de bierkaai. De frustratie bij Adrian moet heel diep gezeten hebben. Je maakt dé new waveplaat, maar wordt voorbij gehold door al die andere bands. Maar wat hem werkelijk gedreven heeft tot zelfmoord, kan ik niet weten.
Toen ik in april 1999 in de Melody Maker het tragische bericht las, barste ik in tranen uit. Wat weet jij hier nog van, Peter?
Ik hoorde het op Studio Brussel. Een klein berichtje. Er werd zelfs een grapje gemaakt. Wat kan je anders verwachten, weten zij veel wat Adrian betekend heeft voor mij en zo veel anderen.
Het is een laffe vraag, maar het moet. Wat is je favoriete Sound-nummer en waarom?
Possession.
Jullie treden binnenkort op. Wat zijn de data en vertel ons waarom de mensen jullie moeten zien.
Moeten? Niks moet, komen staat vrij.
Vrijdag 27 mei: Charlatan/Gent (samen met Curtis)
Zaterdag 28 mei: Rock Classic Bar/Brussel
Donderdag 2 juni: Den Trap/Kortrijk
Vrijdag 3 juni: Chatleroi/Antwerpen
Vrijdag 7 oktober: Dublin Castle/Londen
Didier BECU
26/04/2016
---