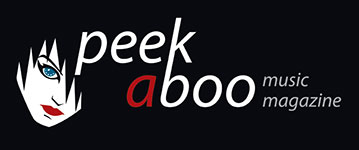 like this interview

---
LUMINANCE
I don't know what to expect of me. Expect anything.
29/03/2016, Didier BECU
---
One of the bands we're definitely looking forward to on Coalescaremonium, is Luminance. Peek-A-Boo had a talk with brainchild David-Alexandre Parquier who is also the guitarist of Soror Dolorosa.
Hello, please try to do what I never could: describe Luminance!
Luminance is an attempt to find something that I can't find nowhere else.

Your first releases were on Wool-E Tapes. How did you end up on this label. And even if some people laugh with the tape format today, I think this cooperation with Dimitri opened many doors for you, not?
My memories are a bit blurry on this but I think Dimitri contacted me to release "Icons & Dead Fears" back then proposing a pure mutual collaboration. He has a good network, has good visibility and is super involved, so I guess this collaboration helped Luminance crawl out of its hole, yes.
On those tapes, and in fact on Sans Visage too, you hear a lot of 80s references. How important is this decade for you in terms of music?
As important as every decade. There is a certain form of exuberance, an euphoric chaos, an appetite for abuse and excess in the 80' that talk to me, yes, but I'm also very sensitive to 60' psychedelic and colorful soundscapes and 70's unlimited class.

The more I hear Sans Visage the more I get addicted, but the more I feel that the record has a very sober, by times even macabre sound. Do you agree on that?
Darkness , nightmares and madness can be very addictive. In this album i wanted to paint several faces of despair , several states you go through when you dive into black thoughts and you get lost. Because it's been made during a quite dark psychological pass, bad health, bad habits.
Originally you're from France, but you're living in Brussels. Of course I might be wrong, but in the 80s Brussels was the city to be in if you were a progressive musician. These days I think Brussels has not many things to offer. What's your opinion about that?
Brussels offers a platform to do whatever you want. There are no prejudices here, and it's a city where strangely the more crappier you sound the better. The goth/body scene in Belgium is hopeless but what it brought back then is in the general subconscients and is still tainting the current music. Out of this gothwaveminimalbody dying false scene there are a lot of interesting things. We have Charnier wich is an excellent band with a very raw authenticity , AirLQD and Maoupa Mazzochetti who do awesome electro, :Codes who are the authors of one of my favorite minimal/indus tracks ever , Yersina Pestis and Excuse Excuse who are brilliant live, Dehuman and Emptiness in the metal scene who kick ass, MONGOLITO who is … MONGOLITO, cool DJ's as Phil Blackmarquis or Marc Xpulsiv to nourrish our parties … You just have to know where to look !
Of course you also play in Soror Dolorosa, but the style is completely different. Is it possible you think that one day you come up with another style we don't expect from you?
I don't know what to expect of me. Expect anything.
Another difference with Soror Dolorosa, is that Luminance is your solo project. I know it really sounds arrogant, but isn't that the best thing there is for a musician, being completely independent?
I'm not sure, no , the best thing is to be in total alchemy with your bandmate(s) so you never compromise. It's what I hope for the future of Luminance , but if I have to carry on alone , then so be it.
On Left Out you worked with Darin C Huss of Psyche. How did that happen, or was it something you did over the internet?
Phil introduced me to him and then classic path, I sent Darrin a track, he recorded his vocals and sent them back to me and the track ended on the album. Everything Psyche did before 88 is cult and awesome, period. They were rough, dark, absolute, euphoric and dancy. Everything I love. The single version was his initiative though.
I hope you don't mind for asking, but I really do think The Grey sounds a bit like La Fête Triste by Trisomie 21. Do you agree?
YES?
In fact you use a lot of styles, but totally different is Hymne Au Sang. Is there a possibility that you'll do more neofolk in the future?
Yes it's totally possible that I do something in the vein of Hymne au Sang again , I'm actually doing so right now. I love martial, industrial, ambient, classical, soundtrack-ish things, and Idefinitely want these aesthetics to be part of Luminance. It's kind of a premiere for me to put music on words (french words on top of it) and not the invert. The text came to me one morning in the countryside in one block, one shot, and I knew I had to write music on it. But now if i want to do it again i have to have a country epiphany again.
I always ask those two questions to everyone I interview. What's your favourite record of all time and please state why.
You know as well as I do that it's impossible to narrow down to one album. But it's Souvenir d'un Autre Monde by Alcest.
With whom wouldn't you mind to be alone in an elevator for 8 hours and what would you do then?
My girlfriend, and well it's obvious what we would do. Have tea and play Space Hulk.
You soon play at Coalescaremonium in Brussels. What can we expect?
Lots of fog, lots of guts, lots of spirit, lots of cuts.
The last words are yours…
NO !
Didier BECU
29/03/2016
---
Een van de bands op Coalescaremonium waar we zeker naar uitkijken is Luminance. Peek-A-Boo had een gesprek met geesteskind David-Alexandre Parquier die natuurlijk ook de gitarist van Soror Dolorosa is.
Hallo, probeer iets te doen wat ik niet kan: beschrijf Luminance!
Luminance is een poging om iets te vinden dat ik nergens anders kan vinden.
Je eerste releases waren op Wool-E Tapes. Hoe ben je op dit label terechtgekomen? En zelfs al lachen sommige mensen met het tapeformaat, denk ik toch dat deze samenwerking met Dimitri vele deuren voor je opent, niet?
Mijn herinneringen zijn een beetje wazig, maar ik denk dat Dimitri me contacteerde om Icons & Dead Fears uit te brengen als een onderlinge samenwerking. Hij heeft een goed netwerk, heeft een goede uitkijk op alles en is super gemotiveerd, dus denk ik dat deze samenwerking Luminance helpt om uit zijn gat te kruipen, ja.
Op die tapes, en in feite ook op Sans Visage, hoor je een heleboel invloeden uit de jaren 80. Hoe belangrijk is dit decennium voor jou op het vlak van muziek?
Net zo belangrijk als ieder ander decennium. Die vorm van uitbundigheid, die euforische chaos, de honger naar misbruik en overvloed uit de jaren 80 trok mij wel aan, ja, maar ik hou evenveel van de psychedelica uit de sixties of de kleurrijke soundscapes uit de 70s.

Hoe meer ik Sans Visage hoor, des te meer ik verslaafd raak, maar ook hoe meer ik het gevoel krijg dat de plaat een zeer sober, zelfs macabere geluid heeft. Mee eens?
De duisternis, de nachtmerries en de waanzin kunnen zeer verslavend zijn. Op dit album wilde ik de verschillende gezichten van wanhoop tonen, verschillende zwarte gedachten schetsen totdat je erin verdwaalt. Dat komt ook doordat het gemaakt is in een vrij donkere periode, een slechte gezondheid en slechte gewoonten.
Oorspronkelijk kom je uit Frankrijk, maar je leeft in Brussel. Natuurlijk kan ik het mis hebben, maar in de jaren 80 was Brussel toch de stad bij uitstek voor progressieve muzikanten. Deze dagen heeft Brussel niet zo veel meer te bieden, denk ik. Wat is je mening daarover?
Brussel biedt een platform om te doen wat je wil. Er zijn daar geen vooroordelen, en hoe slechter je klinkt in Brussel, hoe beter. De gothic/bodyscène in België is er hopeloos aan toe, maar toch zorgde die scène ervoor dat je er nu een heleboel goede dingen vindt. Uit deze "gothwaveminimalbody" scène die zo goed als dood is, zijn er veel interessante dingen gegroeid. We hebben de uitstekende band Charnier die een zeer ruwe authenticiteit toont, AirLQD en Maoupa Mazzochetti make geweldige electro, :Codes hebben een van mijn favoriete minimal/industracks aller tijden gecomponeerd, Yersina Pestisand Excuse Excuse zijn briljant live, Dehuman en Emptiness doen fantastische dingen in de metalscène, MONGOLITO, je hebt keigoede dj's zoals Phil Blackmarquis of Marc Xpulsiv die fantastische feestjes bouwen... je hoeft alleen maar te weten waar naartoe!
We kennen je ook van Soror Dolorosa, maar de stijl is compleet anders. Is het mogelijk dat je op een dag met een andere stijl komt die we niet van je verwachten?
Ik weet zelf niet wat ik van mezelf kan verwachten

Een ander verschil met Soror Dolorosa is dat Luminance een soloproject is. Ik weet dat het arrogant klinkt, maar is dat niet het mooiste wat er is voor een musicus, je bent toch volledig vrij om te doen wat je wil?
Ik ben daar niet zeker van, neen, het beste is dat je één geheel vormt met je bandleden zodat er nooit sprake van een compromis moet zijn. Ik hoop dat dit met Luminance wel zo zal zijn. Maar als ik alleen moet doorgaan, dan moet dat maar.
Op Left Out werkte je samen met Darin C Huss van Psyche. Hoe is dat gebeurd, of was het iets wat je via internet deed?
Phil stelde me aan hem voor en dan was het via de klassieke weg, ik stuurde Darrin een track, hij nam zijn zang op en stuurde die terug en het eindigde op het album. Alles wat Psyche deed voor 1988 is cult en geweldig. Ze waren ruw, donker, perfect, euforisch en dansbaar. Alles waarvan ik hou. De singleversie was wel zijn initiatief.
Ik hoop dat je het niet erg vind dat ik het je vraag, maar ik vind dat The Grey een beetje als La Fête Triste van Trisomie 21 klinkt. Bent je het daarmee eens?
Is dat zo?

In feite gebruik je veel stijlen, toch is Hymne Au Sang door zijn neo-folk volslagen anders. Is er een mogelijkheid dat je meer neo-folk zal doen in de toekomst?
Ja, het is mogelijk dat ik iets in de trant van Hymne au Sang zal doen, ik ben er eigenlijk zelfs nu mee bezig. Ik hou van martial, industrial, ambient, klassiek en soundtrack-achtige dingen. Ik wil zeker dat dit een deel van Luminance wordt. Het was de eerste keer voor mij dat ik muziek op woorden zette (en dan nog Franse woorden) en niet omgekeerd. De tekst kwam in één blok op een ochtend vanuit het platteland bij mij, ik wist meteen dat ik daarop muziek moest schrijven. Maar als ik dat opnieuw wil doen moet ik natuurlijk wel weer een openbaring uit dat land krijgen.
Wat is jouw favoriete plaat aller tijden en waarom?
Jij weet net zo goed als ik dat het onmogelijk is om één album te kiezen. Maar goed, het is Souvenir d'un Autre Monde van Alcest.

Met wie zou je het niet erg vinden om 8 uur alleen in een lift te zitten en wat zou je dan doen?
Mijn vriendin, en het is duidelijk wat we zouden doen. Thee drinken en Space Hulk spelen.

Je speelt weldra op Coalescaremonium in Brussel. Wat kunnen we verwachten?
Veel mist, veel lef, veel goesting.

De laatste woorden zijn de jouwe...
NEE!
Didier BECU
29/03/2016
---