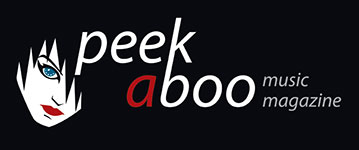 like this interview
---
MARK BURGESS
Superstardom has more downsides than advantages if you ask me. I could have used the money but fuck it, I'd have just wasted it anyway.
31/03/2016, Didier BECU
---
Chameleons Vox is ready for an European tour (including Belgium, on 23rd April in Kortrijk) and Peek-A-Boo had the chance to have a chat with one of the musicians who invented a style that is known as post-punk. Mr. Mark Burgess!
Dear Mark. It's a real honour to do this interview with you. You're not a pop star, but you definitely have changed the life of many people (including mine). It's a quote you daily hear, how does it feel when people tell you that, and do you have heroes yourself?
Hi, well I know the impact music can have on people, especially younger gernerations. Sure I've had musical heroes over the years: Beatles, David Bowie, Marc Bolan and others, so I totally get it. I mean it's nice to hear from people who want to tell you how much the music I was involved with has impacted their lives. It's what every artist strives for. I think where I draw the line is when it becomes overly obsessive. That is something I can't relate to at all.
The Chameleons always had a very melancholic early sound, at times even without hope. Had this something to do with the fact that the band is from Manchester. I mean, I've never been there, but the general image we have is one of a grey industrial city.
I really don't know. I've never thought of our music in those terms, so it's not something I can relate to. I've heard people say that Manchester music is depressing, but I've never really understood that. Maybe it's because I'm from there.
Manchester really was a city with plenty of bands. Were there any bands you were befriended with, and were you part of a scene?
No, not really. We were never part of any Manchester scene or anything. I used to be able to get guest listed for shows quite easily, but then I'd see the show and then go home like everyone else. I hate backstage scenes anyway. The guys are working and I'd just feel in the way. I have musician friends, but only a couple are what you'd call famous, the others tend to be underground or struggling.
The Chameleons is an 80's bands. Everybody has such a nice vision about the decade now, but what I remember was more like a nightmare (Thatcher just being one example). I never thought that The Chameleons was as political as say Billy Bragg, but in a way I see your music as pure punk (at least in attitude). Do you agree?
Well, yeah, I'd agree that punk was an attitude and we certainly had penny in our pocket. I kind of share your view of the 80s too. I just roll my eyes when I read or hear about what a golden age it was.
Both Script Of The Bridge and What Does Anything Mean? Basically are huge classics in the post-punk area. When I Interview current bands, they often cite The Chameleons as an influence. How was it when the albums were released? I mean, with all the respect in the world, but I sometimes feel that The Chameleons have the respect they deserve now.
Yeah, we had very little back then. We had an audience and we'd sell out shows, but both those albums were met with derision for the most part. Not that we gave a fuck.
My personal favorite album is Strange Times. It was released on Geffen and you tend to believe that it had to be the launch of something big, but it was the end. Do you think the band was able to make another album, I mean, artistically you were at your peak!
Oh yeah, I mean there's no doubt in my mind that had we finished that fourth album, it would have been our best record. No doubt at all.
In a way I think The Chameleons was far too punk to be signed on Geffen. I mean, you were always a band that followed your own route.
What, more punk than Nirvana or Siouxsie & The Banshees? I think we saw them as the best option as far as a US label goes. It seemed way more progressive, which was bullshit as it turned out, but that's just the way it seemed at the time.
Some say that you could be as big as U2. But, and I'm speaking of personal experiences, I don't think that Mark Burgess could be a pop star. I mean you're friendly, you do everything for your fans. Apart from the recognition, do you regret that The Chameleons is just a "huge cult band"?
I have no regrets to be honest, because the band has given me an enormous amount of freedom and had we been bigger in profile, I doubt I would have had that. Superstardom has more downsides than advantages if you ask me. I could have used the money but fuck it, I'd have just wasted it anyway.
Just as for so many people, your lyrics mean everything to me, I can't sing, but I surely know the words as good as you do. It's poetry, but poetry that goes straight to the heart. Never thought that you were going too far?
I honestly don't think about it. It's something that came very naturally and fluently. I've never given a lot of thought to the lyrics. I tend to sing what I feel like singing and it is what it is. Accolades about my lyrics isn't something I take very seriously. Again I'm happy about the impact, but I don't regard myself as a poet or anything.
I often relate your music to escapism. Melancholy, it's music that knocks you down, but it contains a lot of hope too. I know musicians hate these type of questions, but which songs do you prefer yourself?
It really depends on my mood or state of mind. Sometimes In Shreds, sometimes Is It Any Wonder, sometimes Second Skin. I mean as me today and it's Indiana, tomorrow it could be another.
In all honesty, I must admit that I'm glad The Chameleons are still around in 2016, but many people forget that you did much more than those three albums. Is there any possibility for new work by you?
Well, The Chameleons aren't around in 2016, ChamelensVox is a different band. Yeah I'll make another record eventually when I feel I've got strong enough songs. What kind of record it will be I can't say.
Do you follow the current music scene? Which bands do you recommend?
Currently, my favorite contemporary recording artist is Vast. I also really like Evi Vine.
This is a question that I really want to ask you. In a way I think your albums could have so much more impact if only you had the record companies behind you. Today everyone knows The Chameleons WITHOUT a record company. What do you think of the current music situation in which those companies lost all their power?
Yeah, I mean, I wouldn't sign with another record or publishing company. I feel they're completely redundant, like the music press. But I've got an audience for my work, so it's easy for me to say that. Finding your audience is the hardest part.
Soon you start The Script Of The Bridge tour in Europe. Even if the name says it all, what can we expect?
Well, actually the Script tour was last year. I think we'll go out to play songs that the audience have requested to hear. We did the show last December and now they want us to go out and play it elsewhere.
I noticed a lot of the American and Canadian shows were sold out. Were you popular over there in the 80s too
Yeah, very!
You also will play in Belgium. What does mean Belgium for you?
Well, I'm just happy to play for people that want to hear it regardless of where they are. I don't have an emotional connection to Belgium other than it's always been a fun place to play and hang out and I have some good personal friendships there.
Didier BECU
31/03/2016
---
Binnenkort begint Chameleons Vox aan een nieuwe Europese toer (eentje die ze ook naar België zal brengen op 23 april, in De Kreun in Kortrijk). Peek-A-Boo kreeg de kans om een interview te maken met één van de mede-uitvinders van een stijl die men tegenwoordig post-punk noemt. Zijn naam: Mark Burgess!
Beste Mark. Het is een echte eer om met jou te mogen spreken. Je bent wel geen popster, maar je hebt zeker het leven van veel mensen (waaronder het mijne) veranderd. Het zijn woorden die je dagelijks hoort, maar hoe voelt het als mensen je dat vertellen, en heb je zelf helden?
Hallo, nou ik weet dat muziek impact kan hebben op mensen, vooral op de jongere gerneratie. Door de jaren heen had ik zelf ook helden: The Beatles, David Bowie of Marc Bolan, dus ik snap het wel. Ik bedoel, het is leuk om te horen als mensen je vertellen hoeveel de muziek die je maakt hun leven heeft beïnvloed. Het is iets waar elke kunstenaar naar streeft. Voor mij stopt het wel als het obsessief wordt. Dat is iets waarmee ik me niet kan vereenzelvigen.
Het geluid van The Chameleons was altijd heel melancholisch, soms zelfs zonder hoop. Had dit iets te maken met het feit dat de band uit Manchester komt. Ik bedoel, ik ben er zelf nog nooit geweest, maar het algemene beeld dat we hebben is toch dat van een grijze industriestad.
Ik weet het echt niet. Ik heb nooit in die termen onze muziek geanalyseerd, dus het is niet iets wat ik herken. Ik heb mensen inderdaad al horen zeggen dat Manchester deprimerend is, maar ik heb dat nooit echt begrepen. Misschien is het omdat ik van daar ben.
Manchester was een stad met tal van bands. Waren er bands waarmee je bevriend was, en maakte je deel uit van een scène?
Nee, niet echt. We waren nooit deel van een Manchesterscène of iets dergelijks. Ik kon wel gemakkelijk op de guestlist of zo geraken, maar na het optreden ging ik naar huis zoals iedereen. Ik haat al die dingen die zich backstage afspelen. De jongens zijn aan het werk en ik heb het gevoel dat ik in de weg loop. Ik heb vrienden die muzikanten zijn, maar slechts een paar die beroemd zijn (of zoiets), de anderen zitten nog steeds in de underground of zijn nog volop aan het worstelen.
The Chameleons is een band uit de jaren 80. Iedereen heeft tegenwoordig zo'n mooie visie daarover, maar wat ik er me van herinner is eerder een nachtmerrie (Thatcher bijv.). Ik heb The Chameleons nooit als een politieke band beschouwd zoals Billy Bragg of zo, maar op een of andere manier zie ik je muziek toch als pure punk, ten minste qua houding. Ben je het daarmee eens?
Nou, ja ik ben het ermee eens dat punk een houding was en we hadden zeker geen cent op zak. Ik deel je mening over de jaren 80. Mijn ogen gaan gewoon draaien als ik lees wat voor een gouden tijdperk het was.
Zowel Script Of The Bridge als What Does Anything Mean? Basically zijn grote klassiekers in het postpunkgenre. Als ik nieuwe bands interview, dan noemen ze vaak The Chameleons als hun invloed. Hoe was het toen jullie albums werden uitgebracht? Ik bedoel, soms heb ik het gevoel dat The Chameleons nu pas het respect krijgt dat de band verdient.
Ja, toen was dat maar weinig. We hadden wel een publiek en we slaagden erin om shows uit te verkopen, maar met beide albums werden er over het algemeen gespot. Niet dat we daar ook maar één seconde van wakker lagen.
Mijn favoriete album is Strange Times. Het werd uitgebracht op Geffen en ook al moest het iets groots worden, werd het uiteindelijk het einde. Denk je dat de band in staat was om nog een ander album te maken, ik bedoel, artistiek bekeken waren jullie wel op het hoogtepunt!
Oh ja, ik bedoel, in mijn gedachten waren we ongetwijfeld klaar voor het vierde album dat onze beste plaat zou worden. Geen enkele twijfel mogelijk.
Op een bepaalde manier denk ik dat The Chameleons veel te punk was voor Geffen. Ik bedoel, The Chameleons was altijd een band die zijn eigen route volgde.
Wat bedoel je, dat we meer punk dan Nirvana of Siouxsie & The Banshees zijn? Ik denk gewoon dat we Geffen zagen als de beste optie voor een Amerikaans label. Het leek vooruitstrevend, maar dat bleek later onzin te zijn, maar dat is gewoon hoe we het toen zagen.
Sommigen zeggen dat je net zo groot had kunnen zijn als U2. Maar, en ik spreek uit persoonlijke ervaring, ik denk niet dat Mark Burgess een popster zou kunnen zijn. Ik bedoel, je bent vriendelijk, je doet alles voor je fans. Dit terzijde, vind je het niet jammer dat The Chameleons niet meer dan een succesvolle cultband is geworden?
Ik heb geen spijt om eerlijk te zijn, want de band heeft me een enorme vrijheid gegeven en mochtenn we groter geweest zijn, dan betwijfel ik of ik dat ook zo zou zien. Superster zijn heeft meer nadelen dan voordelen als je het mij vraagt. Ik kon het geld wel gebruiken, maar ik zou het toch verspild hebben.
Net zoals voor zo veel andere mensen betekenen je teksten alles voor mij. Ik bedoel, ik kan niet zingen, maar ik ken de woorden even goed als jij. Het is poëzie, maar wel poëzie die rechtstreeks naar het hart gaat. Nooit gedacht dat je soms te ver gaat?
Ik denk daar eerlijk gezegd niet over na. Het is iets heel natuurlijk en het is allemaal vloeiend. Ik heb nooit veel nagedacht over de teksten. Ik heb de neiging om te zingen wat ik voel, en dat is wat het is. Lofbetuigingen over mijn teksten neem ik niet al te serieus. Nogmaals, ik ben blij met de impact die ze hebben, maar ik zie mezelf niet als een dichter of iets dergelijks.
Ik zie jouw muziek vaak als escapisme. Melancholie, het is muziek die je naar beneden haalt, maar ze bevat minstens evenveel hoop. Ik weet dat muzikanten een hekel hebben aan dit soort vragen, maar welke songs zijn je lievelingen?
Het hangt af van mijn stemming of gemoedstoestand. Soms In Shreds, soms Is It Any Wonder en dan weer Second Skin. Ik bedoel vandaag is het Indiana, morgen weer een ander.
In alle eerlijkheid , moet ik toegeven dat ik ben blij dat The Chameleons er in 2016 nog steeds zijn, maar veel mensen vergeten dat je veel meer deed dan die drie albums. Is er een mogelijkheid dat er nieuw werk van je komt?
Nou ja, The Chameleons bestaan in 2016 niet meer, ChamelensVox is een andere band. Ja, ik zal wel een andere plaat maken als ik het gevoel heb dat ik sterke songs heb. Wat voor soort plaat dat zal zijn, kan ik niet zeggen.
Volg je de huidige muziekscène? Welke bands raad jij ons aan?
Op dit moment luister ik veel naar Vast. Evi Vine vind ik ook zeer goed.
Dit is een vraag die ik je zeker wil stellen. Op een bepaalde manier denk ik dat je platen zo veel meer impact konden hebben indien de platenmaatschappijen achter je zouden staan. Vandaag weet iedereen die met muziek bezig is wie The Chameleons zijn ZONDER een platenmaatschappij. Wat vind je van de huidige muzieksituatie waarin de muziekindustrie al zijn kracht kwijt is?
Ja, nu zou ik helemaal niet meer met zo'n maatschappij werken, of een of ander contract ondertekenen. Ik heb het gevoel dat ze nutteloos zijn, net als de muziekpers trouwens. Maar ik heb uiteindelijk een publiek, dus ik heb gemakkelijk praten. Het vinden van je publiek is het moeilijkste deel.
Binnenkort begin je aan The Script Of The Bridge -tour in Europa. De naam zegt het al, maar wat kunnen we verwachten?
Nou, eigenlijk was de Script-tour vorig jaar. Ik denk dat we songs gaan spelen die door het publiek worden gevraagd. We deden de show in december vorig jaar en nu willen ze dat we dat ook elders doen.
Ik heb gemerkt dat een groot deel van jullie Amerikaanse en Canadese shows uitverkocht zijn. Was je daar ook populair in de jaren 80?
Zeer zeker.
Je speelt ook in België. Wat betekent België voor jou?
Nou, ik ben gewoon blij om te spelen voor mensen die ons willen horen, ongeacht waar dat is. Ik heb geen emotionele band met België, behalve dat het een leuke plek is om te spelen en rond te hangen, en ik heb daar ook een aantal goede vrienden.
Didier BECU
31/03/2016
---