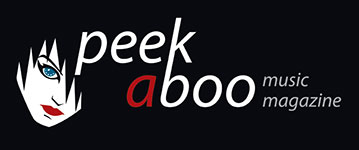 like this interview

---
WHISPERING SONS
Whispering Sons is a young blonde woman who exorcises her demons on a stage, accompanied by a dark and often danceable soundtrack made by passionate musicians.
15/03/2016, Didier BECU
---
Cold wave is back! Perhaps it is because of the new Cold War. Anyway, the list of great cold wave bands is becoming endless and of course the Belgian Whispering Sons is part of it. The band performs at Black Easter, and we had a nice chat with the band. We never manipulate answers, but some parts already are dated as at the moment we had our chat, we didn't know yet that the band should be selected for the final of Rock Rally, the biggest rock contest in Belgium.

Not long ago, I interviewed you, and everything has fallen into a huge momentum. How do you experience this, I mean I guess you are proud, but I guess there's fear as well, not?
We are incredibly happy with how it is going since Endless Party was released. We never dare to dream this. And yes, somewhere it is frightening because of some expectations people have about us; for the next release or for live shows. That surely goes with pressure. But all in all, we are sober about it and we just like to keep up our feet on the ground.

One of those factors is undoubtedly your tape Endless Party. It sounds very raw and full of emotion, just like music should be. How did you come to this sound, because there is a difference with your previously demo (which is brilliant by the way!) and Endless Party.
Our first demo was recorded one year before Endless Party and we probably have grown as musicians. Individually and as a group we discovered what we like in terms of sound and feelings, and that became Endless Party.
The sound on Endless Party, is this the final Whispering Sonssound or is it possible that we hear something completely different on your next project?
It will never be something completely different (funk? country?), but I believe that standing still automatically means going backwards. We always will try to add new elements and ideas to each release.
Whispering Sons is also an excellent live band. There is not only Fenne's voice, but you just are who you are. I have the impression that you grow with every show, right?
To be honest, before Endless Party we didn't have a lot of live experience, but that is changing now. Just as you need time to find an identity in the music you play, it takes a while before you evelop yourself on stage. But with every gig it seems to go better!
Fenne is undoubtedly your greatest asset. Not only her unique voice, but it seems like she wants to redeem herself of all demons. You go very far, Fenne.
I am still scared of it myself. On stage, I really can't control myself. It may sound ridiculous, but the music and the lyrics evoke so many things, and that's something I experience on stage only. So yes, those demons always come up!

You're in the middle of the Rock Rally contest and soon we know more. I think I can say that you have a very unique sound in Belgium. How do other musicians react, as you can say you're an outsider in Belgian music.
Ooh. Some like it, others don't. It depends on your personal taste, right? We just try to do our own thing.
Let's talk about Belgium. One of you has a connection with The Happier Hunting Ground. A brilliant band that only a handful of people know. That happens more over here. Belgium is so small, and yet there are so many brilliant bands. Sometimes I think the average Belgian should be more proud of the music scene over here…
Since we play in a band ourselves, we learned a lot about both the old Belgian 'classics' and new bands, not only the 'dark' scene. In general, we learned a lot about the state of the Belgian music scene. And actually, despite misleading broadcast schedules of some Belgian radio stations, to me Belgium seems to have a very healthy music scene in which many musicians dare to experiment and do their own thing, and they often are rewarded by a loyal fan base. So yes, Belgians can be proud.
I never asked so far, how did you get that name?
In the beginning, when we were a nameless collective of friends that was looking for a unique sound, we covered the song Whispering Sons by the Danish band Moral. Then Fenne joined, and everything changed. Perhaps that was the moment that we realized: OK, this feels good, let's write our own music. The band's name is a sort of homage to Moral, especially to that moment.

Your music is melancholic and a bit sad, even though you can dance to Whispering Sons and forget everything!
Melancholy and sadness is definitely in our music, especially in the older songs. Today we seek more a kind of anger. Faster drum rhythms and tight guitar lines make it danceable of course.

Music is the most beautiful thing in life, true or just a silly statement?
We are five people with diverse interests and opinions, but if there is something we agree on then it must be that! There's nothing better than listening, creating and playing music.

The coming weeks you will play intensively. You also will be on Black Easter. For people who do not know you, what can they expect and why should they see Whispering Sons?
If you want to see a young blonde woman who exorcises her demons on a stage, accompanied by a dark and often danceable soundtrack made by passionate musicians.

Which bands (national and international) do you recommend?
Of course we are big fans of Lebanon Hanover and She Past Away who play on Black Easter too! We certainly will try to be there the next day. For the rest, we follow The Soft Moon, Sextile, Eraas, The KVB, Empereur and too many bands to mention.

Do you bring chocolate eggs with at Black Easter or not?
Just pure black chocolate.

The last word is yours!
We are looking forward to play at Black Easter. We are thrilled to bring our music and we hope that everyone who is involved will experience it with as much pleasure as we do on stage.
Their first vinyl release is out on Minimal Maximal including a free CD and to be ordered at mmsale@scarlet.be
Didier BECU
15/03/2016
---
Cold wave is weer helemaal in. Misschien zit de nieuwe Koude Oorlog daar voor iets tussen, feit is dat het aantal kwaliteitsvolle bands met de dag toeneemt. En natuurlijk hoort Whispering Sons daar bij, één van de acts op Black Easter. We maakten een praatje met de band. We manipuleren nooit antwoorden, dus sommige passages zijn nu al wat gedateerd omdat wij op het moment van ons gesprek niet wisten dat ze in de finale van de Rock Rally stonden.
Niet zo lang geleden heb ik jullie al eens geïnterviewd, en om het zacht uit te drukken: alles is in een enorme stroomversnelling terechtgekomen. Hoe zien jullie dit, ik bedoel naast trots moet er ook wel wat angst zijn, niet?
We zijn ongelofelijk blij met hoe het vooruitgaat sinds Endless Party. Dat hadden we niet durven dromen. En ja, ergens is dat wel beangstigend omdat mensen misschien bepaalde verwachtingen hebben i.v.m. een volgende release of een liveshow. Dat zorgt inderdaad voor een zekere druk. Maar al bij al zijn we allemaal vrij nuchtere zielen en houden we gewoon het liefst onze voetjes op de grond.
Een van die factoren is zonder twijfel jullie tape: Endless Party. Hoe meer je er naar luistert des te meer je beseft dat het een stuk vol klassiekers is. Het klinkt ontzettend rauw, vol emoties en gewoon zoals muziek moet zijn. Hoe zijn jullie ook tot dit geluid gekomen, want er is toch een verschil met jullie eerder opgenomen demo (die trouwens ook briljant is!).
Er zat een goed jaar tussen onze eerste demo en de Endless Party en in dat jaar zijn we ongetwijfeld allemaal gegroeid als muzikanten. Door er steeds meer en intensiever mee bezig te zijn, hebben we zowel individueel als in de groep ontdekt wat we leuk vinden qua geluid en sfeer. En daaruit is Endless Party voortgevloeid.
En dat geluid op Endless Party, is dat de definitieve Whispering Sons-sound waaraan jullie willen werken of is het mogelijk dat jullie voor het volgende project wat anders doen?
Volledig anders (funk? country?) zal het nooit worden, maar ik denk dat we onder het motto 'stilstaan is achteruitgaan' altijd zullen proberen om in elke release een aantal andere en nieuwe elementen en ideeën te verwerken.
Whispering Sons is ook een uitmuntende liveband. Er is niet alleen jullie geluid, maar jullie zijn gewoon wie jullie zijn. Ik heb de indruk dat jullie met ieder optreden lijken te groeien, niet?
Om eerlijk te zijn hadden we voor Endless Party nog niet zoveel live-ervaring, maar dat is nu met rasse schreden aan het vooruitgaan. Net zoals je een soort van eigen identiteit moet zoeken in de muziek die je maakt, is het op het podium ook een tijdje zoeken naar wie je wilt zijn. En dat lukt inderdaad met elk optreden beter.
Fenne is zonder twijfel jullie grootste troef. Er is niet alleen de stem, maar het lijkt wel alsof ze op het podium zich van al haar demonen wil verlossen. Jij gaat wel erg ver op een podium, niet Fenne?
Ik schrik nog steeds van mezelf. Op het podium heb ik mezelf echt niet in de hand, hoe belachelijk dat ook klinkt. De muziek en de teksten roepen zoveel op, en dat is iets wat ik pas ten volste ervaar als ik het live kan brengen. Dus ja, die demonen durven dan af en toe wel eens komen kijken.
Jullie zitten middenin de Rock Rally-gekte en binnenkort weten jullie er meer over. Ik denk dat ik mag zeggen dat jullie in België wel een zeer uniek geluid hebben. Hoe wordt daarop gereageerd door andere muzikanten, want door jullie stijl zijn jullie toch ook wel een beetje het buitenbeentje in de nieuwe lichting Belgische muziek.
Goh. Sommigen vinden het tof, anderen moeten er niks van weten. Hangt van persoonlijke smaak af, zeker? We proberen ons er alleszins niet veel van aan te trekken en we doen gewoon ons ding.
Laat ons eens over België spreken. Een van jullie heeft een band met The Happier Hunting Ground. Een briljante groep die nauwelijks bekend is. En dat gebeurt wel meer in dit land. Het is zo klein en er staan zo veel briljante groepen op het podium. Hebben jullie ook niet het gevoel dat de doorsnee Belg best wat meer trots mag zijn op de muziekscène hier?
Sinds we zelf in een band spelen, hebben we eigenlijk pas ongelooflijk veel bijgeleerd over zowel oude Belgische 'classics' als nieuwe bands en niet alleen in de 'donkere' scène. Ook in het algemeen zijn we veel meer te weten gekomen over de stand van het Belgische muzieklandschap. En eigenlijk: ondanks misleidende zendschema's van enkele grote radio's, lijkt België mij een heel gezond muziekland waarin veel muzikanten durven experimenteren en hun eigen ding doen, en daar vaak toch voor beloond worden met een trouwe fanbasis. Dus ja, de Belgen mogen best trots zijn.
Ik heb het jullie eigenlijk nog niet gevraagd, maar hoe kwamen jullie op deze naam?
In het begin toen we nog een naamloos collectief van vrienden waren dat nog een beetje op zoek was naar een eigen sound, was de song Whispering Sons van Deense band Moral één van de covers die we speelden. En zodra Fenne erbij kwam en daarop zong, leek er iets te klikken. Dat was misschien het moment waarop we beseften: OK, dit voelt goed aan, laten we proberen eigen muziek te schrijven. En de bandnaam is dan een beetje een hommage aan Moral, ja, maar ook vooral aan dat moment, denk ik.
Ik vind jullie muziek ontzettend melancholisch en een tikkeltje triest. Ervaren jullie dat ook zo, ook al kan je natuurlijk op Whispering Sons dansen en alles rondom je vergeten!
Melancholie en tristesse zitten er zeker in, vooral in de oudere tracks. Tegenwoordig merken we veel meer een soort woede of opgejaagdheid in muziek schrijven of als we spelen. De snellere drumritmes en strakke gitaarlijnen maken het uiteraard wel meer dansbaar.
Is muziek het allermooiste in dit leven, of is dit gewoon een dwaze stelling?
We zijn vijf mensen met uiteenlopende interesses en meningen, maar als er iets is waarover we het eens zijn is het wel deze stelling. We doen niets liever dan naar muziek luisteren, maken en spelen.
De komende weken gaan jullie intensief spelen. Jullie staan ook op Black Easter. Voor mensen die jullie niet kennen, wat kunnen ze verwachten en waarom moeten ze absoluut naar Whispering Sons luisteren?
Whispering Sons is voor alle mensen die een jonge blonde vrouw haar demonen wilt zien uitdrijven op een podium met een donkere en vaak dansbare soundtrack die door een stel gepassioneerde muzikanten wordt gemaakt.
Welke bands (nationaal en internationaal) moeten we volgens jullie beslist in het oog houden?
Wij zijn natuurlijk grote fan van Lebanon Hanover en She Past Away die de dag na ons op Black Easter spelen! We gaan dan ook zeker proberen om de volgende dag te komen. Voor de rest volgen wij op de voet: The Soft Moon, Sextile, Eraas, The KVB, Empereur en veel te veel om op te noemen.
Brengen jullie chocolade-eieren mee naar Black Easter of niet?
Enkel pure zwarte chocolade.
Het laatste woord is aan jullie!
We kijken er ongelooflijk naar uit om op Black Easter te spelen. We vinden het fantastisch om onze muziek live te brengen en we hopen dat iedereen die komt kijken er evenveel plezier aan beleeft als wij op het podium.
Hun eerste vinylrelease is nu uit op Minimal Maximal met gratis cd en te bestellen via mmsale@scarlet.be
Didier BECU
15/03/2016
---