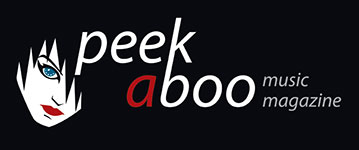 like this interview

---
WHISPERING SONS
Playing live on stage is the reason why we love what we do...
02/06/2017, Jurgen BRAECKEVELT
---
If there is a band that lived in a dream last year, it might have been be Whispering Sons. A young talented Belgian act playing good old school postpunk sounding music and already conquering a spot at WGT 2017. We had a chat with the band.

You've had a great year, after winning the Belgian Rock Rally competition, and bringing the postpunk sound in Belgium under the general public's attention again. How did you experience and survive last year?
Between the Rock Rally and now, a lot has happened. We have been on a tour twice, released a 7 ", made a video, etc… It has been busy, but maybe that's exactly why we've survived. Sitting still and doing nothing is not like us.
The music you play doesn't immediately sounds as music for young people. Who are your inspirations and examples?
Of course our music is clearly influenced by the post-punk and new wave of the eighties. But it may have been the contemporary bands that eventually made us realize that this music is still alive and inspired us to get started. Think of bands like The Soft Moon or The KVB, or any band of any genre that inspired us to make music ourselves.
You are a great live band, which is visible and tactile for the audience. What makes you enjoy the stage so much?
Being on stage is one of the main reasons we make music. More than our records, it's the way to show people what we are capable of. Live we're even more full of energy and adrenaline. And there's nothing better than being able to convey that energy to an audience with something we've created. The interaction with the audience is of course much bigger when you are on a stage. It is more personal and intense.
If you look back on the last year, what are three most memorable moments you want to share with us?
Our performance at Pukkelpop last summer was definitely very memorable. We have been going to that festival for years and now being asked to open the Wablief–Stage was just unimaginable. Even in spite of the awkward hour we played there, the tent was filled properly. Also the two foreign tours we did were incredible. You can not know in advance how our music will be received and whether there will even an audience. So if we get the room filled, like at a fantastic Grauzone festival, it certainly feels great. Our third memorable moment might have been when our 7" sold out within 24 hours. The pre-orders had only just begun, and we needed already a second pressing.
You play for a varied audience: the lovers of the darker genre, but also for a more general audience. Are there any differences and does this influence your show?
It does not matter what audience we are playing. If people are enjoying themselves, we are satisfied.
Playing one show after another must be very demanding. Is there any time left for composing new songs? And what can we expect?
After this summer we are planning to take it easier. We will still play some festivals and go on tour once more, but after that, it's time to focus on new music. What you can expect, we cannot say yet.
This year, the global "Black Scene" will be able to see you perform at WGT. Do you look forward to this event, the biggest event in the gothic scene worldwide? And what can the public expect?
We look very much forward to this! We have never been there ourselves and do not know what to expect, but we will of course try to play a good show. Think of dark and energetic post punk that can sometimes grab you by the throat.
Which bands are you going to see on WGT and why? Recommendations and tips for the public?
We really don't have an idea who is playing, where and when. If we have time, we will definitely take a look around. Recommendations are definitely our friends of Bleib Modern and our personal favourites Ritual Howls and Drab Majesty.
Thank a lot and kick ass in Leipzig!
Jurgen BRAECKEVELT
02/06/2017
---
Als er één band is die het afgelopen jaar een droom mocht leven, is het wellicht Whispering Sons. Belgisch jong toptalent dat goede oldschool postpunk brengt en meteen zijn plaatsje kreeg op WGT 2017. Wij gingen op de koffie bij de band.
Jullie hebben een geweldig jaar achter de rug, na dé ontdekking te zijn geweest in de Rock Rally. En als zo jonge band de postpunk in België weer onder de aandacht te brengen. Hoe hebben jullie het laatste jaar beleefd én overleefd?
Sinds de Rock Rally tot nu is er heel wat gebeurd. We zijn twee keer op tour geweest, hebben een 7" uitgebracht, een videoclip gedraaid, etc. Het is druk geweest, maar misschien dat we het net daardoor overleefd hebben. Stilzitten is niks voor ons.
De muziek die jullie brengen is niet meteen doorsnee voor jonge mensen. Wie zijn jullie inspiraties en voorbeelden?
Onze muziek is natuurlijk duidelijk beïnvloed door de postpunk en new wave van de jaren tachtig. Maar het zijn misschien wel de hedendaagse bands die ons uiteindelijk hebben doen inzien dat die muziek ook nu nog leeft en die ons hebben geïnspireerd om er zelf mee te beginnen. Denk aan bands als The Soft Moon of The KVB, of eigenlijk eender welke band van eender welk genre die ons heeft kunnen inspireren om zelf muziek te maken.
Jullie zijn een geweldige liveband, dat is zichtbaar én voelbaar vanuit het publiek. Wat maakt dat jullie spelplezier zo immens groot is?
Op een podium kunnen staan is een van de belangrijkste redenen waarom we muziek maken. Meer nog dan op plaat, is het dé manier om mensen te tonen wat we kunnen. Live zitten we ook gewoon vol energie en adrenaline. En er is niets beters dan die energie te kunnen overbrengen op een publiek met iets wat we zelf gemaakt hebben. De wisselwerking tussen ons en het publiek is natuurlijk ook veel groter op een podium. Het is persoonlijker en intenser.
Als jullie terugkijken naar het laatste jaar, wat zijn drie héél memorabele momenten die je met ons wil delen? En waarom net die?
Ons optreden op Pukkelpop vorige zomer was zeker memorabel. Wij gaan zelf al jaren naar dat festival en om er dan de Wablief?! te mogen openen, dat is onvoorstelbaar. Zelfs ondanks het onzalige uur waarop wij er speelden, stond de tent behoorlijk vol. Ook de twee buitenlandse tours die we gedaan hebben waren ongelofelijk. Je kan op voorhand niet weten hoe de muziek zal aanslaan en of er wel een publiek zal zijn. Als wij dan op een fantastisch festival als Grauzone de zaal helemaal kunnen vullen, dat is een geweldig gevoel. Ons derde memorabele moment is misschien wel toen onze 7" op 24 uur tijd was uitverkocht. De pre-orders waren nog maar net begonnen, en er moest al een tweede persing bijkomen.

Jullie spelen voor een divers publiek: de liefhebbers van het donkerdere genre, maar evenzeer voor een 'gemengd' publiek. Zijn er verschillen en wat doet dat met jullie on stage?
Het maakt ons absoluut niet uit voor welk publiek we spelen. Als de mensen er iets aan hebben, dan is het voor ons al goed genoeg.
Het éne optreden na het andere, dat moet leuk maar ook slopend zijn. Is er nog tijd voor nieuw werk en wat mogen we verwachten?
Na deze zomer willen we het wat rustiger aan doen. We spelen nog wat festivals en gaan nog eens op tour, maar daarna is het tijd om te focussen op nieuwe muziek. Wat jullie mogen verwachten, kunnen we nog niet zeggen.
Dit jaar kan de wereldwijde zwarte meute jullie komen bewonderen op WGT. Hoe kijken jullie daartegenaan, want het is toch het grootste event in de gothic-scene wereldwijd? En waaraan mag het publiek zich verwachten?
We kijken er enorm hard naar uit. We zijn er zelf nog nooit geweest en weten zelf ook niet goed wat we mogen verwachten, maar we gaan natuurlijk een goede show proberen te spelen. Denk donkere en energetische postpunk die soms bij de keel kan grijpen.
Welke bands gaan jullie zélf bekijken op WGT en waarom? Aanraders en tips voor het publiek???
We hebben niet echt een idee wie waar of wanneer speelt. Als we tijd hebben, gaan we zeker eens rondkijken. Aanraders zijn zeker onze vrienden van Bleib Modern en onze persoonlijke favorieten Ritual Howls en Drab Majesty.
Thx a lot en pak in Leipzig de meute ook nog maar eens in!
Jurgen BRAECKEVELT
02/06/2017
---