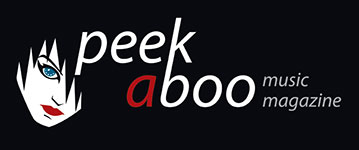 like this interview
---
MASSIVE EGO
'CAN NEVER SEE MYSELF BEING IN A BAND THAT JUST WORE JEANS AND T-SHIRTS'
29/05/2017, Stef COLDHEART
---
Massive Ego was formed in 1996. The band, driven by front man Marc Massive, have gone through several periods but early this year released probably their best production ever. "Beautiful Suicide" has been released on Out Of Line and features multiple influences which, for sure, evoke some good-old 80s electronic-wave music but still a more contemporary 'pop' style. I got in touch with the charismatic Marc Massive.

Marc, performing and arts generally speaking must be a really important part of your life. Do you remember all things you've done so far and what have been the ones you're really proud of?
Marc: In all honesty and in the 20+ year history of the band thus far, the newest album "Beautiful Suicide" is my most proudest moment. I know bands always say their newest album is their best but for me, having had big gaps in output, so much effort has been put into this album which seems like it's been a long time coming but it had to be right. I've poured my heart out literally into the lyrics, and Lloyd, Scot and Oliver have worked long and hard on creating the tracks for me to write to and it just seems that everything has come together as I'd always wanted it to on this album.

How did you get contaminated by the music virus and what was the main goal when setting up Massive Ego?
Marc: When I first started the band in a bedroom in a house in Camden Town (that once belonged to the 70s boy band the Bay City Rollers) my main reasoning was to make a dance record that would be released on vinyl and CD and would be around long after I wasn't. I was going through something of a morbid period, thinking about what would be left behind of me when I'd gone and as I'd always toyed with being in a band music seemed like a worthy thing to leave behind. It was also something of a vehicle, an alter-ego to channel my intense anxiety through, a kind of therapy that meant I had to get up on stage and perform and therefore deny my fears the chance of success.
I think there are two distinct periods in the band's history; an early period and the 'new' one symbolised by the accomplishment of the album "Beautiful Suicide". Can you analyse the evolution of the band throughout the years?
Marc: There's probably three stages. We started out as an indie synth pop band in '96, writing our own material and performing live, got offered management and a record deal with Rhythm King which ultimately broke down and failed.
However the next stage I somehow got lost in the world of doing dance covers of 80s tracks that really should have been left alone, for small labels that didn't care less about us as a band and sapped my creativity.
Then I started writing again after getting totally fucked off with where the band was at that point. I did a couple of original releases, worked with other producers and found my feet and passion for it again. It took a few years to lose the stigma and association of just being a covers band until I met the guys that are in the current formation, proper musicians who could write and play live. We signed to a decent label who took a chance and that's where the band is today. "Beautiful Suicide" is something of a rebirth for us.

You asked Chris Pohl and Mario Rühlicke to produce your new work. What do you like in their sound approach and what did they add to the original songs of "Beautiful Suicide"?
Marc: Chris and Mario didn't produce the album, they did however mix the majority of the final songs. The songs were all in the current state you hear now when we sent them but the guys added a beefier, thicker overall sound to the finished tracks mix down that we didn't achieve in our studios. Some existing drum sounds were made bigger, some parts were mixed more out there in the final versions. We of course we're thrilled to have them on board and oversee the final mix. We've grown very fond of Chris who has taken us under his wing and was instrumental in us signing up to Out Of Line in the first place. He's given us lots of opportunities that many in this industry just wouldn't bother doing, and is definitely a rare breed.
The song "I Idolize You" became a big hit. Tell us a bit more about the composition of this song and the lyrics?
Marc: It really does seem to have connected with people in a way I never expected when I wrote it. The original version was written with myself and a guy called Andy JT who I formed the band with way back in 1996. He came up with a rather unique piece of music that was miles away from anything he'd done before. We hadn't really been working with each other at that point as Andy used to flit in and out of the band up until then. I heard its uniqueness, took it away whilst on a holiday, wrote the lyrics in a day and then recorded it. I released it as a single initially on my own little label 'Public Disorder' and made the video.
Nothing really happened with the track, if anything it saw the band lose a huge part of our then 'dance' friendly audience, they hated it! The boss of a 'dance covers' label in Germany I had released through even commented that I shouldn't be doing this kind of music and that it was awful and wouldn't do anything! As ever that desire to prove people wrong spurred me on. I found my feet and determination with that song and knew it's where I wanted to go musically. It was remixed by Lloyd Price who was then working with Sigue Sigue Sputnik and this remix became the version I started doing live and is the version that got signed to Out Of Line and released on our "Noise In The Machine" EP, which became the hit.
So as a track it certainly went on a bit of a journey before it connected with people. But It's the track that brought this line-up of Lloyd, Scot and Oliver together. I now affectionally think of it as our "You Spin Me Round" lol!

The opening track of the album features a sampling of Nick Rhodes (Duran Duran) while you also made a noticeable cover version of "Let Go" (Boy George). I guess it is not a coincidence, right?
Marc: Congratulations, you are the first person to notice that its Nick Rhodes voice that kicks the album off. I had an old sample from a talking interview he'd done in the 80s. I always wanted to use it and it seemed to fit so well on the albums prologue track. He's the one musician I've always followed and idolised. For me he's the Bowie of my generation.
The "Let Go" track is an original track written especially for us by Boy George, a track he'd always promised to write for me so I was thrilled to be able to have it on the album. I'm an 80s kid at the end of the day and moved to London aged 18 at the end of the 80's. I was lucky to have worked and become friends with many of the main suspects from that period so their style and sound was always going to rub off on me in some way.

What's the importance of the image, which I think is a quite important aspect in music business?
Marc: It's massively important to me and I've always thought it goes hand in hand with the music and can never see myself being in a band that just wore jeans and t-shirts. I've been lucky to have been able to put my visual ideas across on all the bands releases and videos to date. It's not something I'd ever want to just leave to someone else to come up with. However I've been lucky to work with some amazingly creative people who have helped me achieve what I wanted to say visually over the years. Having the legendary music photographer David Levine shoot the album cover shots was a real treat, having shot just about every band that I'd followed in the 80's and then having a graphic designer called UserDX work the images into the album booklet has been a hugely enjoyable process for me.
Stef COLDHEART
29/05/2017
---