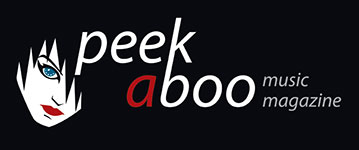 like this interview
---
THIS MORN'OMINA
'TMO is a strange entity, it seems to possess and control us'
25/05/2017, Stef COLDHEART
---
Belgian formation This Morn' Omina has always been an 'alien' from the electro- & industrial underground scene. Set up by Mika Goedrijk, the band has often been defined as tribal & trance-industrial music. The very own sound DNA of This Morn' Omina has rapidly made this band unique, conquering a very diverse –and not only industrial, audience. This Morn' Omina has now been active for more than 20 years and has released an impressive number of titles. Mika Goedrijk has been joined for the writing process by Karolus Lerocq while the band also became a serious live formation. Six years after their last album, This Morn' Omina is back on track unleashing "Kundalini Rising", which is the start of a new cycle and the first album released on Dependent.
The new album "Kundalini Rising" seems a bit like a resurrection (6 years after your previous full length) and a new start for This Morn' Omina as you moved from Ant-zen to Dependent! How does it feel from your side?
Karl: I would agree, it is quite a resurrection. With the "Nyan"-trilogy completed, we did begin a new cycle with new band members and a new label. A lot changed in our personal lives as well and the album is a reflection of the death and rebirth that took place. For me TMO is a strange entity, it seems to possess and control us, we're like its puppets and our spiritual side seems to become inseparable from the musical. At times it's howling frustration, others merciful release.

You moved from an 'industrial' label to a pure 'electro' label. This is an interesting move, which might be interpreted as turning your back on one scene to embrace another… or according to Faust, selling your soul to the devil?
Karl: Not really. Dependent took on the new album without any influence on the music whatsoever. The label wants to diversify its bands and we don't necessarily consider ourselves 'industrial'. Besides, the ethic of the label wanting to reconnect bands with the listeners was an attractive offer and made the "Fire Spirit-Limited Edition come about. It was high time for the move, as the initial offer actually occurred in 2003.

"Kundalini Rising" again is a conceptual work. What especially fascinates you in 'concepts'? I'm always intrigued how the hell you transpose such a complex concept into sounds and noises?
Karl: "Kundalini Rising" came about as a discovery of direct channeling of that energy. We'd been doing it all along anyway, as is everyone else who creates anything, but more subconsciously. I was doing Yoga sessions before working on each music session, and it became a much easier and more fluid process to translate from the inspiration/vision to get the musical core laid out. The after tweaking not so much!
"Kundalini Rising" features real percussion, which is a new element of the studio work. What do you think about the result and tell us a bit more about the recordings as percussion remains one of the most difficult aspects of recording doesn't it?

Mika: I think everyone is very happy with the 'results'. A new element is always exciting and making it fit into what was envisioned is exciting to do. Mind you, it is not as difficult anymore as it was in the old days. We have our own studio tailored to our needs. And the workflow is faster than ever before.

It's the second album that has been composed together with Karl Lerocq but what's the real impact of Karl in the global process (writing, recording, mixing, production) and what makes the chemistry between both of you?
Karl: I can't write lyrics, or sing! (laugh)
Mika: While Karl is inept at singing or writing lyrics he pulls his weight; haha - you skinny bastard. When we met we both knew that we were connected on a spiritual level. We bicker and argue but in the end we both know the end-goal we are going for.

The live shows have been always one of main strengths of This Morn' Omina and in my view an antidote to most of the industrial artists hiding behind their laptops! Any reaction here?
Karl: Our formula seems to work on stage, we've had some blinding shows. We've seen people go berzerk and rush the stage at WGT and we've seen people dancing their hearts out in a thunderstorm well beyond caring that their hair was messed up and makeup streaming down their faces. If we are able to smash through the social conformity and get people to let go, I'd say we're achieving our intent. We get influenced by the energy of the crowd as well, it becomes a mutual shared experience. Every show seems 5 minutes long to me.

This Morn' Omina will always be linked to "One Eyed Man", which I know is not exactly your favourite track! Is it just saturation and do you feel "Garuda Vimana" could possibly become the new big hit of the band?
Karl: I guess it is not really up to us whether something becomes a hit or not. Our musical scene is not a 'hit factory' like the commercial realm. If people like any of our stuff and play it enough though, well and good - it makes us happy.

Mika: "One Eyed Man" will always stick and we will play it live in some form or other. TMO has never been about club hits, but "Garuda Vimana" is a candidate for people who only want that.
Stef COLDHEART
25/05/2017
---