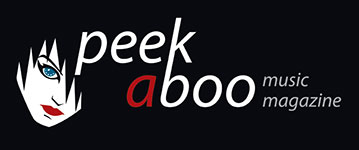 like this interview
---
ATARAXIA
'Music is the miracle of coming into being and vanishing'
16/04/2017, Stef COLDHEART
photos: © Marquis(pi)X
---
Italian formation Ataraxia was originally set up in 1985 by Francesca Nicoli and Michele Urbano. The band went through different line ups but finally found its base around the magic voice of Francesca Nicoli, joined by Vittorio Vandelli and Giovanni Pagliari. Ataraxia recently released their 25th full length album on the Greek label Sleaszy Rider Records. I got in touch with the band for an interview, which deals with much more than only music…

I think you consider music as a 'voyage' so where is the latest travel "Deep Blue Firmament" taking us to?
In order to start a new voyage we have to welcome inspiration and mystery as something you can't control. We choose the option of letting things appear and go. To give up controlling is not a passive act, it must be cultivated and it engages all our intelligence, sensitivity and will. Music is the miracle of coming into being and vanishing. It is still possible to feel this vertigo if we cultivate our own availability to the GRACE OF THE EVENT. This is the starting point of "Deep Blue Firmament"'s voyage. "Deep Blue Firmament" is our trip as sailors before the stars, the firmament is our life-map over a sea of notes. These songs help us see our fears and weaknesses but at the same time bring awareness and clarity of vision. This is "Deep Blue Firmament"' s aim.

It sounds like music is becoming a symbolic travel through the inner-self… like a quest to discover hidden thoughts, fantasies, images etc. Your music and work is a kind of meditation or mindfulness, right?
Imagine the act of inhaling and exhaling, it is exactly the same for inspiration. We feel like channels that inhale a peculiar information and we expire it in form of a music alchemy. It is just like breathing, inhaling and exhaling keep us alive, their interchange creates a balance. Our essence is emptying progressively in order to get in touch and be filled by the harmony of creation as 'what it is above it is also down here and within us'. It is both meditation and mindfulness, of course.

Ataraxia has always been a mix of different influences and different cultures, creating a kind of 'union'. This is an essential aspect in the world (Europe) of today so what's your perception about it?
Imagine that you are meditating, is it more powerful to do it alone or connected with others? Imagine that you are playing, is it more fun and enjoyable to do it as a soloist or together with other musicians? Imagine that you are praying, is it more efficacious to do it alone or with several other people who feel the same inspiration? The same for a concert that's a ritual where it is possible to open the doors of far-off dimensions, we can live transcendent experiences as long as we get rid of our mental burden (thoughts) + pathos to get sumptuously the area of sensations and eventually, spirituality.
Our personal musical experience has grown and has been enriched all over the world meeting different cultures, different people all in touch with an inner research. We brought our own experience and we received the same from the others. Every person chooses his/her own path to be followed (and, everyone has his/her own roots, memories, hidden fears and deep desires) but if we do not feel separated, if we are connected, we are able to create a powerful energetic net. For this reason a concert is such an important thing. It enables everybody (both the musician and the listener) to know better his/her own essence and find the energy and, eventually, keep all of this in everyday life. It's an exercise of life, to feel ourselves and to feel the other. Diversity and connection can go together.

Tell us a bit more about the composition process of your work and I especially think about aspects such as the incorporation of multiple classic/authentic instruments and the use of different languages?
Folk music means a main use of acoustic instruments rather than machines or computers and a special taste for traditional airs or themes but in our opinion, all of this has to be transformed into something new. A completely new chant born from the immutable heart of time. We feel free to play acoustic instruments together with electronic pads or instrumentation. We always did it from the very beginning and we feel that this enriches our work and gives us the chance to tell stories like modern minstrels, trying to filter what mythology, traditions and legends have handed down to us.
Concerning the use of different languages, we are mainly interested in magic power of the word, in the practice of the enchantment. Enchantment means 'singing-inside'. Pronouncing a word is a pure act of creation and we are conscious that this creation is a revelation, a process of deeper knowledge and self-knowledge. The magic word resounds before being pronounced. Knowledge and experience happen at the same time and all of this is a sacred announcement, a message that doesn't need rationality to be caught. It is a sort of spiritual call coming from the depths. Sometimes our music is born to speak the pure language of nature. The ancient rituals celebrated the art of the essence. They were able to concentrate into mantras, dances, sequences of sounds and rhythms the energy who passed through human beings and kept them alive. These rituals renewed the connection between human beings and the forces they were made of.. French, Italian, English, Spanish, Latin and other languages are not always pronounced in the right way, they become a sort of clay that we like shaping.

Ataraxia has always been a kind of 'total artistic concept', where music only seems to be an element next to poetry, imagery, theatre etc. Tell us a bit more about this approach and eventually some referential artists?
We love poetry most of all. We are at ease when we adapt poetry to music. Sappho and several other Greek poets of the classic age were deeply inspired by nature. Their poetry was full of the visual and aural suggestions of the natural elements. They didn't write complex, long verses to portray their feelings, they simply observed and lived the nature changes, the different lights of the day, the tides, the moon phases, the seasons of birth, death and rest and translated them into words. Every word embodied a color, a surface, a perfume. Their poetry was written to be accompanied by the lyre. It was bright, sensual, absolutely musical.
Other great influences are the landscapes, especially those places that are full of energy. Other forms of art inspire our music directly (theatre, painting, photography, mask craft) and we have always collaborated with artists who physically or with their art took part in our performances and albums. They inspire us and we inspire them. It is a circular and creative process. Some names: Andrea Chiesi, Angelo Zanella, Livio Bedeschi, Norma Gombok, Mick Mercer. From the past we have been mainly inspired by Waterhouse.

"Deep Blue Firmament" is your 25th full length album in history. Does it have a particular meaning and how would you analyse your evolution as band/musicians throughout the years and what do you expect from the future?
In November 2015, we entered our recording studio without any idea, any melody in mind, completely empty as channels ready to be filled by grace. This is what we need every time we appraoch a new album, in order to start being free you need to be empty and to purify all what has become a limiting barrier, the original innocence has to be born again this means to go back to a holy source.
The meaning of "Deep Blue Firmament" is that in the darkest nights of life, obscurity sharpens our subtle sight so we are able to see the firmament more clearly, slivers of insight make us lift our eyes up to the deep blue sky opening our heart and mind to an interior teaching or revelation. Our artistic evolution has been natural, felt and we have always lived in a state of awareness.
About the future, a new album will be released in 2018, there our very first demo tapes, "Prophetia" and "Arazzi", will be finally released on CD format. We also go on with our live activities bringing "Deep Blue Firmament" performance where we are called.

ATARAXIA on FaceBook
http://www.ataraxia.net
Stef COLDHEART
16/04/2017
---
De Italiaanse groep Atarxia werd oorspronkelijk opgericht in 1985 door Francesca Nicoli en Michele Urbano. De band kende verschillende line ups, maar vormde uiteindelijk een kern rond de magische stem van Francesca Noli, vergezeld door Vittorio Vandelli en Giovanni Pagliari. Ataraxia bracht recent een 25ste full album uit bij het Griekse label Sleaszy Rider Records. Ik contacteerde de band voor een interview dat over veel meer gaat dan muziek alleen.
Ik denk dat jullie muziek beschouwen als een 'reis', dus waarheen brengt de laatste trip "Deep Blue Firmamant" ons?
Om aan een nieuwe reis te kunnen beginnen, moeten we openstaan voor inspiratie en mysterie en dat zijn dingen die je niet onder controle hebt. We kozen ervoor de dingen te laten verschijnen en gaan. De controle loslaten is geen passieve daad, het moet gecultiveerd worden en vraagt betrokkenheid van onze intelligentie, gevoel en wil. Muziek is het mirakel van ontstaan en verdwijnen. Het is nog altijd mogelijk deze hoogtevrees te voelen als we onze eigen beschikbaarheid voor de GENADE VAN DE GEBEURTENIS cultiveren. Dat is het uitgangspunt van de reis in "Deep Blue Firmament". Het is onze trip als zeelui voor de sterren, het firmament is onze levens-kaart over een zee van noten. De songs helpen ons onze angsten en zwakheden te zien, maar tegelijkertijd brengen ze bewustzijn met zich mee en laten ze de dingen helder zien. Dat is de bedoeling van "Deep Blue Firmament".

Het klinkt alsof muziek een symbolische reis doorheen het innerlijke zelf wordt... als een queeste om verborgen gedachten, fantasieën, beelden, etc. te ontdekken. Jullie muziek en werk is een soort van meditatie of mindfulness, nietwaar?
Stel je het in - en uitademen voor, het is precies hetzelfde met inspiratie. We voelen ons kanalen die bijzondere informatie inademen en we ademen die weer uit in de vorm van een muziek alchemie. Het is als ademhalen, inademen en uitademen houdt ons in leven, hun afwisseling zorg voor evenwicht. Onze essentie is geleidelijk aan leegmaken om in contact te komen met en vervuld te worden door de harmonie van het scheppen zoals 'wat het boven is, is het ook hier beneden en in ons'. Dat is natuurlijk zowel meditatie als mindfulness.
Ataraxia is altijd al een mix geweest van verschillende invloeden en culturen, door een soort 'unie' te creëren. Dat is een essentieel aspect in de wereld (Europa) van vandaag. Wat is jullie visie daarop?
Beeld je in dat je mediteert. Is het krachtiger om dat alleen te doen of verbonden met anderen? Beeld je in dat je speelt. Is dat dat leuker en aangenamer als solist of samen met andere muzikanten? Beeld je in dat je bidt. Is dat effectiever in je eentje of met verschillende andere mensen die dezelfde inspiratie voelen? Hetzelfde geldt voor een concert, dat eigenlijk een ritueel is dat het mogelijk maakt de deuren te openen naar verafgelegen dimensies. We kunnen transcendente ervaringen beleven zolang we ons kunnen ontdoen van onze mentale last (gedachten) + pathos om heerlijk het terrein van gewaarwordingen te bereiken en uiteindelijk spiritualiteit.
Onze persoonlijke muzikale ervaring is gegroeid en werd verrijkt omdat we over de hele wereld verschillende culturen tegenkwamen, verschillende mensen, allemaal bezig met een innerlijk onderzoek. We brachten onze eigen ervaring mee en kregen hetzelfde van anderen. Elke persoon kiest zijn of haar pad om te volgen (en iedereen heeft zijn of haar eigen roots, herinneringen, verborgen angsten en diepe verlangens), maar als we ons niet afgezonderd voelen, als we verbonden zijn, kunnen we een krachtig energetisch netwerk maken. Daarom is een concert iets zo belangrijks. Het laat iedereen (zowel de muzikanten als de toehoorders) toe om de eigen essentie beter te leren kennen en energie te vinden en, uiteindelijk, dat alles ook aan te houden in het leven van elke dag. Het is een levensoefening, om onszelf te voelen en de andere te voelen. Diversiteit en connectie kunnen samengaan.
Vertel ons wat meer over hoe jullie werk tot stand komt. Ik denk dan in het bijzonder aan aspecten als het integreren van verscheidene klassieke/authentieke instrumenten en het gebruiken van verschillende talen?
Folk muziek betekent dat je hoofdzakelijk akoestische instrumenten gebruikt, eerder dan machines of computers. Het betekent ook een specifieke voorkeur voor traditionele deuntjes of thema's. Volgens ons moet dit alles omgevormd worden tot iets nieuws. Een volledig nieuw lied, geboren uit het onwankelbare hart van de tijd. Wij voelen ons vrij om akoestische instrumenten te bespelen samen met elektronische pads of instrumenten. We hebben dat van in het begin zo gedaan en we voelen dat dit ons werk verrijkt en ons de kans geeft om verhalen te vertellen als moderne troubadours, door te proberen filteren wat mythologie, tradities en legendes ons overgeleverd hebben.
Over het gebruik van verschillende talen: we zijn vooral geïnteresseerd in de magische kracht van het woord, in de praktijk van "enchantment". "Enchantment" betekent 'zingen binnenin'. Een woord uitspreken is een pure scheppingsdaad en we zijn er ons van bewust dat die schepping een openbaring is, een proces van diepere kennis en zelfkennis. Het magische woord weerklinkt nog voor het uitgesproken wordt. Kennis en ervaring gebeuren op hetzelfde moment en dit alles is een gewijde aankondiging, een boodschap die geen rationaliteit nodig heeft om gevat te worden. Het is een soort spirituele oproep vanuit de diepte. Soms is onze muziek geboren om de zuivere taal van de natuur te spreken. De eeuwenoude rituelen verheerlijkten de kunst van de essentie. Ze konden de energie die door de mensen ging en hen in leven hield, doen samenkomen in mantra's, dansen, sequenties van geluiden en ritmes. Deze rituelen vernieuwden de verbinding tussen menselijke wezens en de krachten waaruit zij gemaakt waren... Frans, Italiaans, Engels, Spaans, Latijn en andere talen worden niet altijd op de juiste manier uitgesproken, ze worden een soort klei waar we graag mee boetseren.
Ataraxia is altijd een soort 'artistiek totaalconcept' geweest, waarbij muziek gewoon een element lijkt te zijn naast poëzie, beeldspraak, theater etc. Vertel ons wat meer over deze benadering en of de artiesten die jullie inspireren.
We houden het meest van poëzie. We zijn op ons gemak wanneer we poëzie omzetten in muziek. De poëzie van Sappho en verschillende andere Griekse lierdichters uit de klassieke periode werd heel erg geïnspireerd door de natuur. Hun poëzie was vol visuele en auditieve suggesties van naturlijke elementen. Ze schreven geen ingewikkelde lange verzen om hun gevoelens weer te geven, ze observeerden en beleefden eenvoudigweg de veranderingen van de natuur, de verschillen in het licht gedurende een dag, de getijden, de maanfasen, de seizoenen van geboorte, dood en rust, en vertaalden die in woorden. Elk woord belichaamde een kleur, een oppervlakte, een geur. Hun poëzie was geschreven om begeleid te worden door de lier. Ze was helder, sensueel en absoluut muzikaal.
Andere belangrijke invloeden zijn landschappen, in het bijzonder plaatsen die vol energie zitten. Andere kunstvormen inspireren onze muziek rechtstreeks (theater, schilderkunst, fotografie, het maken van maskers) en we hebben altijd samengewerkt met artiesten die fysiek of met hun kunst bijdragen aan onze optredens en albums. Zij inspireren ons en wij inspireren hen. Het is een circulair en creatief proces. Wat namen: Andrea Chiesi, Angelo Zanella, Livio Bedeschi, Norma Gombok, Mick Mercer. Uit het verleden zijn we vooral geïnspireerd door Waterhouse.
"Deep Blue Firmament" is jullie 25ste full album. Heeft het een bijzondere geschiednis en hoe zouden jullie je evolutie analyseren als band/muziaknten doorheen de jaren en wat verwachten jullie van de toekomst?
In november 2015 gingen we onze opnamestudio binnen zonder enig idee, enige melodie in ons hoofd, volledig leeg als kanalen die gevuld konden worden met gratie. Dat is wat we nodig hebben telkens wanneer we aan een nieuw album beginnen. Om vrij te kunnen zijn, moet je leeg zijn en je reinigen van alles wat een beperkende barrière geworden is. Je oorspronkelijke onschuld moet opnieuw geboren worden, wat inhoudt dat je terugkeert naar een heilige bron.
De betekenis van "Deep Blue Firmament" is dat in de donkerste nachten van het leven de duisternis ons subtiel gezochtsvermogen verscherpt, zodat we het formament helderder kunnen zien. Splintes inzicht doen ons onze ogen oprichten naar de diepblauwe hemel die ons hart en onze geest opent voor een innerlijke les of openbaring. Onze artistieke evolutie was natuurlijk, gevoeld en we hebben altijd in een staat van bewustzijn geleefd.
Over de toekomst, een nieuw album zal verschijnen in 2018 en voordien zullen onze allereerste demotapes, "Prophetia" en "Arazzi" eindelijk uitgebracht worden op CD. We gaan ook verder met onze live activiteiten en brengen het "Deep Blue Firmament" concert waar we gevraagd worden.
ATARAXIA on FaceBook
http://www.ataraxia.net
Stef COLDHEART
16/04/2017
---