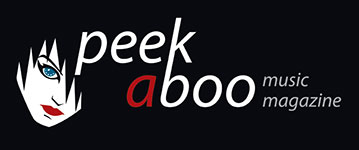 like this interview
---
X-MOUTH SYNDROME
2017 Dark Demo(n)s candidate
27/03/2017, Fred GADGET
---
As we at Peek-a-Boo are all about supporting the alternative and underground scene we thought it was only right to put our shoulders underneath the ambitious Dark Demons project initiated by BodyBeats Productions. As opportunities to play under the best conditions for smaller or lesser known bands out there are few and far between we feel the need to support this in the best way we can... So we decided to interview all the 2017 Dark Demon Night candidates and let them present themselves to you one-by-one.
So here we go!
Band: X-MOUTH SYNDROME
Style: Electro- Punk / EBM
Location: Lille, France

Short Bio:
X-MOUTH SYNDROME has been around since 2008. They have released a demo titled Chrome III in 2012 and an EP in 2013. In 2014, XMS signed with EK Product and released the Dirty Grace album. A new album will be released soon. X Mouth Syndrome is characterised by the meeting of various musical worlds such as EBM for powerful bass, synth pop for melodies and punk for energy and dynamic vocals. In January this year, we released an EP called « we are the oldschool » and a new album will be released soon.
The Dark Demons Interview:
Can you please introduce yourself/your band to our readers?
We're a four members band : Liza (drums), Fred (keyboards+lyrics), Cedric (guitar) and Dragan (singer, songwriter and producer). Our musical texture is original and unique because it feeds on what every member of the band can bring.

When and why did you decide to start your own musical project?
Music has always been a good part of our lives. This project started in 2008 because Dragan wanted to mix one of his favourite musical inspirations : electronic and punk. Liza came in to play drums and she brings her own energy. Fred joined the project to play the keyboards and to take part in the lyrics. Cedric finally joined us in 2016 to add guitars.

Why did you choose this bandname and what does it mean (to you)?
We sometimes wonder why we are so attracted by the mouth. Why is the mouth a crucial element in our love life? We turned this question into the idea that all humans were the victim on an unknown disease and it came as "X mouth syndrome" and we thought it was good band name.

What are the major topics you tend to write and compose about?

The main topic of our songs is our life experiences. We write about our feelings, our dreams or our anxiety but also on social issues.


Can you tell our readers why they should vote for you?

They should vote for us because we like to share our music and our energy on stage.
Vote for X-MOUTH SYNDROME here!
More info about Dark Demons NIGHT III @ Oude Badhuis - Antwerp - B on June 17th
Fred GADGET
27/03/2017
---
Aangezien het bij Peek-a-Boo allemaal draait om het steunen van de alternative en underground scene, vonden we het niet meer dan normaal om onze schouders te zetten onder het ambitieuze Dark Demons project dat opgestart werd door BodyBeats Productions. Omdat er voor de kleinere of minder bekende bands weinig gelegenheden zijn om te spelen in goede omstandigheden, voelden we de nood dit zo goed mogelijk te ondersteunen... Dus beslisten we om alle kandidaten voor de Dark Demon Night te interviewen en hen zich een voor een te laten voorstellen.
Hier gaan we dan!
Band: X-MOUTH SYNDROME

Stijl: Electro-Punk / EBM
Locatie: Rijsel, Frankrijk

Korte Bio:
X-MOUTH SYNDROME bestaat sinds 2008. Ze hebben in 2012 een demo uitgebracht met als titel Chrome III en een EP in 2013. In 2014 tekende XMS bij EK Product en brachten ze het Dirty Grace album uit. Binnenkort verschijnt een nieuw album. Typisch voor X Mouth Syndrome is dat verschillende muzikale werelden samenkomen, zoals EBM in de krachtige bass, synth pop in de melodieën en punk in de energie en de dynamische vocals. In januari van dit jaar brachten we een EP uit met als tital "we are the oldschool" en een nieuw album verschijnt binnenkort.
Dark Demons Interview:
Kunnen jullie jezelf/jullie band even voorstellen aan onze lezers?
We zijn een band met vier leden: Liza (drums), Fred (keybords + lyrics), Cedric (gitaar) en Dragan (singer, songwriter en producer). Onze muzikale textuur is origineel en uniek omdat die gevoed wordt door wat elk bandlid kan inbrengen.

Wanneer en waarom zijn jullie zelf met een muzikaal project gestart?
Muziek maakte altijd een groot deel uit van onze levens. Dit project startte in 2008 omdat Dragan een mix wou maken van zijn favoriete muzikale inspiratiebronnen: electronic en punk. Liza kwam erbij voor de drums en ze brengt haar eigen energie mee. Fred sloot aan bij het project om keyboards te spelen en om mee teksten te schrijven. Cedric kwam er uiteindelijk bij in 2016 om gitaren toe te voegen.
Waarom kozen jullie deze naam voor je band en wat betekent die (voor jullie)?
We vragen ons soms af waardoor we ons zo aangetrokken voelen tot de mond. Waarom is de mond een cruciaal element in ons liefdesleven? We formuleerden als antwoord op deze vraag dat alle mensen slachtoffer waren van een onbekende ziekte, het "x mouth syndrome" en dat vonden we een goede naam voor onze band.
Wat zijn de belangrijskte thema's waarover jullie schrijven en componeren?
Het belangrijkste onderwerp van onze songs is de levenservaring van elk van ons. We schrijven over onze gevoelens, onze dromen of onze angst, maar ook over sociale onderwerpen.
Kan je onze lezers uitleggen waarom ze op jullie moeten stemmen?
Ze moeten op ons stemmen omdat we ervan houden onze muziek en onze energie te delen op het podium.
Vote for X-MOUTH SYNDROME here!
Fred GADGET
27/03/2017
---