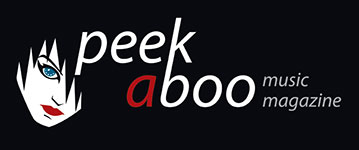 like this interview
---
ELM
2017 Dark Demo(n)s candidate
24/03/2017, Fred GADGET
---
As we at Peek-a-Boo are all about supporting the alternative and underground scene we thought it was only right to put our shoulders under the ambitious Dark Demons project initiated by BodyBeats Productions. As opportunities to play under the best conditions for smaller or lesser known bands out there are few and far between we feel the need to support this in the best way we can... So we decided to interview all the 2017 Dark Demon Night candidates and let them present themselves to you one-by-one.
So here we go!
Band: ELM
Style: EBM
Location: Brussels/Stockholm

Short Bio:
ELM is honest aggression and self-expression! ELM is not about fitting into a genre or being cool. The debut album HARDLINE, proceeded by the digital EP Edge, was released on Alfa Matrix in the spring of 2016. It had a huge impact on the alternative/ underground scene and has until now received excellent reviews around the world. ELM consists of Swedish songwriter, producer and vocalist Peter Elm, the man behind the band Restricted Area (first single in 1994). The new digital EP Kampftrinker was released on Alfa Matrix in February and has been played heavily on alternative dance floors around the globe.
The Dark Demons Interview:
Can you please introduce yourself/your band to our readers?
ELM makes high-quality, well-produced EBM with a lot of edge. ELM is eclectic, international and without compromise.

When and why did you decide to start your own musical project?
2013. I wanted to "learn from past musical mistakes" with regards to production and to have a more coherent sound, a fresh start with a new name.

Why did you choose this bandname and what does it mean (to you)?
My name is Peter Elm. I felt I was too old to come up with a cool-sounding band name so I decided to just go with my last name. It's short and looks good visually.
ELM can be an acronym for "Electronic Lust Music", "Electronic Labour Music" or whatever you want… :)

What are the major topics you tend to write and compose about?

The world we live in and life in general. In other words sex, lust, longing, anger, frustration, pain, sorrow...

Can you tell our readers why they should vote for you?

Vote if you like what you hear!
More info about Dark Demons NIGHT III @ Oude Badhuis - Antwerp - B on June 17th
Fred GADGET
24/03/2017
---
Aangezien het bij Peek-a-Boo allemaal draait om het steunen van de alternative en underground scene, vonden we het niet meer dan normaal om onze schouders te zetten onder het ambitieuze Dark Demons project dat opgestart werd door BodyBeats Productions. Omdat er voor de kleinere of minder bekende bands weinig gelegenheden zijn om te spelen in goede omstandigheden, voelden we de nood dit zo goed mogelijk te ondersteunen... Dus beslisten we om alle kandidaten voor de Dark Demon Night te interviewen en hen zich een voor een te laten voorstellen.
Hier gaan we dan!
Band: ELM

Stijl: EBM
Locatie: Brussel/Stockholm

Korte Bio:
ELM is eerlijke agressie en zelfuitdrukking!. ELM gaat niet over in een hokje passen of cool zijn. Het debuutalbum HARDLINE, vooruit gegaan door de digitale EP Edge, werd uitgebracht door Alfa Matrix in het voorjaar van 2016. Het had een enorme impact op de alternatieve/underground scene en heeft tot op heden uitstekende recensies ontvangen van over de hele wereld. ELM is de Zweedse songwriter, producer en zanger Peter Elm, de man achter de band Restricted Area (eerste single in 1994). De nieuwe digitale EP Kampftrinker werd in februari uitgebracht door Alfa Matrix en wordt stevig gedraaid op de alternatieve dansvloeren over de hele wereld.
Dark Demons Interview:
Kan je jezelf/je band even voorstellen aan onze lezers?
ELM maakt goed geproduceerde EBM van hoge kwaliteit en met een scherp randje. ELM is eclectisch, internationaal en compromisloos.
Wanneer en waarom ben je zelf met een muzikaal project gestart?
2013. Ik wilde "leren van in het verleden gemaakte muzikale fouten" met betrekking tot productie en ik wilde een meer samenhangende sound, een nieuwe start met een nieuwe naam.
Waarom koos je deze naam voor je band en wat betekent die (voor jou)?
Mijn naam is Peter Elm. Ik vond mezelf te oud om met een coole band naam te komen en daarom besloot ik om gewoon mijn achternaam te gebruiken. Het is kort en het ziet er goed uit. ELM kan ook een afkorting zijn voor "Electronic Lust Music", "Electronic Labour Music" of wat je maar wilt… :)
Wat zijn de belangrijkste thema's waarover je schrijft en componeert?
De wereld waarin we leven en leven in het algemeen. Met andere woorden: sex, lust, verlangen, boosheid, frustratie, pijn, leed...
Kan je onze lezers uitleggen waarom ze op jou moeten stemmen?
Stem als je wat je hoort goed vindt!
Fred GADGET
24/03/2017
---