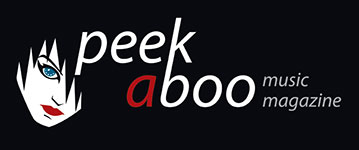 like this interview

---
ELM
'ELM brings you... Electronic Lust Music.... or whatever better acronym anyone can come up with'
03/09/2017, Jurgen BRAECKEVELT
photos: © Photo's by Benny Serneels
---
A Swedish guy, living in Brussels. A musical wanderer, full of cold EBM-beats and machinery. A great live-performer. But above all: he's just himself: Peter Elm...
For those who doesn't know you yet: introduce ELM to us please….tell us all about it!
Well, ELM consists of songwriter, singer, producer Peter Elm. (Although ELM may also be an acronym, for example "Electronic Lust Music", "Electronic Labour Music" or whatever better acronym anyone can come up with ha ha!).
I'm a Swede living in Brussels but feel very international since I've lived in many different counties… I love Belgium though!
Musically ELM strives for an honest and direct self-expression. Without trying to sound pretentious I see ELM a little bit as EBM for grownups, hopefully more mature, poetic and honest than a lot of other stuff around. There is really a tornado of junk out there even if there is a lot of good EBM/electro too of course! Good lyrics combined with a solid production is very hard to come across!
Where is your musical background situated? Which artists/bands did you listen to and who inspired you?
Oh! I listen to A LOT of music of various genres! Like many people in the "scene" I grew up with Depeche Mode and through them I discovered Front 242 and then the rest of the Belgian and German EBM scene etc.
For many years I would say favorite artists are: Laibach, Eric Satie, Gainsbourg, Leonard Cohen, Soulsavers, Madness, etc, etc. From the EBM scene I really like Kropp, Wulfband, Pouppée Fabrikk, Blitzmaschine, Spetsnaz, Spark! and of course older bands like the Nitzer Ebb.
It all started a long time ago with Restricted Area. How did that all go back in those years and how did this end in your own band ELM?
Well, Restricted Area's first single was released back in 1994 so it's been a while now…time flies! The band consisted of me and a few other members that changed during the years. We made four albums: Explode., Realtime, Fun And Fearless, Core Excess (+Underdog EP) spanning from the years 1996-2011. In short it was a bumpy and somewhat frustrating road but taught me some lessons too I guess. With ELM I wanted to do something a bit more consistent, with better production and a clearer "image". More aggressive also. I'm very proud of most of the lyrics I wrote for Restricted Area but a lot of the production really sucked big time! Core Excess is the album I'm most proud of.
ELM gives brings us good old EBM. What themes are you singing about?
"The world we live in and life in general". Lately the lyrics have been centered a lot around stupidity and incompetence, something we unfortunately have in abundance these days!!!
There are a lot of different styles in gothic-electroland. What makes EBM the perfect one for you? Are you involved in other projects/genres also?
I love the aggression in EBM! As long as it's honest of course! Good EBM is extremely tricky to make, much more difficult than most people may think. You really need a good production for the songs to keep a certain level.
It may sound weird but I honestly think my strength lies in very different types of songs than EBM. Many years ago I think I had to "prove" to myself that I could make quality EBM and got obsessed with the idea.
I really do have two very extreme sides in me and always carried a sense of sadness and longing within me. Through the years I've written much more slow and melodic songs than with ELM. These songs are very melancholic and "soundtrack-ish" and it is something I should take more seriously. I would say that I'm a better songwriter than producer and EBM is all about production!
Any future plans in other directions than the one ELM is going?
I have a cover project of a Swedish artist that actually dates all the way back to 2013. The songs are there, basically finished, just need to figure out how to release them. The project was put on hold for several reasons but I really like the songs. I actually did some small gigs in Sweden with these songs.
You are from Sweden. Is the dark scene still surviving over there?
I think it's going pretty well. Actually I haven't been back to Sweden in a long time and never really felt appreciated there to be honest. Of course I still have friends there and there is a lot of high quality music being made in Sweden I must say!
There is a new EP coming up. Anything you wanna tell us about concerning that?
You should buy it and listen to it! Wapenrustning is the title track chosen from Hardline but there are a lot of other goodies there as well! I'm happy with it! It will make you move.
You've played in Belgium already and are going to be present at BIMfest. What can we expect? Which bands that are performing over there you don't wanna miss?
Yes! I love the Belgian audience and am very grateful for the support I've gotten here, it's been great and it will only get better! Expect energy! I must say that I'm not overly thrilled about the line-up this year at BIMfest… would be fun to see The Horrorist though… and of course enjoy friends, drinks and atmosphere!
Is there a difference in public over here in Belgium and elsewhere?
With ELM I don't have too much to compare to but I think the audience here is fantastic. In general I also think that the audience is much older in France and Belgium than in Sweden or even Germany…
On Facebook I saw that you were hanging out with Mildreda's Jan Dewulf. Any musical plans together?
Yeah, we've come to get to know each other really well. I consider him a close and very good friend. A great guy! He was involved in several ways for the new ELM EP. Mildreda has a remix on the EP and he also helped me out with the artwork of the digital cover. Truly a fantastic guy! By the way, you should all check out his new upcoming goth project "Your Life On Hold". Amazing stuff! Regarding musical plans, you never know what the future has in store…
A last message for the dark scene people out there????
Buy music, go to concerts and nag on promoters to book ELM! Thank you so much for your support!
Jurgen BRAECKEVELT
03/09/2017
---