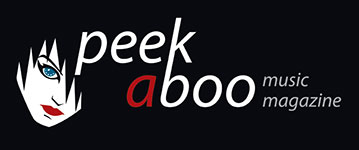 like this interview
---
BLACK LINE
BLACK LINE, the music collective leading LA's EBM revolution
23/08/2017
---
Based in Los Angeles, BLACK LINE is a constantly evolving collective led by Nitzer Ebb vocalist Douglas McCarthy and musician, producer and engineer Cyrusrex. Having recently wrapped their debut album, Treason, Sedition and Subversive Activities. The idea for BLACK LINE was born in 2016 as a continuation of the duos other project DJMREX. Adopting a collaborative approach, the project sees collaborators come and go – the current line-up boasts Depeche Mode's Christian Eigner, composer Anthony Baldino and Skinny Puppy's producer Mark Walk, amongst many others – each contributing towards a constantly evolving sound. With a small core team, no ties to any record labels and each member's signature sound, each BLACK LINE track represents a moment in time. "Whatever happens, whenever it happens" McCarthy explains in the interview below.

Can you tell us a little about how BLACK LINE took shape?

Douglas McCarthy: Basically Cyrus and I had come to the end of recording the last DJMREX EP2 and we still had some ideas. This happened to be at the same time as Christian Eigner came to town and he got in touch to see if we wanted any live drums on the record. We had a couple of ideas knocking about so we went into the studio and then basically forgot about it. But it got us into the idea of working with other musicians. Bon Harris (a founding member of Nitzer Ebb) had seen Cyrus at Modular on the Spot, a free electronic synth performance event in Los Angeles, he ended up playing with us live as DJMREX at an event we did with Daniel Miller at Teragram Ballroom and pretty much from there on we had the idea to continue the project by collaborating with other musicians.

Cyrus Rex: Douglas came up with the name BLACK LINE as it stands for a project, an evolution not necessarily a band with fixed members. The work happens as and when people are able to come together into the studio in LA. Every track on the album has multiple people collaborating on it. BLACK LINE is not defined as a band in a moment.

Can you tell us a little more about the process of collaborating with all the current members?

Cyrus Rex: A lot of the songs were existing tracks, maybe one third were originally intended as future DJMREX tracks that we had kind of put on pause and didn't really know what to do with. Douglas and I wanted to write a new album from the ground up but then we had all these songs. And when we started working with Baseck and Bon we basically got into the process of recording a bunch of new songs and ideas, a lot was trying to figure out what we were doing. We were basically all working together, having fun and I think things fell into place when we met Brad and Zack a year ago. Zack has a background in top 40 and film production and we were lucky to get him involved. He actually said, "Hi, I'll help you guys and make this into a record." And we then were able to take it from being a bunch of concepts into an album. Ken Marshall played a big role in providing a very consistent sound to the whole record. And people like Bon, Derrick and Anthony, Michael and Brad, they all contributed a great deal to the sound and aesthetic of the record. It's so far been an amazing project in the sense of having tons of people working on something and collaborating in one consistent voice."
What are the tracks you are personally most proud of?
Zack Meyers: I really like Shut it Down. Myself, Cyrus, Douglas and Jon Bates who worked on some of the Big Black Delta stuff with us wrote that song together towards the end and we had really had a grip of what we were doing at that point, we had like a rhythm going after writing all these songs. I don't know if it was Douglas who said something about Talking Heads and then Jon laid in this guitar part that really made the track stand out. The chorus really sticks with me.

Douglas: In the lead up writing that song we had the discussion that we needed some straight ahead tracks and that was the first one we did together. Jon Bates had been around the studio a lot and it was one of the first times we explained to him what we wanted, like a Talking Heads or Remain in Light era kind of vibe and he then independently came up with this idea. There's something interesting about the vibe. It sounds like a straight ahead dance techno track but then there's this jagged guitar riff in there that's kind of funky.

Cyrus: Snap is my favourite because it's pretty much everyone on the record. You've got very key parts of everyone working on it, like the post punk rock aesthetic from Douglas. Zack did a lot of lead line and arrangement on it. Bon did the bass and Baseck did the crazy snares. Snap is the best example of what BLACK LINE could be if everyone's working. It's a true full collaboration.

Bon Harris: I like Sedition too because it was a very old track and it was pretty linear. We put a couple of different elements underneath it that felt a bit more harmonious and we changed it a bit. This thing is called oblique motion – in music where you have one thing that stays the same and something else will change so all we had to do in that song was put something underneath the track that was already there and it became a totally different thing.
What's happening right now in Los Angeles in music – do you feel BLACK LINE is part of a movement or a response to what's happening?
Douglas: There is definitely an underlining electronic music and synth scene that is happening more strongly now. There are initiatives such as Modular on the Spot, initiated by Rodent (Eric Rodent Cheslak) and Bana Haffar. There's also a new club night called Sex Cells – based on Soft Cell. For the first time Los Angeles is really involved in an electronic music scene, much more so than other cities in the US. I've just come back from London where I played a Cosey Club with Terence Fixmer as Fixmer/McCarthy and I must say LA feels just as relevant as Europe right now music wise. I think the interesting thing about artists living in LA such as Drum Cell and Silent Servant is that they don't necessarily play in LA very much but they're constantly touring in Europe, the Far East and South America. These artists are all highly respected and it's now becoming obvious to people here that they have top talent in town that hasn't necessarily played much in the city. I feel that's really changing now.
How long in total did it take to record the album?

Cyrus Rex: The recording was an evolution of DJMREX but it also would have been nothing without all the new contributors involved. From start to finish, I'd say it took roughly a year to record this album.
Were you all in agreement all the time or was there some struggle along the way?

Cyrus Rex: It was actually very easy going. There was no record company involved, no outside influence. It was just us. It was fully motivated by ourselves and the inspiration was drawn from the collaboration. As we all travel a lot, some people might not be around for a while and they'd come back and hear what other people had been doing. There was a lot of excitement from people hearing how far the record had got whilst they were away. We initially talked about doing an EP but it became a record.
Do you have upcoming collaborators in mind?
Douglas: The first thing we have coming up is a show in LA on 1st July and we're definitely going to invite a few people to play with us, such as Wes from Cold Cave, Shannon from Light Asylum, Paul Barker from Revolting Cocks, and Ogre from Skinny Puppy. That's probably the thing we're mostly focused on at the moment. We will plan to go on tour afterwards but details on that are yet to be confirmed, so watch this space.
Douglas, what are the lyrics inspired by?

Douglas: Mainly by Zack, no I'm kidding. Just the normal stuff I've been going on about for decades. Like dirty sex in depraved environments and alcohol, something like that.
Who designed the artwork for the album?
Douglas: The sleeve was designed by one of our good friends Steven Gilmore, who is known for his record album sleeves for Skinny Puppy, Two Steps from Hell, A Perfect Circle and many others. According to Gilmore he wanted to graphically embody a stark foreboding representation of nature accompanied by parred down graphics. Because of the diversity of musicians I wanted to keep the branding as universal as possible while still maintaining the dense atmosphere I envisioned for the project.
Finally, if you could pick any situation or scenario, how should we listen to BLACK LINE?

Douglas: Loud and naked!
BLACK LINE's debut live show took place in Los Angeles last July, check their Facebook!
Interview by Eve-Marie Kuistermans, published with the kind permission of HERO magazine.

23/08/2017
---