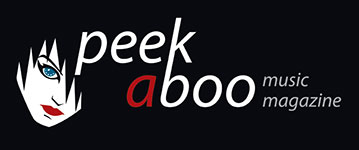 like this interview
---
LIFELESS PAST
In October 2017 we are going on our first international tour.
10/07/2017, Sophi KATZ
---
Lifeless Past was formed in The Netherlands after a spontaneous meeting of the two band members.
Together they gave birth to Lifeless Past and brought the spirit of the past in this genre with them in a new customised jacket in their own twisted way. Punchy basslines, electronic drumbeats and lyrics from their own experiences will take you with them on a dreamy haunting trip while you may feel the urge to dance along.
The first album Embryonic Sonancy was self released in 2012 with 5 tracks, then the next, also self released, album Subliminal in 2016 with 5 new tracks while Age of Despair was released by a label Kroosaficks Records in 2015 with 3 brand new tracks.
Band members:
Satori aka Injerreau Cijntje:
Drum programming, guitar and vocals
Maurice Abath:
Synth, samples and backing vocals
Let's shake, rattle and roll...
Who or what inspired you to start a band?
I formed my first band when I was 14 years old. When I was 13 I was asked by friends in school to join the ''school rockband". It was a cover band, we played 90s rock music, numbers by Bush, The Cranberries, Green Day, Nirvana and Guns n Roses. These friends taught me to play electric guitar because before I turned 13 I only had lessons in classical guitar playing. When I was 14 I wanted to start a punk band to make real punk music. Together with my friends from the skate park we started our first punk band, this was in 1999.
Which bands affect you in music?
Before I begun with Lifeless Past I had several bands in The Netherlands but just before the emergence of Lifeless Past I was in an electro-clash band. We worked a lot with synthesizers and programmed drums. In addition, I listened a lot to Cinema Strange, Christian Death, Alien Sex Fiend, The Cure and Bauhaus. I think these bands have influenced me the most in forming Lifeless Past and also during the writing of the first EP from Lifeless Past.
Do you rather love to play for a small or big audience and where? In a club, on a festival or before a party? I love playing live, you can wake me up every morning for that. Small gigs are sometimes super fun because it is more intimate and you feel the enthusiasm and energy of the public. Larger shows are also nice because it is more professional. The equipment is better. The sound is harder and you stand in front a larger audience. Festivals are great because you bump into a lot of people and there is a lot of room to walk around. You drink more and you're going to have more fun before and after the show.
Would you like to start a side project, if so in which genre?
Besides Lifeless Past I would like to start a hardcore punk/deathrock band. At the moment I also play bass guitar in a stoner band called Special Steve from Rotterdam.
Where do you get your inspiration from for Lifeless Past and where does the name come from?
I take my inspiration from the music from many diffrent bands, for example, The Pixies to Depeche Mode. Other bands that have inspired me are Christian Death, Cemetery, They Feed At Night and The Cure. Sometimes I also get my inspiration from movies with spooky music parts. My lyrics are often about things that really happened. Sometimes it is also an introspective conversation with myself. The name came from the idea that we make music from the past (80s) with a dark/deathrock character with Lifeless Past.
Are you a night writer or do you prefer to write in the day time?
I don't have a preference for writing time. Sometimes I start at 09.00 in the morning to play the guitar and write music. I write mostly when I'm on the train.
Do you see dancing shadows in the night on your wall that may whisper melodies in your ear?
The shadows on the wall whispering indeed all night melodies in my ears. That is why I often have idea' for new songs in the morning. Thanks to you I now understand where it comes from!
If you could do an international tour which countries you would like to visit for sure with Lifeless Past?
In October 2017 we are going on our first international tour. We are going to California for 10 days in October. We will play in L.A., Oakland, San Francisco and San Diego.
https://lifelesspast.bandcamp.com
Interview by Sophi Katz
Sophi KATZ
10/07/2017
---
Lifeless Past werd opgericht in Nederland na een spontane ontmoeting tussen de twee bandleden. Ze brachten Lifeless Past samen en gaven de geest van het verleden in het genre een nieuwe jasje, gebracht op hun eigen wijze. Punchy basslines, elektronische drumbeats en lyrische teksten uit hun eigen ervaring zullen u meenemen in een dromerige achtervolging terwijl u de drang kan voelen om mee te dansen.
Het eerste album Embryonic Sonancy werd in 2012 losgelaten met 5 tracks, waarna Age of Despair in 2015 bij het label Kroosaficks Records werd uitgebracht met 3 nieuwe tracks en uiteindelijk Subliminal in 2016 in eigen beheer met 5 nieuwe tracks.
Band leden:
Satori aka Injerreau Cijntje: Drum programmatie, gitaar en zang
Maurice Abath: Synth, samples en backing vocals
Let's shake rattle and roll...
Wie of wat heeft je geïnspireerd een band te beginnen?
Mijn eerste band heb ik gevormd toen ik 14 jaar was. Toen ik 13 was werd ik op school door vrienden gevraagd om bij de ''school rockband'' te komen spelen. Het was een cover band, we speelden 90's rock muziek. Nummers van Bush, Cranberries, Green Day, Nirvana en Guns n' Roses. Met deze vrienden heb ik elektrisch gitaar leren spelen want voor mijn 13de kreeg ik lessen in klassieke gitaar. Toen ik 14 werd wilde ik een eigen punk band beginnen om echt punk muziek te maken. Samen met mijn vrienden van de skatepark zijn we ons eerste punkband begonnen. Dat was in 1999.
Welke band's beïnvloeden jou in muziek?
Voor ik met Lifeless Past was begonnen, heb ik verschillende bands gehad in Nederland. Maar vlak voor het ontstaan van Lifeless Past zat ik in een electro-clash band. We waren toen veel bezig met synthesizers en geprogrammeerde drums. Daarnaast luisterde ik ook veel naar Cinema Strange, Christian Death, Alien Sex Fiend, The Cure en Bauhaus. Ik denk dat deze bands mij het meest hebben beïnvloed bij het vormen van Lifeless Past en ook bij het schrijven van de eerste EP van Lifeless Past.
Speel je het liefst voor een klein of groot publiek en waar het liefst? Een club, een festival of vooraf op een feestje?
Ik hou van live spelen. Je kan me elke ochtend wakker maken om op te treden. Kleine gigs zijn soms super leuk omdat het intiemer is en je voelt het enthousiasme en de energie van het publiek. Grotere shows zijn ook leuk omdat het meestal professioneler is. De apparatuur is beter. Het geluid staat dan ook harder en je staat voor een groter publiek. Festivals zijn hartstikke leuk want je komt daar heel veel mensen tegen, er is veel ruimte om lekker rond te lopen. Je drinkt meer en je gaat meer lol trappen voor en na de show.
Zou je nog graag een zijproject beginnen zo ja in welke muziek genre?
Ik zou naast Lifeless Past een harde punk/deathrock band willen beginnen. Momenteel speel ik ook basgitaar bij de Rotterdamse stoner band Special Steve.
Waar haal je jou inspiratie voor Lifeless Past en waar komt de naam vandaan?
Mijn inspiratie haal ik uit het muziek van vele soorten bands, van bijvoorbeeld de Pixies tot aan Depeche Mode. Andere bands die mij hebben geïnspireerd zijn Christian Death, Cemetery, They Feed At Night, The Cure. Soms haal ik mijn inspiratie ook uit films met spooky muziek stukjes. Mijn teksten gaan vaak over dingen die echt gebeurd zijn. Soms is het ook een introspectief gesprek met mijn zelf. De naam Lifeless Past kwam uit het idee dat we muziek uit het verleden (jaren 80) maken met een duister/deathrock karakter.
Schrijf je het liefst overdag of in de nacht?
Ik heb geen voorkeur voor een schrijfmoment. Soms begin ik om 09.00 in de ochtend met gitaar spelen en muziek schrijven. Teksten schrijf ik vaak als ik in de trein zit.
Zie je in de nacht schaduwen dansen op de muren die jou melodieën in het oor fluisteren?
De schaduwen op de muur fluisteren inderdaad de hele nacht melodieën in mijn oren. Vandaar dat ik vaak 's ochtends ideeën heb voor nieuwe nummers. Dankzij jou snap ik nu waar het vandaan komt!
Mocht je een Internationale tour doen welke landen zou je zeker nog willen aandoen met Lifeless Past?
In oktober 2017 gaan we ons eerste internationale tour doen. In oktober gaan we voor 10 dagen naar California. We gaan in L.A., Oakland, San Francisco en San Diego spelen.
https://lifelesspast.bandcamp.com
Interview door Sophi Katz
Sophi KATZ
10/07/2017
---