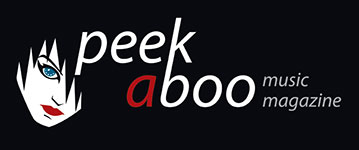 like this interview
---
SINE SILEX
'A ROMANTIC YET DYNAMIC APPROACH TO ELECTRONIC MUSIC'
16/06/2017, Stef COLDHEART
---
Sine Silex is the meeting between Anna Michailidou (Kriistal Ann, Paradox Obscur, Resistence Of Independent Music, ToyoTomi) and François Ducarn aka Chroma Carbon (member of Factice Factory). Their debut opus "Schachmatt" is released on Werkstatt Recordings and sounds in the purest minimal-electro & vintage tradition but with something extra in the vocal production. If you don't know Sine Silex yet, I can assure you it's a band to look out for!
How did you both get in touch with each other and what was the 'click' to start a new project together? What does Sine Silex mean by the way?
Anna: Some years ago, we had a collaboration on a song called "Logded" I did for Francois's band. Since then a profound friendship developed between us because we had much in common in terms of music in a broad sense that made us think that it would be a delightful experience to work and create in a common project.
François: When I started to get involved in music with Factice Factory I discovered Anna's work through the internet and was fascinated by what she was doing not only in music but also in photography. I was very touched by her whole musical world and her way of singing so I got in touch with her and step by step we became good friends. About the meaning of Sine Silex, it's simple because there's no meaning as for many things that don't always need a rational explanation.
You both are already active in different projects so what makes the difference working on Sine Silex and what kind of music did you want to deal with?
Anna: I like to experiment, the challenge here was the French language. It's a language I always wanted to get into my songs. This became possible through my friendship with Francois because I do not know how to speak French at all. The whole learning process was done through Skype in terms of pronunciation. As to the musical approach, it was completely free of any influences and goals, perhaps it could be characterised as a romantic yet dynamic approach to electronic music.
Francois: I wanted to try out something else in terms of music and go into more electronic sound landscapes. One of Anna's instrumental projects ToyoTomi highly captured my attention and I really wanted to work on a common project with Anna, also because her voice, accent and way of singing is very particular and profound.
What makes the harmony? Maybe the chemistry between both of you? I mean, how did you work together and who's taking care of what?
Anna: Francois is an excellent lyricist, so he covered the project with effective lyrics. I have undertaken the musical production and orchestration.
François: I consider ''Schachmatt'' as a kind of concept album and to my personal perception all songs are connected even if each one has its own dynamic and own identity. It is like several small stories that form a single one in the end...

The song "Modeliste" clearly sounds like a little wink to Kraftwerk. Tell us a bit more about that song and possible sources of inspiration generally speaking?
Anna: The truth is that the "Modeliste"'s similarity with Kraftwerk's song is a pure coincidence... at least on the musical side. As I mentioned, I did not mind thinking of any kind of influence.
François: When Anna sent me the instrumental of that track I must admit that it made me think a bit about ''Das Model'' and the lyrics I wrote for that song in a way refer to that Kraftwerk classic indeed...

One of the main characteristics and strengths of the album is the vocals! You're both singing but still mixing French and English lyrics. What can you reveal about the production of the vocals and what's the importance of the lyrical content?
Anna & François: Thank you for mentioning the characterisation of our voices. That's what we are asking for in this work. To rely on an intelligent male and female dialogue, to have a form of theatricality in the conversations, that perhaps will remind some of the time of cabaret oriented pieces destined for adult audiences and that have a purely underground character.
Anna, you told me it took you a lot of work one year long to achieve "Schachmatt" while you expected a bit more out of it. I can imagine it must be very frustrating but what did you expect; do you see a link with the CD sales going downwards and will it have an impact on the further activities of this band?
Anna: We have worked hard on this project, as a distant collaboration is always complicated and time-consuming, especially when it comes to collaborators from different countries and cultures. I always have in my mind to offer something fresh and unique within the dark music, something not based on pre-existing stereotypes. Therefore, I expected a greater response from the audience but unfortunately I discovered that the people are not always ready to accept something new and different.
The human mind remains somehow a bit claustrophobic and low-expecting. The joke is that we got many excellent reviews about Sine Silex project but people were not interested in supporting it more by buying it. Of course this has never been a factor in giving up my dreams or artistic involvement. For some years I have had a steady pace on a rough path called the music industry, where I defend what I do, always with my own personality and soul.
Stef COLDHEART
16/06/2017
---