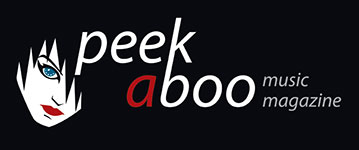 like this interview

---
AH CAMA-SOTZ
'The endless tunnel and staircase relating to the infinite way of travelling towards one's state of mind.'
01/06/2017, Jurgen BRAECKEVELT
---
Ah Cama-Sotz is a musical project of Herman Klapholz. One of the Belgian acts who will be performing at WGT 2017. We went to have a chat with Herman to see what we can expect.
Herman, you've been making music and performing with Ah Cama-Sotz for more than 20 years now. What drives you to keep on composing music?
Music is like a photograph. The next track should always be better :-) Well, inspiration comes and goes. It's a snapshot. Being constantly creative is not easy. Music is not bookkeeping! I do not use a template to always make the same music. My feelings have priority. Composing dark ambient music is not the easiest thing to do for the listening ear.
Your music doesn't sound like anything else and is sound wise, very varied. How would you describe your music?
That's a hard one… A mix of ritual-tribal, rhythm & dark-ambient and cinematic elements. I'm sure the fans are always curious about my upcoming work. And I'm always curious how the listener is processing my music. I tend to give the listener a dose of imagination and on that basis they have to imagine their own soundtrack.
What are the musical (or other) influences that inspire and drive you?

I've been inspired by so many music genres over the years, and this since the 1960s-1970s, so it would take too long to name all those influences. To stay on top in the dark music scene, you must be persevering.
Did you see any evolution in recent years?
Yes, I did. I have had many discussions and experienced that people are becoming less persevering. Finally, we do not fabricate a doll. The alternative and experimental scene is quite harsh for the general public. I do not see a broad evolution in this scene. I don't want to sound pessimistic, the future will tell. In the end, masses of music is made these days, more than ever, just see band camp, soundcloud, and all those platforms... Thanks to those platforms, something is happening. Unfortunately, little is being discovered by the general public. So it's true, the musical underground scene is bigger than ever!
Ah Cama-Sotz's music is always different. Is there actually something you did not do yet and still want to do in the (near) future?
Hard to say. I'm productive! I am busy with techno, with noise, with industrial, film, experimental stuff and so much more. Rob Van Aelen and Gatto Nero are some of my new projects. We'll see what the future brings. Meanwhile we have fun!
This year, the global 'black scene' can see you perform at WGT. What can we expect?
"The endless tunnel and staircase relating to the infinite way of travelling towards one's state of mind."
Jurgen BRAECKEVELT
01/06/2017
---
Ah Cama-Sotz is het muzikale spinsel van Herman Klapholz. Deze Belgische act is ook te bewonderen op WGT 2017. We gingen even peilen bij Herman wat we mogen verwachten....
Herman, je staat met Ah Cama-Sotz al méér dan 20 jaar op de planken en podia her en der. Wat inspireert je om muziek te blijven maken?
Muziek is zoals een foto: de volgende track moet altijd beter zijn :-). Wel, inspiratie komt en gaat. Het is een momentopname. Continu creatief zijn is niet makkelijk. Muziek is geen boekhouding!
Ik bezit geen template om steeds dezelfde muziek te maken. Mijn gevoelens primeren. En muzikale composities in het dark-ambientgenre zijn niet van de eenvoudigste voor het luisterend oor.

Je muziek is niet doorsnee en er is enorm veel variatie in geluid. Hoe zou je je muziek zelf omschrijven?
Vrij moeilijk te omschrijven. Het is een mix van ritual-tribal, rhythm & dark-ambient en filmische elementen. Ik ben heel zeker dat de fans telkens benieuwd zijn naar mijn upcoming work. En ik ben ook steeds benieuwd hoe de luisteraar mijn muziek verwerkt. Ik geef de luistereraar een dosis fantasie en op die basis moeten ze hun eigen soundtrack inbeelden.


Welke zijn muzikale (of andere) invloeden die jou drijven? Muzikale voorbeelden of mensen die je inspireren.
Zoveel muzikale genres door de jaren heen, en dit sinds de jaren 60-70 dat ik veel moeite zou hebben om die invloeden allemaal te moeten opnoemen. Om overeind te blijven in de donkere muziekscene moet je wel volharden.
Zie jij evoluties de laatste jaren?
Ja dat is echt zo. Ik heb al veel van die discussies gevoerd en ondervonden dat de mensen minder volharden. Tenslotte maken wij geen pop. De alternatieve - experimentele scene, is vrij moeilijk voor het grote publiek. Een brede evolutie zie ik niet in deze scene. Ik wil niet negatief klinken, maar de toekomst zal het uitwijzen. Tenslotte worden er massa's muziek gemaakt, meer dan ooit, kijk maar naar bandcamp, soundcloud, en zoveel meer … Dank zij die platformen gebeurt er iets. Maar spijtig genoeg wordt er weinig ontdekt door het grote publiek. En het is zo, de muzikale underground is groter dan ooit!

De muziek van Ah Cama-Sotz klinkt altijd anders. Is er eigenlijk iets wat jij nog niet maakte en in de (nabije) toekomst zou willen gaan doen? En zo ja: tell us!?
Moeilijk te zeggen. Ik ben wel productief! Ik ben bezig met techno, met noise, met industrial, met film, met experimentele stuff en nog zoveel meer. Rob Van Aelen en Gatto Nero zijn enkele van mijn nieuwe projecten. We'll see what the future brings. Intussen maken we fun!


Dit jaar kan de wereldwijde zwarte meute je bewonderen op WGT. Wat mogen we verwachten?
"The endless tunnel and staircase relating to the infinite way of travelling towards one's state of mind."
Jurgen BRAECKEVELT
01/06/2017
---