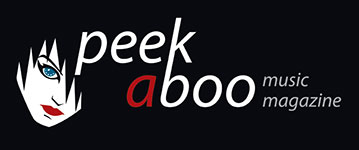 like this interview
---
BESTIAL MOUTHS
'If I sang about Trump, I would possibly puke immediately…'
31/03/2017, Jurgen BRAECKEVELT
---
Bestial Mouths just released (Still) Heartless and are ready to hit the road with a brand new tour. In the space of five years, Lynette Cerezo became the leading lady in the band. We had a chat with this wonderful lady.
Hello to you… It's not my intention to be boring.. but despite that: introduce Bestial Mouths for those who did not know you until.. NOW!
Bestial says hello & it's a pleasure to meet you all, if we have not met yet, we look forward to more encounters with your ears !
The music Bestial Mouths makes is kinda weird, in the way that it combines a lot of different elements from different 'styles' in the gothic genre. What inspired you to do so?
Music is a form of art and expression, in that it is also a part of you, your experiences that have created who you are now at the present moment. When creating Bestial sound we wanted to create something new in a way, we are not trying to recreate one genre of music, thus you experience different genres of music that we have in the past or currently love and influence us. I myself grew up on punk music, to goth, death rock, industrial and I love experimental stuff, harsh electronics, and minimal synth to name a few.
Is the gothic scene alive and kicking in the US?
Yes I believe it is ~ I feel it is an exciting time for a re-emergence of the new dark sound.
Which bands/projects/persons inspired you in the past?
That would be an endless list,ha ha, I would say of course the obvious Siouxsie Sioux and a love of Diamanda Galas.
I also was greatly influenced by Katrina Ford of Love Life and Celebration, Valentine from Get Hustle, Lydia Lunch, and Bettina Köster of Malaria are some that spring to my mind at this exact moment.
Which themes are important for Bestial Mouths to sing about and why?
Bestial songs are very personal and have deep heavy emotions always involved. A lot of them contain very dark subject matters of either very personal past experiences or injustices occurring in the world. Such as an old song Quijada, which is about a middle eastern woman who, because she refused the love of a man, had acid thrown in her face. A lot of our songs deal with injustices to woman and societies wrongs. Another example is Stable Vices/ the song Weaving Mirror, which is about a condition that domesticated horses get from being forced to live in small confinement. They nervously chew, gnaw, kick and hurt themselves. Just shows man's greed, so selfish and blind to how it hurts and affects others lives (animals are human too). One of the reasons our lyrics may seem more open to interpretation is I really believe that art should connect with each individual person to have meaning and impact. So I like to let the listener connect with the music and lyrics based upon themselves and their experiences in life. We just really want people to think and feel. To be alive.
I did not see the show on WGT last year (yes, someone has to make 'choices', especially if the line-up contains 220 bands!), but I heard it was awesome. What can people expect on stage for the forthcoming tour?
WGT was a really great show for us as well, it was for sure one of our personal highlights! (Also no worries, I myself have to make choices and have to miss lots of shows I want to see too - sometimes because I have to play myself )
People can expect the darkness and intensity to continue on!!! I will be playing with Eddie O. again and he is expanding even further on our live visuals. We even have more field recordings and samples in our live set now from our journeys together. We will be touring this 2017 US tour with a full acoustic drum kit played by Dan Bouley (who is a trained metal drummer). As always live performance is a very important part of Bestial Mouths so we aim to entertain and move people and create a whole experience.
How could, in your opinion, 'non mainstream' artists reach a wider audience?
How I wish I really knew?! All we can do is continue to make music and get out there in the world
Not to get really political, but is president Trump an 'inspiration' to sing about? And what's your opinion about what's happening in the US?
If I sang about Trump, I would possibly puke immediately… It is actually hard for me to speak of without feeling such sadness and frustration, I think I am still in disbelief. A repeat of history always, us humans never seem to truly progress further and always repeat our mistakes…. At times I truly feel, "are we doomed or are we dead" (from our new song Witch-Dance)
Any different plans with the band in the (near) future? For the band itself or in working together with others?
As for Bestial, I will continue making music and performing! Currently Eddie O. and Brant Showers and I are in the process of making some new Bestial tracks.
I myself have also been expanding and collaborating with other amazing artists and lending my voice and lyrics. I just completed a song with shadowy techno prodigy Aleks Schatten for his upcoming release on Instruments of Discipline. Also a song with horror electronic duo Harko City for the upcoming release as well. I am currently in the process of working on one with experimental electronic duo Orphan Swords and dark underground mystic Textbeak. All very exciting for me and I'm honoured to work with them.
Any last message you wanna give us before leaving?
"Even in my dreams the screaming never stops"…"in all places of sin & light"…"she prepares you for this dance"…."are you prepared for the storms, of these high walls"…
Thank you for spending your time with me!
The pleasure was all ours !!!
Jurgen BRAECKEVELT
31/03/2017
---