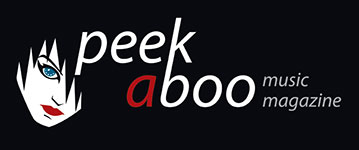 like this interview

---
ALVAR
2017 Dark Demo(n)s candidate
27/03/2017, Fred GADGET
photos: © Katri Heinämäki (top) / Bengt Rahm (Bottom)
---
As we at Peek-a-Boo are all about supporting the alternative and underground scene we thought it was only right to put our shoulders underneath the ambitious Dark Demons project initiated by BodyBeats Productions. As opportunities to play under the best conditions for smaller or lesser known bands out there are few and far between we feel the need to support this in the best way we can... So we decided to interview all the 2017 Dark Demon Night candidates and let them present themselves to you one-by-one.
So here we go!
Band: ALVAR
Style: EBM / Techno / Industrial / Noise
Location: Stockholm, Sweden

Short Bio:
Alvar is a duo who self-released a couple of cassettes, and one cassette on Beläten. Last year the debut album, Guilt Kollektion, was released by Dirk Ivens on his Daft Records label. After gigs in a.o. Moscow, Denmark and Berlin work has begun on some new and up-coming tracks and gigs.
The Dark Demons Interview:
Can you please introduce yourself/your band to our readers?
Alvar is J&J, based in Stockholm, Sweden. We make some sort of EBM/Techno with a lot of influences from old-school Industrial music (Industrial as in Cold Meat Industry..) and Noise.

When and why did you decide to start your own musical project?
We started out a couple of years ago - with a simple plan to create some tunes that were new to us, at least...and to try to make something that we would like - a blend of our favorite music.

Why did you choose this bandname and what does it mean (to you)?
Alvar is taken from "Det Stora Alvaret" - it is a particularly barren plain situated on Öland off the east coast of Sweden. It´s were half of Alvar grew up. It´s a magical place.

What are the major topics you tend to write and compose about?

It intends to be about mistakes, evil, harsh times or just about something else in everyday life...


Can you tell our readers why they should vote for you?

Well, we simply love Belgium.. a lot.
More info about Dark Demons NIGHT III @ Oude Badhuis - Antwerp - B on June 17th
Fred GADGET
27/03/2017
---
Aangezien het bij Peek-a-Boo allemaal draait om het steunen van de alternative en underground scene, vonden we het niet meer dan normaal om onze schouders te zetten onder het ambitieuze Dark Demons project dat opgestart werd door BodyBeats Productions. Omdat er voor de kleinere of minder bekende bands weinig gelegenheden zijn om te spelen in goede omstandigheden, voelden we de nood dit zo goed mogelijk te ondersteunen... Dus beslisten we om alle kandidaten voor de Dark Demon Night te interviewen en hen zich een voor een te laten voorstellen.
Hier gaan we dan!
Band: ALVAR

Stijl: EBM / Techno / Industrial / Noise
Locatie: Stockholm, Sweden

Korte Bio:
Alvar is een duo dat in eigen beheer enkele cassettes uitbracht en een cassette bij Beläten. Vorig jaar bracht Dirk ivens hun debuutalbum, Guilt Kollektion, uit bij zijn label Daft Records. Na concerten in o. a. Moskou, Denemarken en Berlijn, zijn ze begonnen aan nieuwe en te verwachten tracks en concerten.
Dark Demons Interview:
Kunnen jullie jezelf/jullie band even voorstellen aan onze lezers?
Alvar is J&J, uit Stockholm, Zweden. We maken een soort EBM/Techno met veel invloeden uit de old-school industrial (Industrial zoals in Cold Metal Industry) en Noise.

Wanneer en waarom zijn jullie zelf met een muzikaal project gestart?
We zijn enkele jaren geleden begonnen - met een eenvoudig plan om wat deuntjes te maken die nieuw waren voor ons, op zijn minst... en om te proberen iets te maken dat we leuk zouden vinden - een mix van onze favoriete muziek.
Waarom kozen julliee deze naam voor je band en wat betekent die (voor jullie)?
Alvar komt van "Det Stora Alvaret" - dat is een bijzonder ruige vlakte in Öland, een eiland aan de Oostkust van Zweden. De helft van Alvar groeide daar op. Het is een magische plek.
Wat zijn de belangrijskte thema's waarover jullie schrijven en componeren?
Die wil gaan over vergissingen, het kwaad, zware tijden of gewoon iets anders uit het leven van elke dag.
Kunnen jullie onze lezers uitleggen waarom ze op jullie moeten stemmen?
Wel, we houden gewoon heel erg veel van België.
More info about Dark Demons NIGHT III @ Oude Badhuis - Antwerp - B on June 17th
Fred GADGET
27/03/2017
---