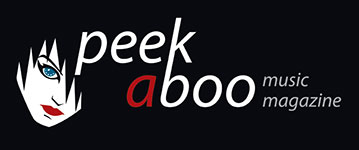 like this interview

---
ARSENIC OF JABIR
2017 Dark Demo(n)s candidate
16/03/2017, Fred GADGET
---
As we at Peek-a-Boo are all about supporting the alternative and underground scene we thought it was only right to put our shoulders underneath the ambitious Dark Demons project initiated by BodyBeats Productions. As opportunities to play under the best conditions for smaller or lesser known bands out there are few and far between we feel the need to support this in the best way we can... So we decided to interview all the 2017 Dark Demon Night candidates and let them present themselves to you one-by-one.

So here we go!
Band:
ARSENIC OF JABIR

Style:
New Wave/ Minimal Synth / Industrial
Location:
Antwerp, B

Short Bio:
From a primitive laboratory, electronic atmospheres and mechanical rhythms provide a backdrop for an ominous voice - leaking through is a bit of 80s synthpop sheen, industrial discord and random chance; self-described as "abstract wave music".
Dark Demons Interview:
Please introduce yourself/your band you our readers?
My name is Tristan, I'm a music producer and artist from western Canada, just recently relocated to Belgium. Arsenic Of Jabir is my primary project.
When and why did you decide to start your own musical project?
I was about 14, deeply obsessed with 80s underground/electronic music… I wanted to build something from this sonic palette but with my own creative vision, something both energetic and atmospheric. I bought my first synthesizer in 2004 and have been recording music ever since.

Why did you choose this bandname and what does it mean (to you)?
Jabir was an alchemist in medieval Persia, the first to extract arsenic from the other elements. The name invokes a sense of danger, yet is equally mystical and scientific.

Which are the major topics you tend to write & compose about?
There are no limits to the subjects that can inspire me, many ideas came about from dreams or abstractions rather than true events. Most of the texts are written with more than one meaning and are completely open to interpretation.

Can you tell our readers why they should vote for you?
As a new artist to the scene in Europe, this is an excellent opportunity to show my work and perform for new audiences, let it be discovered, and especially let the songs be heard as they should; on stage! I hope to see you there!
Vote for ARSENIC OF JABIR here!
More info about Dark Demons NIGHT III @ Oude Badhuis - Antwerp - B on June 17th
Fred GADGET
16/03/2017
---
Aangezien het bij Peek-a-Boo allemaal draait om het steunen van de alternative en underground scene, vonden we het niet meer dan normaal om onze schouders te zetten onder het ambitieuze Dark Demons project dat opgestart werd door BodyBeats Productions. Omdat er voor de kleinere of minder bekende bands weinig gelegenheden zijn om te spelen in goede omstandigheden, voelden we de nood dit zo goed mogelijk te ondersteunen... Dus beslisten we om alle kandidaten voor de Dark Demon Night te interviewen en hen zich een voor een te laten voorstellen.
Hier gaan we dan!
Band:
ARSENIC OF JABIR

Stijl:
New Wave/ Minimal Synth / industrial
Locatie:
Antwerp, B

Korte Bio:
Vanuit een primitief laboratorium vormen electronische atmosferen en mechanisme ritmes de achtergrond voor een sinistere stem - daardoorheen sijpelt een beetje van de 80's synthpop glans, industrial dissonantie en blind toeval; door henzelf beschreven als "abstract wace music".
Dark Demons Interview:
Kan je jezelf/je band even voorstellen aan onze lezers?
Ik heet Tristan, ik ben een muziekproducer en artiest uit het westen van Canada en ben nog maar pas in België komen wonen. Arsenic Of Jabir is mijn hoofdproject.
Wanneer en waarom ben je zelf met een muzikaal project gestart?
Ik was ongeveer 14 en obsessief bezig met underground/electronische muziek uit de jaren 80... Ik wilde iets maken uit dat geluidspalet maar dan met mijn eigen creatieve visie, iets dat zowel energiek als atmosferisch was. Ik kocht mijn eerste synthesizer in 2004 en neem sindsdien muziek op.
Waarom koos je de naam van je band en wat betekent die (voor jou)?
Jabir was een alchemist uit het middeleeuwse Perzië, de eerste die arsenicum onttrok aan de andere elementen. De naam roept een zeker gevoel van angst op, maar is tegelijkertijd ook mystiek en wetenschappelijk.
Wat zijn de belangrijkste onderwerpen waar je over schrijft en componeert?
De onderwerpen die me kunnen inspireren, zijn ongelimiteerd, veel ideeën kwamen voort uit dromen of abstracties, eerder dan echte gebeurtenissen. De meeste teksten zijn geschreven met meer dan één betekenis en staan volledig open voor interpretatie.
Kan je onze lezers zeggen waarom ze op jou moeten stemmen?
Als nieuwe artiest in de Europese scene, is dit een uitgelezen kans om mijn werk te tonen en op te treden voor nieuw publiek, laat het ontdekt worden en vooral, laat de songs gehoord worden zoals zou moeten: op een podium! Ik hoop jullie daar te zien!
Vote for ARSENIC OF JABIR here!
Fred GADGET
16/03/2017
---