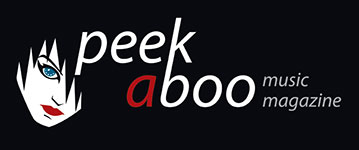 like this interview
---
AM TIERPARK
'THERE'S NOTHING LIKE HOLDING A 12" RECORD IN YOUR HANDS'
06/03/2017, Stef COLDHEART
---
Am Tierpark has been set up by electro-veteran Claus Larsen (Leæther Strip/Klutae) and John Mirland (Mirland & Holm/Mirland). The idea to set up a band came from their common passion for 80s electro-pop. The debut album "Uncaged" released on Distortion Productions (2015) revealed a minimal sound carried by good-old pop vibes. The 12" "Cherry Blossom" confirms the potential of the band while the title song is without a shadow of a doubt a potential hit!
The idea to set up Am Tierpark happened in the Berliner zoo!? Can you briefly remind us this fantastic journey and especially the kind of sound you'd in mind?
Am Tierpark: Thank you for talking to us! The short version is Leæther Strip and my band at that time Holm/Mirland were playing at the now sadly missed K17 club in Berlin. Claus and I are both restless souls so while waiting for sound check we visited the Berlin Zoo (the Eastern one) and recognized we had a lot in common and a shared dream about creating a synth-pop band. We agreed on recording a few test tracks when we got back to Denmark. When we got back I recorded the instrumentals for Pet Shop Boys "I Get Excited (You Get Excited Too) - Claus just killed the vocals and we knew we had to continue. We want to focus on the melody and keep a relatively simple structure with strong lyrics.
Today it's easy to create a song with 50-80 tracks but it doesn't make the song any better. We want to keep things simple and clean.

What especially fascinates you in the 80s electro-pop music and how do you try to transpose that 80s spirit into the songs of Am Tierpark?
Even if I'm a few years younger than Claus we're both 80's kids. The sound and song writing of the 80's heavily focused on the melody and tune and I guess that's what we're bringing into Am Tierpark. We're not strictly aiming for an 80's sound and have no wish to be a '80's tribute band". But we embrace our past proudly!

Who's doing what in the composition process and how do you work together?
We have a rather strict working process. I start out composing an instrumental which I record in my studio. I then send the demo to Claus and he composes the vocal melody and writes the lyrics - he's a beast! If I send a demo in the evening he usually starts working immediately. He records the vocals at the Stripfarm and send the tracks to me. I make the final mix where we usually have an online chat going for immediate dialogue. So it really is lyrics and vocals by Claus and music by John. We have the best collaboration ever. It's like we tap into each other's brains and just speak a new language which is fast and direct. And we never release anything we're not both happy about. Never. We're equally perfectionist and proud.

Do you see an evolution in the global production from your debut album "Uncaged" towards your EP "Cherry Blossom"?
Not really because the tracks on "Cherry Blossom" were composed during the "Uncaged"-recordings so they sort of have the same vibe. Our next album however is a step further - we've refined our sound a lot. It even includes piano!

What motivated you and your label Distortion Productions to release "Cherry Blossom" on vinyl (and not on CD-) format and what do you think about a kind of vinyl-revival?
The 12" is the 'real deal'. There's nothing like holding a 12" record in your hands. It exceeds all other formats and as we considered the "Cherry Blossom"- track a natural single we had to go down that route. Vinyl is great! Cassettes and CDs are great too! We all want something we can touch and feel. There's no satisfaction in buying a download. It's a total emotional let down even if it's practical and all.

Do you consider Am Tierpark as a 'real' band with further plans and maybe live performances instead of simply a side-project? What are your further plans for Am Tierpark?
Am Tierpark is very much a real band. Even if Claus has Leæther Strip/Klutae and John releases as Mirland, Am Tierpark is our band. Am Tierpark is its own entity and we take it very seriously. Presenting our music to a live audience would be great fun. Right now we're planning our second album. It's all recorded and ready and we hope to get it this spring.
Stef COLDHEART
06/03/2017
---