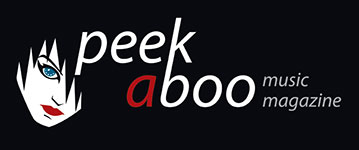 like this interview
---
AH CAMA-SOTZ
Interview with Ah Cama-Sotz / Herman Klapholz
02/02/2017, Stef COLDHEART
photos: © Benny Serneels / Marquis(pi)X
---
Belgian musician Herman Klapholz is one of those 'chameleon' artists that feels comfortable dealing with numerous musical genres. His work however remains based upon industrial and dark atmospheres and also themes. Each new work appears to be a new sonic voyage. The newest album released at the end of 2016 on HANDS is a new chapter in the so-called "Murder Themes"-series revealing a dark-ambient inspiration.
'I DON'T SUPPORT ANY BOUNDARIES INTO MY MUSIC'

Herman, you recently released the album "Exorcise - Murder Themes III", which is the final chapter of a trilogy. How do you look back at the "Murder Themes"-series and how do you see the evolution from album to album?
Final chapter? Never say never! Chapter I has been released in 1999, II in 2013, III in 2016 …
There is (was) no plan with its releases and production. Well, let's say that we (label HANDS and myself) thought about the creation and releasing but just as a special edition. Only the last one was a normal release. But in the future everything is possible. Regarding the releases of the "Murder Themes" the listener can hear a nice evolution through the years. The first two editions had an industrial-dark ambient composition and sound. The last one has more of an orchestral-dark ambient and tribal character.

The "Murder Themes"-series revealed a more ambient side of your creativity and a kind of break with your familiar and more rhythmic/industrial/tribal work. What are the main differences in writing and composition between both styles?
Herman: I don't do anything different in composing such music. To me it's more a kind of feeling I like to put in this kind of music. Well, of course I won't blend rock 'n' roll with ambient for a "Murder Themes" chapter, mmhh… that gives me an idea….lol. Until now I like to mix ambient, industrial, electro, orchestral and tribal for these kind of works. As I said I don't support any boundaries into my music.
Your new album is inspired by themes like religion and fanaticism, which are both hot topics in our daily life. Tell us a bit more about it and how do you transpose themes into music?
Way back you could always find such themes in my music, which would fit perfectly to movies. I always liked the history of dark human kind. As I said, I think the film business prefers orchestral themes and compositions. Fact! It's a pity we can't find dark-ambient compositions in major movies. It would be too harsh probably. Back to nowadays, it's quite disconcerting that it's all about religious fanaticism; what's happening now in our daily society. We're going back to a medieval period.
You've now been active with Ah Cama-Sotz for more than 20 years. What do you see as your main evolution, maybe improvement even, from the early years and first releases until today?
AH CAMA-SOTZ has been busy since 1996! My working tools have improved through the years. My modus operandi evolved. The colour of my music has more substance and depth. And still learning to fly…
I know you're an eclectic artist with an open-minded vision on music, generally speaking, but what's your perception of the global evolution in music and especially underground music today?
Herman: From my point of view today's underground music stopped to evolve. It's becoming harder and harder to be creative and renewing / inventing styles of music. It's great there's so much music laying around, still, I listen a lot to Soundcloud for instance….so tell me, am I wrong? lol
What about your side-projects? Anything new in the pipeline?
Herman: Always busy with music. I opened two Facebook- and Soundcloud accounts, making fun with diverse music.
Gatto Nero – mainly industrial techno tribal.
Rob Van Aelen – mainly industrial bass 'n' noiz.
We will see what the future will bring regarding releases. I released a new AH CAMA-SOTZ in 2016 so in 2017 I will concentrate myself on more diverse musical projects…
Stef COLDHEART
02/02/2017
---