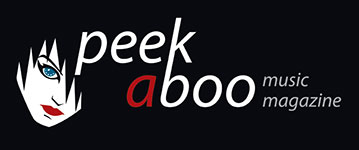 like this interview
---
AMBASSADOR21
27/11/2016, Arjen GROOTEMAN
photos: © Benny Serneels
---
About your rhythms, do you use real drums? I have never seen you play them, but it sounds like drum machine patterns?
Alexey: In our studio work we don't work with real drums or other real instruments. Most of our sounds are produced with software, except some guitar riffs as we collaborate with guitarists sometimes. But we use a lot of samples of real acoustic drums, of course, more than synthesized sounds.
As for the live shows, last October we've played a great show at Maschinenfest with a real drummer, our good friend Olivier Pesquié, the drummer of the French band DEXY CORP. It was the first time we performed with live drums in AMBASSADOR21 and it worked out perfectly, hope we can repeat it on the other stages.
21, is that from 2001, when you both started together?
Alexey: No, it isn't.
Can you tell me more about the name's origin?
Natasha: It's our name.
Can you tell us a bit more about yourself, like where you come from?
Natasha: We come from Belarus with love.
I recognize a sort of disgust to modern society, something anarchistic or are you trying to be out of this system? Are you inventors of a new fun system?
Natasha: No, we don't inventing the system. Anarchists? May be. Actually, the idea is just to not hurt each other. Can it be considered as anarchy or a system? The main problem is that people don't put themselves in other people's place, people who are in pain because of cruelty, die because of bombs or drown at sea. It looks so easy to punch someone else, or stab him with a knife – to hurt others or kill them. If for one second you would try to imagine what dying person feel, what kind of pain they suffer...
How do you write your lyrics? We in the West think that Belarussians are not allowed to give any negative opinion about the system?
Natasha: We are allowed to think and speak whatever we want, everywhere. Who can allow or not allow us to do so?
Is there a healthy scene for you to play live in Minsk and its surroundings?
Alexey: We decided to move abroad some years ago. One of the reasons – no, there are are no good conditions for playing and there is no healthy scene.
You work still as DJs, how much does that influence your music?
Alexey: What do you mean with "work as DJs"? If you are speaking about radio – yes, we were radio DJs 15 years ago, but we don't have any connections with that industry anymore. If you speak about playing DJ sets, well,we do it occasionally. Actually, we almost don't.
Is it correct that I hear samples from Skinny Puppy, Einstürzende Neubauten and Revolting Cocks or do you use a similar sound at times?
Natasha: You're right, we sample the artists we love and respect. Sampling is a huge and important part of electronic music creation.
Can you tell us more about the instruments you use?
Alexey: As I said, we don't use analogue instruments for producing our music. All real instruments you hear in our songs or sampled or synthesized with soft instruments. Exception can be made for guitars. As for the gear, we use many different controllers – different types for different instruments. We are supported by some great audio manufacturers like Arturia, Keith McMillen Instruments and CME Pro. During our work on our new album Human Rage, we've been endorsed by APS (Audio Pro Solutions) with their incredible professional Klasik monitors, and the mixing and mastering process have never been such fun before!
As for the software instruments, we use lots of them – some more, some less. Today VSTi offers unlimited possibilities for making music. But there still is no magic button with the sign "Make Music" ;)
I really like your artwork, I suppose you do it yourself?
Natasha: Yes, mostly. We need help, of course ;) For the artwork of Human Rage pictures were taken by Pavel Oskin in his Outbox Photo Studio in Prague last spring. You find the photo on the single Revelation, which was released to support the new album.
Can you tell me more about the cover?
Alexey: We had the cover of Human Rage printed in the German Druckwerkstatt, because we knew exactly what kind of packaging and printing we wanted. As we know their quality and creative way of thinking, it was the only printing company we talked to. Well, I can't talk about exact printing technics, just can say that silver on cool black textured cartonwas used for the regular album edition, and gold for the double CD deluxe edition. And it looks awesome, thanks to Thomas Hein and Rudi Barth!
Is the A in Human Rage highlighted for a special reason?
Natasha: Yes, to catch your attention.
The amount of your releases reminds me of long ago. Frank Zappa released a tsunami of music before he died, are you of the same kind?
Natasha: We still have a lot to say. And as everyone else, we will die. No special plan to release an exact amount of records before that, but…. On Human Rage we have a track called Before We Die, so maybe...
Is it a compliment or an insult when I tell you that your music does remind me of Captain Beefheart, as every time it sounds better. I call it growing music?
Alexey: Thanks, that is a compliment, I guess. Never was a big fan of Captain Beefheart and Magic Band, but if you say so ;)
Have you done anything new on Human Rage?
Natasha: Everything. Listen to Human Rage carefully. It's not just a words, we really made it for you. It's the best AMBASSADOR21 album. Thank you.
Arjen GROOTEMAN
27/11/2016
---