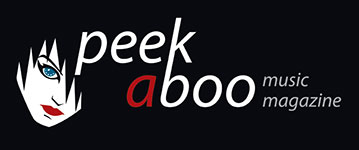 like this interview
---
LAHKA MUZA
Bands like us were 'outlaws'
17/10/2016, Stef COLDHEART
---
Lahka Muza is a Slovakian band I discovered a while ago. It is active since 1984 and has released several albums on an irregular basis. The band is Gudrun Snake (vocals) and 677 (music). They're dealing with a mix of gothic and ritual music while the main characteristic remains the bewitching vocals of Gudrun Snake. I've been in touch with the front lady after the release of the DVD Performance released on their own label Excentrix Records.
It's quite unbelievable, but I realized that Lahka Muza is already active since 1984! What do you keep in mind from the early years and what was the kind of music you wanted to play when setting up the band?
Gudrun: Yes, You are right! We started like a post/punk or new-wave band. We were a 4 headed band in a classic format: singer, guitarist, bass guitarist and drummer. We played simple new wave songs. Back in time Czechoslovakia was a state with a communistic regime and bands like us were 'outlaws' so it wasn´t easy to keep the band alive. We were pure underground. After 1989's 'Velvet Revolution' and the fall of the communistic regime, a capitalistic Czechoslovakia saw the daylight. During the first years we had to find our own style and we progressively wanted to experiment with new technology, minimalism and ritual music. It also was the period our bass guitarist and drummer left the band. So we created a 'new' Lahka Muza with more technology and a modern sound. We recorded 6 CDs since 1992. Every CD has another theme and is a new experiment with sounds, arrangements and progression. All CDs featured an original connection between guitar and electronic music. Throughout the years our main idea was to find the 'golden cut' between this connection.
You this year released the DVD Performance, which I think will give people (and your fans) a real good idea of the evolution of Lahka Muza. I oticed a more explicit evolution in the image instead of the sound. What's your opinion?
Gudrun: I think that Lahka Muza went through a serious evolution in sound and in image. The first CD Tieň Bolesti ,released in 1992, sounds like pure guitar, industrial-music. The second album from 1995 was into pure electronic music etc… Our image went through a personal evolution from a simple to a more theatrical image.
Live performances are important for you, so what did you try to express on stage and what's the fascination behind the leather/fetish appearance?
Gudrun: We are a band with a good live appearance. I think we are good musicians and we also like good live shows, so we also cooperate with guest performers. I like different kinds of fashion and fetish things, but leather doesn't stand for the only face of Lahka Muza. Every show has its own image and costumes. So I don t think that we are fascinated only by fetish, but our side-line project Hieros Gamos is more into the fetish look, that's for sure.
I always notice a kind of ritual running through your work. What is it all about and is there any link with the lyrical content?
Gudrun: Yes, our music features minimalistic and ritual aspects, which is partly reflected in the lyrical content. We're dealing with our own feelings of human beings living in this world, but you also will find philosophic sources and magic aspects. We are looking for the power for living here in this very dark world.
Gudrun, your timbre of voice and way of singing clearly are very specific and probably the main characteristic of the band. Tell us a bit more about this bewitching voice and its evolution throughout the years?
Gudrun: I think my way of singing and timbre of voice are like our 'trademark'. I combine a ritual kind of singing together with some hard 'operatic' parts. This is specific for my vocals. I like different expressions, so I am switching from soft to dark bewitching voices.

You a few years ago you set up the new project Hieros Gamos, releasing one single album (Fetish Remix) in 2006. What happened with this project and what are your further plans globally speaking?
Gudrun: Fetish Remix indeed has been our single released album. We are playing live with Hieros Gamos only at special events. It sounds like modern symphonic music, so there're not so much occasions to play this kind of 'new' classical music. So Hieros Gamos is alive, but only during some rare concerts. We don´t prepare a new album and don't compose new songs. But after the next album of Lahka Muza, we may also focalize on new tracks for Hieros Gamos. We don´t know what will be the destiny of this project.
Stef COLDHEART
17/10/2016
---