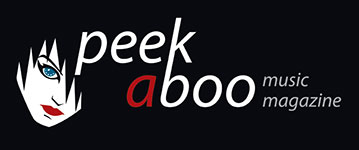 like this interview
---
MESH
We pour our heart and soul into everything we do but its the listeners reaction that makes it.
04/09/2016, Didier BECU
---
Peek-A-Boo had an exclusive interview with Richard Silverthorn of Mesh. We talked about the past, but most of all about the great new album Looking Skyward.
Hello. Mesh has something special to celebrate this year. 25 years. I know it sounds weird, but when you started, would you ever expected this journey would last that long?
No certainly not. Back when we started I think we just wanted to write and record music and just see what kind of reaction we would get to it. We never in our wildest dreams expected where this journey would take us. I suppose our constant drive in pursuit of popularity and the love for still making music has kept us going all this time. With each album and tour it just seems to be getting better and bigger. There are many highs and lows being involved in this industry but as long as you can keep focus on the important things like the writing and recording all the rest just kind of falls into place.
I had the luck to follow the band from its early days. Of course it is normal a band evolves, but evolution is not always better if it comes to quality. In the case of Mesh each album was getting better and better.
Thank you. We have always prided ourselves on writing good songs. This is the key. So many bands I hear rely solely on the production, the newest synth sounds, the heaviest drum sound etc but overlook the vital part, the song. We spend hours on trying to perfect that before moving on to the production side of things. Another reason could be down to the fact that Mark and myself still keep pushing ourselves to come up with new ideas and techniques with every album. Trying to keep it fresh and interesting for ourselves.
Of course you are big in Germany, but I always wondered how are things in the U.K. as after all you can't say you make the type of music the British press is giving many attention too.
Well, the UK has always been a difficult one for us. We have a reasonably big following here. We are still able to do shows and get big audiences, but it's very underground. The UK music press are very blinkered in their outlook. Radio is just full of major record company commercial shit apart from a few selective stations. Without sounding too negative we kind of gave up on the UK media circus. We still play here and we still do ok but its not where our focus is.
I know you will answer "Looking Skyward", but which album you made was pleasing you the most. I always thought Automation Baby was the one that gave Mesh that ultimate sound.
They all have certain things that made us what we are today. "Who Watches Over Me" was a huge step forward for us on a technical level and the fact we were signed to a major label. Automation Baby was so well received by the press and the fans so will always be a big album for us but I would like to think that "Looking Skyward" will be up there with them. I think an album becomes more respected by us when we get the feedback from the people. We pour our heart and soul into everything we do but its the listeners reaction that makes it.
In a way I think Looking Skyward is like a continuation of the Automation Baby-sound.
Yes maybe. We knew Automation Baby was going to be a hard act to follow but on the other hand we really didn't want to replicate it. The idea of just trying to do something similar didn't appeal to us. We knew we had to push for something a little different. Its that whole evolution thing again. We set out with no real mater plan but just writing some good songs and see where it would take us. For a while it didn't feel like an album to me but as time went on and we pieced it all together it suddenly felt right. We experimented with different things on the music side of things. We really got back into sampling again. It was something we used to spend hours doing before but slowly moved away from it as technology got easier. Stepping back to doing this again felt really good. It is the little imperfections in sampling that makes it sound so cool. Armed with 2 digital handheld recorders we set off and recorded loads of natural sounds and used them as layers, atmospheres and loops on "Looking Skyward" We hope people can pick out all these details when they listen to it.
In a recent review I described Mesh as apocalyptic pop. I mean I am singing all these tunes on the bike, and yet they all have a rather doomy character. Do you kind of agree?
Haha…yes. Ive always been a fan of all those melancholic songs. They have so much more depth and meaning. If you can put all that emotion across with a catchy melody as well then all is good (laughs).

Looking Skyward certainly is not a happy album. Of course the world we're living in isn't either, but do you consider yourself as a dark person? I mean you wrote a tune named Before The World Ends, so...
Dark? I don't know. Sensitive perhaps. I think Mark and I share the same kind of out look on life. We laugh a lot and certainly have fun doing what we do. When it comes to the song writing and music we usually find ourselves going down a slightly darker route because it has so much more meaning and feeling. People really connect with that. We all have feelings and can relate to many of the emotions with songs put across. We still receive lots of letters and emails from people saying our music has got them through a tough time in their lives. A girl at a recent show ran up and hugged me in tears and said we had written the sound track to her life….Wow there is no better compliment.
And yet the title Looking Skyward feels like hope. Can you say anything about the title?
The beauty in what Mark writes in his lyrics is that it can be taken in many different ways. The listener decides what it says to them. I think there is a lot of that within "Looking Skyward" The title itself comes from a lyric from a track called The Fixer. We both felt like it was quite an optimistic line. A feeling of hope through all the gloom. The album itself has many dark places but overall has a feeling of there is light at the end of the tunne
I'm sorry, but I have to. Why isn't Paper Thin featured on the album as it is like one of the most beautiful tunes Mesh has ever written?
Oh I don't know…. It was at the time of deciding on a B-side to the first single "Kill Your Darlings" we decided to write something specifically for it in the studio whilst we were mixing the album. Mark used an old bit of music I had written several months earlier and came up with a track called "Circles" this proved so popular with everyone in the studio that day they said "no way can this be a b-side" so we decided to take a track of the album. That track was Paper Thin.
Many bands complain at the dying scene. In the case of Mesh it seems like this is no problem at all as I have the impression that the fan club of Mesh is getting bigger every day. Right?
Yes. The response just seems to get better and better. Im not sure what we are doing but it seems to be well liked. Perhaps its our honesty in the way we portray ourselves. I'm not sure about the dying scene. If I had to comment on that I think it would that there is a huge following out there but you need to appeal to these people. So many bands I see are so complacent and are doing the same thing over and over year after year. People need to be stimulated by music and the live shows.
You soon will do a tour with the new album. Can you tell us something about what the fans can expect?
We are actually working on this as we speak. I am busy working on different musical arrangements for the live shows. Mark is locked away in his studio producing and editing videos. Pete our lighting guy is planning a new light show so hopefully this will all come together very soon.
What's your favourite record of all time and why?
That is so difficult… If I had to really choose one that had a big impact on me (it made me buy a synth) it would be Upstairs At Erics by Yazoo.
With whom wouldn't you mind to be alone in an elevator for 8 hours and what would you do then?
I'm not going to say any of the women I fancy that would be so shallow. So with a more intelligent answer…. someone I admire musically…either Trent Reznor or Craig Armstrong. Just so I can talk of some kind of collaboration (laughs).
Didier BECU
04/09/2016
---