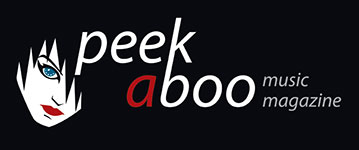 like this interview
---
RED MECCA
I've got a passion for the things you can't see with your eyes, only with your mind.
20/07/2016, Stef COLDHEART
---
Red Mecca is a Swedish duo consisting of Jan Strandqvist and Frida Madeleine. The duo is active since 2013 and deals with a very personal and somewhat space-like electro pop approach. The least I can say is that Red Mecca doesn't sound like an average electro pop copy nor a new Depeche Mode clone. The duo clearly deals with a personal interpretation of electro pop music, which resulted in a totally accomplished new album entitled Electricity. The album has been released in their homeland on Massproduktion. Time for a chat with this talented duo.
Can you briefly tell us how you met and set up the band Red Mecca?
Jan: I was at the local rock club and checking out Frida when she performed with her project Frida Madeleine and was blown away by her voice and appearance. That´s it, I thought. That´s the one who should do vocals with Red Mecca. I was just about to start up and reboot Red Mecca, which was launched as a much more club/dance oriented project in 1997. Today we really got nothing in common music wise with Red Mecca 1997. We´re more like back to the roots now.
Is there a link between your band name and the Cabaret Voltaire album Red Mecca of 1981? What does the band name stand for?
Jan: Yes the name is coming from Cabaret Voltaire's album, but we´re obviously not trying to sound like CV in more ways than sharing an atmosphere. I bought Mix-Up in late 1979 and I was mesmerized as well as confused when I heard it. It´s a kind of organic electronics, warm, but at the same time frightening. The album Red Mecca is an extension of that feeling. A landmark. Sort of. That´s what it stands for. Warmth and fright. Love and hate. And to be honest, it´s a convenient provocation as well.
I experienced your sound as an interesting and very personal exposure of electro pop music. How would you define the sound of Red Mecca and what does it say about potential sources of inspiration?
Jan: I think we have found the perfect blend of different inspirational sources and still share the basics. The life that surrounds us. Here and now. I´ve got my roots in the Swedish punk movement and was later a member of Brända Barn, one of the post-punk bands which made a heavy impact on the alternative scene in Sweden. Nowadays, I find myself listening a lot to contemporary classical composers as Arvo Pärt and Henryk Gorecki as well as ambient drone-bands like Implodes and apocalyptic bands like Angelic Process. More often than I listen to electronica in any form. I got a passion for religious mysticism also. I studied history of religions at Sthlm University, specialized in mahayana/vajrayana buddhism and foremost it´s iconography. I´ve got a passion for the things you cannot see with your eyes, only with your mind. Movies also. A lot of movies. That´s a thing you can see with both your eyes and mind. That´s my definition.
Frida: Yeah, music wise I think you can tell from our music that we have different backgrounds, and I think that keeps Red Mecca interesting and with the ability to grow and get in touch with different types of styles and sounds. When I listen to music, I'm often drawn to certain voices. Sóley, Anohni, James Blake & Liz Fraser are some of them. I love people that dare to experiment and bring both their voices and their music to new levels and I think me and Jan, without even thinking about it, are doing it constantly. It's a pleasure.
What's your perception of pop music, generally speaking?
Frida: Being born in the nineties, I've had my fair share of what you would call pop. Mostly tacky and sometimes really bad. With that said though, I think there is good and well produced pop out there, and there are always gems to be found. For me its all about whether the music is able to induce some kind of feeling in me or not. If the answer is yes, I'm probably going to give it a go, no matter what genre.
Jan: If you mean pop music in it´s most sweeping and broadest sense, the kind that is fast produced for the masses, I think it´s more just business than anything else. Run by businessmen. An empty surface, but sure, it can be entertaining. For a moment.
Your newest album Electricity definitely is your most accomplished work to date. What kind of album did you have in mind and how would you analyze your evolution in sound from your earlier work to Electricity?
Jan & Frida: Well, we had a basic idea for Electricity. A balance between light and dark and I think we carried out that idea in a splendid way. But we had to go with the flow in everything we did. There were a couple of songs that we loved, but we couldn´t make them fit, so we had to remove them. We´re like under continual development. Perpetual progress you could say. And Electricity is a result of that way of thinking and feeling. And I think it takes some time to find yourself and to find out where your creativity can take you. Electricity is nowhere near the end station. We´re moving again. No. We´re always moving. Actually. And when you make progress on a personal and emotionally level in life, that will be reflected in your music. Especially if you´ve been to hell and back. That´s a kind of painful but weird and healthy knowledge. To know hell. And it´s opposite.
Stef COLDHEART
20/07/2016
---