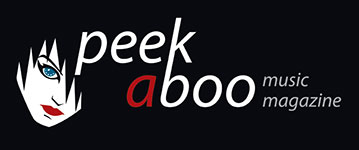 like this interview
---
DAGEIST
Music is a real pleasure to share and it doesn't have to be a commercial obligation.
19/06/2016, Didier BECU
---
In short time the French band DaGeist from Lille are in every new wave publication. The self-released album 40 is indeed a gem which contains contemporary new wave with an electronic twist. Peek-A-Boo had a chat with both Davide and Fréderic.
Hello, so far not everyone knows who DaGeist is. So I would say: introduce yourself to the world!
DS : DaGeist exists since 2010 and had five members then. Since 2015, DaGeist made a new start with a more effective and proving form. Now we are duo: Davide is the singer-composer and Frédéric the bass player.
In a few months things have gone excellent for Dageist. In fact everything went quite quick, have you expected that?
DS : Since the official release in december 2015, everything goes indeed fast and quickly. We are welcomed by the audience, as well as positive and encouraging critics made by radios and music magazines like ALTvenger or Ca c'est Culte. 40 is our first album, and all reactions all are marvellous.
In fact, why that title 40?
FS : Why 40? … Just because 80/2 = 40 (laughs)
DS : More seriously, the album iniatially had be called After 40 years, all is possible..
The music from DaGeist is surely something apart. You hear your influences, but you gave it an own sound. Do you think that's the key of the success?
FS : I think DaGeist is a cold wave, a new wave band that succeeds in creating its personal universe by mixing old sonorities and modern electronic sounds. In other words, a big sound of analogic and fat keyboard, a cold wave bass, new wave guitar riffs, and a vocal that is sometimes sad, but also punchy.
DS : My influences are Cocteau Twins, Depeche Mode, New Order and Clan Of Xymox.
FS : Mines are Fad Gadget, Trisomie 21, Joy Division and Front 242.
Have David or Frédéric been in a band before, or is DaGeist you very first band?
In the past, we've had bands and participed in various musical groups, but it was never so serious as with DaGeist. So now, we focus on that.
DaGeist is a French band. In the past the dark scene used to be huge there, but in a way most of the bands only got known in other countries when it was over. What's your opinion about the current French scene and how would you place Dageist in it?
FS : DaGeist is musically dark wave, new wave and cold wave. It's true in France, this scene is not really visible, nor very mediatized, despite the presence of many good bands as Norma Loy, Rosa Crvx, Babel 17, Autopsie d'une Ombre…. Fortunately, some French labels like Manic Depression Records or Unknown Pleasures Records still believe in it, as well as associations which promote this dark scene, like in Lille Les Vierges Morbides.
And that lead us to the question every fan wants to know, when can we expect something new, and will that new material be like what we heard on your debut?
DS : We actually work on new songs, which will be in the same line of the previous ones. For us, music is a real pleasure to share and it doesn't have to be a commercial obligation. We'll take as much time as is needed, so we have a second quality album. Patience! (laughs)
You also played at WGT this year. How was that, and do you think you achieved something there?
FS : We haven't played live, but some songs were played this year during parties at WGT by Bruno Kramm of Das Ich. It's already a great honnor for us and at least, it will be a good start in Leipzig.
Talking about gigs. On 25th June you will play in Dendermonde. Tell us why people should come and tell them what to expect.
DS : According to me, DaGeist's power takes all its dimension in a live performance. On stage, we have the opportunity to create an atmosphere, an ambiance, to share our sound, our feelings with public. Come to Dendermonde on 25th June!
What's your favourite record of all time and why?
DS : Difficult to choose only one. I hesitate between several, so to keep the same style I would say Unknnown Pleasures by Joy Division.
FS : No hesitation! Tinderbox by Siouxsie & The Banshees.
With whom wouldn't you mind to be alone in an elevator for 8 hours and what would you do then?
With R2D2, C3PO, Han Solo and Chewbacca, to prepare next great gigs on our next Tatooine Tour (laughs).
The last words is yours....
First our thanks go to Peek-a-Boo. It's always a pleasure to share things about music. And a special thanks to public for interest and support DaGeist.
Follow us on http://www.facebook.com/dageist and https://dageist.bandcamp.com/releases
Didier BECU
19/06/2016
---