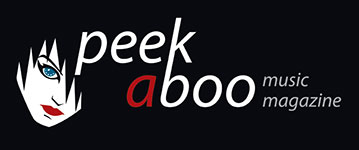 like this interview
---
RHOMBUS
Being 'the best kept secret' can be frustrating.
02/06/2016, Didier BECU
---
According to Rhombus, being the best kept secret is quite frustrating, well let us change that. Rhombus is a goth rock band that is around for almost ten years, and with its latest EP the band proves that goth rock still matters... of course it does!
Next year, Rhombus will celebrate its tenth anniversary. How would you describe these years?
We've been blessed. We've played some wonderful places and met some amazing people.
You are a household name in the British goth circuit, but you also play regularly in other European countries. Tell us about your most beautiful experience till now...
Playing WGT in Leipzig a few years ago was very special. It was the hottest day of that year, a very magical experience. We've also got a real connection with Athens, everytime we've been there, the gigs have been electric!
I guess you agree that Rhombus has that typical British goth rock feel that is difficult to describe. But even if I recognize your influences, Rhombus has a very own goth sound because there's that 70s feel in it as well.
Yes, definitely. The 70s were a time of great bands that made good music and knew how to put on a show. Those two things are very important to us.
Let us start with a nasty question concerning Great Britain. How is the situation for goth rock bands these days as I have the impression the UK has forgotten his goth heroes.
It's up and down, we're lucky that we live in West Yorkshire and Leeds is the home of Goth. The scene thriving, centred around the monthly band and club night Carpe Noctum
Anyway, Rhombus is underground, and I guess the underground is the best place to be?
Yes, though we try and peek our heads overground when we get the chance. Being 'the best kept secret' can be frustrating.
You recently released the de luxe edition of Purity & Perversion, which is actually a reworked version because you wanted to include the vocals by Alixandra, right?
Yes, we wanted a release to reflect the live band as it sounds today. Which is possibly the strongest we've ever been.
On that same EP you did a cover by Das Projekt. Was there a special reason for doing so?
Rhombus has been building a following in Brazil over recent years and so Das Projekt asked us to contribute a track to an album it was putting together to celebrate its anniversary. We were rather pleased with how it came out, so we decided to put it on this release too.
Most of the songs are quite melancholic... Tracks like Daylight or A Moment Today almost bring me to tears. Do you consider yourself as dark people?
Thank you for that. It's great that you are feeling our music and lyrics so deeply. The songs on this release are probably the most honest collection of songs we've ever written. Some of the lyrics were written about being in dark places, but always with one eye on finding the way out.
What's your favourite record of all time and why.
Higher and Higher by Jackie Wilson. It's the perfect pop song and always lifts my mood, makes me happy to be alive.
With whom wouldn't you mind to be alone in an elevator for 8 hours and what would you do?
Guy Pratt, he could definitely improve my bass playing.
The last word is yours...
Thanks to you and everyone who is reading this for taking an interest in Rhombus, come and see us at a live show, you won't be disappointed!!!
Didier BECU
02/06/2016
---