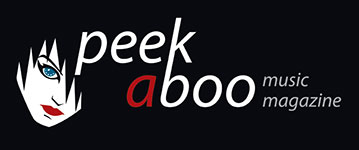 like this interview
---
ADAN & ILSE
When it comes to music my perception is into fundamentalism and even close to totalitarianism.
27/05/2016, Stef COLDHEART
---
Adán & Ilse has released an impressive number of productions between 2012 and 2016. Set up by Pedro Peñas Robles (label owner of Unknown Pleasures Records and previously involved in bands like HIV+, L'Âge D'Or… and now A★I) and Michel Lecamp (known from Norma Loy, Black Egg, Die Puppe ao), Adán & Ilse was discovered by David Carretta. The duo composed a minimal interpretation of electropop music, revealing a solid 80's influence. The newest album Chirurgie Plastique once more reveals the minimal electronic approach, which clearly sounds different from the familiar electropop standards. I got in touch with Pedro and Michel (Usher) to get more details about the new work and about their future.
'WHEN IT COMES TO MUSIC MY PERCEPTION IS INTO FUNDAMENTALISM AND EVEN CLOSE TO TOTALITARIANISM'
The new album Chirurgie Plastique was released a few weeks ago. What can you say about this new accomplishment and the evolution in sound?
USHER: On this album, I especially tried to create simple and basic structures with synthetic sounds and without much effects. The aim was to get more precision and simplicity. This way the sound 'surgery' (cf. 'chirurgie') was mainly based upon taking off superfluous elements to obtain something more radical without aggressive notions.
PEDRO: As Usher already said, we wanted to go back to simplicity. From the beginning we were dealing with synth pop, which was really genius during the early 80s and still is today. In an underground synth/wave/pop scene affected by rigidity, we have the pretention to work on a renaissance of the genre, consisting of real songs, real melodies, a modern production with respect for the old standards and using my vocals, which seem to be rather atypical for this scene. Even if Usher is strongly influenced by 80s music, he's not attached to the past. If you listen carefully to our music, you'll hear that the sound clearly moves into modernism. Adán & Ilse stands for 'plastic art'.
I've always been fascinated by the minimalism of your sound which clearly evokes 80s new-wave and electro influences, but still features its own approach. Tell us a bit more about the potential sources of inspiration and more particularly for the new songs?
USHER: Chirurgie Plastique definitely is our most minimal-minded work: less songs, less arrangements and less members! Even more than in the past, I've found my inspiration in the work ofKraftwerk, but also and for the very first time in the work of Elli & Jacno, which are band from my childhood. I rediscovered their work in a way. That's why together with Pedro, I decided to write a few songs in French and precisely these songs (cf. "Superstar", "Edwige") have been affected by the inspiration of Jacno and the use of the ARP 2600. But we of course have been also inspired by the agony of David Bowie, which accompanied us throughout the entire 'travel' and "Superstar" is fully dedicated to Bowie. It was written the day after he passed away.
PEDRO: Since the midst of the 80s pop music started with a voracious format of auto-cannibalism. I really have a problem with the current era, which appears to be amnesic for the past, as if things never happened. The constant flux without content is synonymous for an abyssal emptiness in current creation processes and that's true for all artistic formats. When it comes to music, my perception concerns fundamentalism and even more totalitarianism. I can't endure productions which are flat, functional or vulgar. Speaking for myself, I think vulgarity is running through the current synth-pop scene and it has become a standard and it's going on now for too long already. The minimal-wave style created by Veronica Vasicka around 2010 injected a new sense into electro-pop music and into all synth-pop/synth-wave bands in France.
What have been the main difficulties you encountered during the writing and recording process of Chirurgie Plastique?
USHER: Speaking for myself, the main difficulty has been to get new inspiration and especially after having achieved two albums with Black Egg (cf. Songs Of Death And Deception, released on Unknown Pleasures Records and Melencolia, released on a+w) and finalizing the new Norma Loy (cf. "Baphomet") album. It stands for a total of more or less 40 songs I composed on my own. The sound of Adán & Ilse is different, so I had to find something new, but still in the line of the previous work. I was not the only composer, but I still was the only one when it comes to the arrangements. Last, but not least, all had to be accomplished in a rather short lapse of time, but in the end all the restrictions only stimulated creativity.
PEDRO: We didn't really encounter that much difficulties on this work, although finding the right person was not an easy thing (thanks to Paul Fiction for helping us to find the sound we wanted). After the Cold Diamonds album, we decided to focalize on a rather minimal creation, which is the main reason why composing went rather fast. Those who are familiar with Adán & Ilse know we both are driven by a common passion for music. On this album and even more than on the previous ones, I'm only the singer and yet, without me, the band wouldn't exist. Usher is the composer (although he's still singing), but without him the band wouldn't exist either.
Peter Rainman did the arrangements and production before, but he's no longer part of the band, so we made Chirurgie Plastique without him. It makes me smile when some of our fans say that it still sounds like Adán & Ilse.
If I would be mad for a second (and be sure I can be), I would compare a producer with a house painter considering himself to be Vincent Van Gogh. It's rather an exception to be a genius composer and writer, a good singer and a great performer… Let the cobbler stick to his last. The main task of a producer is just to guard the final details. When we start working on a new album, the songs have been written by Usher, so next we record the vocals without stress at my place. We sometimes invite guest musicians to contribute and play (bass, guitar) on a few cuts, when we are searching something special and/or trying to inject modernism to songs that are nearly finished. But there's less contribution of guest artists on the best songs of Chirurgie Plastique. We want something fresh and that's what the album is, more than the last.
You clearly like to expose your songs to the remix skills of other (and famous artists). Why is that and what do you expect of remixes?
PEDRO: I am part of a generation that has been familiar with the early debut of electronic and new-wave music. Like many people of this generation, my first favorite band was Depeche Mode and it is thanks to them that I discovered the art of remixing a song. From 1983 on, each maxi of Depeche Mode features remixes. The remixes I discovered, opened my electronic horizon.
From the very first day in Adán & Ilse's history, I've chosen the artists for the remixing of our songs because I want to give people another vision of our music while providing different versions to DJ's for the dancefloors. I always chose a remixer for a specific song because I've to get the feeling it can lead to a match. The remixes featured on the albums are the ones that Usher likes as well. It's fascinating to see what a remix can do with our music. There are real great electronic artists all over Europe and I sincerely have to thank them for their great and demanding efforts in dealing with electro-pop.
Adán & Ilse still is a rather 'young' band that was set up in 2012, but already released multiple productions and got through some line-up changes as well. How do you look back at this busy debut period?
USHER: Except Peter Rainamn, who's no longer involved, there were minor changes, but it's true that we have released a lot of songs and four albums in a rather short lapse of time. The debut period 2012-2013 was quite exciting and it was characterized by encounters with interesting people (David Carretta, Gabi Delgado, Marc Hurtado, etc.), concerts and the naive idea to become successful. It all evolved into deception, and speaking for myself, I became exhausted. So we agreed to bring this adventure to a good end with Chirurgie Plastique.

PEDRO: How do you expect this kind of music to be taken seriously when 90% that has been released under the label synth-pop/electro-pop is just crap. The main point today is the so-called democratization of music, leading to thousands of 'producers' who are just amateurs, without real talent. Usher is one of the most talented French composers of his generation and what he did with Adán & Ilse will remain exceptional.
Today I'm going on with my new project A★ I, which I started with Adán & Ilse: the quest for perfect electro-pop music.
Stef COLDHEART
27/05/2016
---