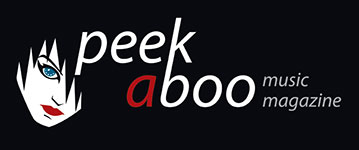 like this interview
---
ADAN & ILSE
I don't think it's important to know where do we come from. What makes it original is the sounds and the songs, not the country.
10/07/2014, Didier BECU
---
Can't get enough of those early Mute-sounds? Thinking what would happen if you blend Portion Control with Xeno & Oaklander? Or what about Chris & Cosey mixed with Etienne Daho? The answer is Adan & Ilse.
Well hello….as you're a brand new name, I let you introduce yourself.
Hello ! I'm Peter Rainman from the band Adan & Ilse. We are a trio, combining the talents of :
- Pedro Penãs y Robles : singer, writes the lyrics and sometimes composes & final mix, runs the label Unknown Pleasures records.
- Ushersan : from the legendary french cold band Norma Loy, he composes and sings on the songs. He also brings the big touch with his old synths.
- Peter Rainman : production, engineering and mix. Sometimes composition.
I'm not the first to ask, so repeat yourself. Why does a band name themselves Adan & Ilse?
Yes it looks a bit complicated. Sometimes you read we are two, sometimes three... let's rewind the tape : years ago, the two others gentlemen created their minimal industrial duo : USHERsan and HIV+. They released albums and needed remixes. I knew them and remixed their song "swallow you all". Few days after they offered me to create a new mysterious band by joining them. We named ouserlves Adan & Ilse feat. Peter, but we hide the fact that Pedro and Usher were the two others. After being signed on David Carretta's label, he told us the name was two long and we chose Adan & Ilse... So there are two names but we are three... Let's say i'm the "&" from the name, haha!
You are a Franco-Spanish synth pop band. A strange combination, so explain yourself.
Obviously Pedro is spanish, but so am I, in smaller proportions. Usher is french. We work via internet and phones, sometimes meet. I don't think it's important to know where do we come from. What makes it original is the sounds and the songs, not the country. Even more I don't think we make synthpop music... we think it's some kind of növö wave.
I ran into accident by your band, but I got immediately blow away by your sound. How are reactions so far?
Thanks ! Well there's no accident we work a lot on it. Usher works on analog systems, I use half hardware and software devices, and Pedro has the biggest culture in music ever. We also come from different worlds, especially myself : i'm also known as People Theatre, making a lot of Future Pop remixes, while the two others are into a more underground system. It brings more freedom, we are not prisoners of our sounds, habits. We all discover from the two others.
The combination of those three ways of working makes the result sounding quite unique. It comes a lot from the eighties, dark, cold and sometimes EBM or Minimal Wave influences.
The reactions are very good, especially from people who don't like mainstream music at all. People who like early Depeche Mode, new wave, cold wave, even ambient... It's amazing because some of them sometimes become addicted, they write us that they didn't think they still could be surprised nowadays!
I hear a lot of influences, especially 80's … from Etienne Daho to Fad Gadget. How important was this decade?
Very. It was the big explosion of new sounds, easier recordings. Usher helps us to remind the feeling from those times. The first record has a lot of influences from the early Mute records sounds, because we were exploring new tools from that period. The second album follows the same path. However, the third one is more based on Tangerine Dream, Chris & Cosey or Kraftwerk.
We are trying to keep the mentality of those moments, exploring, creating, not repeating, but we also add the 2010's touch with effects, mixes...
Do you also perform or is the band just a studioproject. Having said that, generally speaking I guess it's not easy to get gigs these days, not?
We are of course very interested in playing live ! We had the opportunity, last year, to play in Paris at the Nuba club with the great electro clash producer David Carretta, on the roof of a building, nearby la Seine, it's been extraordinary, check the videos on you tube! But you are right it's hard to find decent gigs, unless you are part of the process... Sometimes there is a kind of mafia there, and it doesn't help. I would even say it destroys our little community.
Can you tell us something about Unknown Pleasures Records and how important is the DIY-principle for you?
When we approached labels, many of them told us the record was brilliant but they couldn't sign us because it's not part of what the costumers are use to find on their lists, because they are stucked by the market and can't open their musical spectre. Pathetic !
Only David Carretta had the gutts to sign us because he needed something different. Unfortunately he doesn't make CD. Therefore Pedro proposed to create a new label he would manage. Things went bigger than expected, because he now signed not only Adan & Isle but also clever compilations, and artists such as HAUSFRAU or LAAG, that I strongly recommand.
DIY is the only thing that makes it possible, but we also like the philosophy : we have a direct connexion with the people that buy the CDs. They have confidence in us, they know they are not numbers, that every record is made of sweat, that we fight to survive, that a "like" on FB means a lot and we need a strong support from them.
Ordinary labels have deals with distributors and don't care about promotion, they have 50% of the sales without any big efforts. We think different !
One of your songs was remixed by one of the members by Motor. How did you get in touch?
I did. As other great remixers such as The Horrorist, Daniel Myer (Haujobb), Növö, Melanoboy..., Oly from Motor is very open-minded.
We had little connections in the past, I wrote him and he said ok few minutes after, as he loves our music! He's given some advices to help, tips to make sounds from this or that, etc... We had a fantastic night on Skype talking about music!
Two questions I always ask. What's your favourite record of all time and please state why.
Hard to tell... I would go "some great rewards" for the record in itself, but also the soundmaking process we are trying to catch too.
With whom wouldn't you mind to be alone with in an elevator for 8 hours and what would you do then?
Mh... Alan Vega for instance, or Vince Clarke. I'm a teacher, but I love to learn!
The last words are yours…
These days, too many music labels churn out music in order to sell soap, clothes, cars or perfume. We spit from a great height on the idea of a system that reduces music to a minor role.
Music is an art-form, and its independence is essential in order to be able to offer up authentic artists, who operate from beyond the scope of any business propositions and sclerotic production lines.
Unknown Pleasures Records is the answer to the lifelessness and mediocrity of the current music scene.
Didier BECU
10/07/2014
---