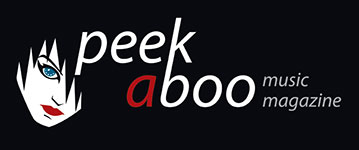 like this interview
---
WRANGLER
I wonder if I would choose to actually make music if I was starting today. The capacity to be creative has been democratised in all forms.
25/06/2014, Didier BECU
---
Peek-A-Boo is very proud as we had the honour to speak with Stephen Mallinder who founded along with Richard H. Kirk and Chris Watson Cabaret Voltaire. Stephen is now involved in Wrangler, a band he set up with Benge and Phil Winter. Apart from own tracks, Wrangler do some Cabaret Voltaire-tracks on stage too and you can witness that in Brussels on 11th August.
Hello Stephen. First of all I'd like to point out that are mag is proud to have an interview with such a legend like you. So let me ask you this to begin with, do you see yourself as a legend?
Ha ha, no not really although I'm not sure what the criteria is - maybe if it's working and surviving then that's OK. I guess it would mean having some influence in shaping things then that would be very flattering and that is something we would all like to achieve. But more than anything I'm the product of the times in which I've lived and worked, I've been very fortunate to have met other people who also wanted to make the most of the situation they were in. But it's always for other people to judge these things. I get called things all the time, not all of them as flattering as that.
If you don't mind I'd like to ask you some things from the past, but questions that aren't based on melancholic feelings though. If you were working on your revolutionary music, were you aware that you were working on something revolutionary?
It's a fine balance between being very considered about what you do – being conscious of what your trying to say and how you want things to sound and come across - but at that same time allow for things to happen, be intuitive and embrace the chaos. Try too hard and it comes across as contrived. Don't have a plan and it's potentially meaningless.
I think perhaps the processes we had to apply were, if not revolutionary, certainly innovative. We tried to incorporate different sound sources and different ways of constructing music, but largely because we had to, we were never musicians so had to make our own rules.
I think we tried to confront things and not turn away from challenges. We presented images and sounds in new contexts and hopefully made people challenge their own ideas as a result.
I once asked this question to Glenn Gregory from Heaven 17 and he couldn't find an answer. If I think of Sheffield, I have the image of grey industrial areas. So is it a coincidence that the roots from industrial music (from Hula to Cabaret Voltaire) were made there?
Well you'd be surprised to find that much of Sheffield is very green and picturesque, it's on the edge of the Peak District which is very beautiful and so there is a danger the evidence can be contrived to fit the theory. It's also worth noting that some of the 'Sheffield' bands didn't actually come from the city – Hula, Chakk, Workforce for example were from elsewhere but made up of guys who'd come to study there.
It is certainly part of our story and can't be ignored, sonically we must have picked up on that and we are aware of it but I don't think it is so literal. In fact many bands are about escaping that restricted industrial world – Sheffield bands actually looked to technology and the future – but also were honest about it so didn't ignore it. We were urban if not industrial.
But we were industrial in the sense that we emerged as the industry collapsed and we were able to use the discarded places to set up studios and workshops to be creative.
When naming your band after the famous theatre from Dadaïsm, was that a secret sign that you everything was possible music wise?
Yes I think that's a good point, the name signified all possibilities, nothing would be excluded, the name represented a challenge to all the dominant ideas and ways of doing things. It was supposed to be iconoclastic, confrontational and cheeky.
I always appreciated that you never choose the way to become a human jukebox. I mean, it would have been much easier to perform your old classics and cashing in. By avoiding that, you always have to prove yourself….never got tired from it?
Well it's difficult as I appreciate how important the past is, the history shows how people came to know myself, Richard and Chris, so you don't want to dismiss it nor an audience's wish to reconnect. But it's about moving forward and making the next statement - piece of music or film. In some ways it's much easier for people like myself as your reputation is built upon that constant state of change so the pressure to do the old stuff isn't there.
But Wrangler do a couple of Cabs numbers live and we enjoy it – it's about revisiting it and refreshing it rather than looking backwards. Plus we had to do the numbers when we started as the live set was too short.
Maybe it's because I'm getting old. But in a way I think that it used to be much easier in the past. I mean, the name of Cabaret Voltaire sounds like The Beatles from my generation. Do you think if you should start today your musical career, you could make such a big impact as back then?
Who knows, it's a very different world and there are more people making music – which is in some part down to us as we were the ones who were saying 'you don't need lots of expensive equipment to make sounds … you don't need to be a proper musician … technology can make this happen' so I'm not surprised, we predicted this.
I wonder if I would choose to actually make music if I was starting today. The capacity to be creative has been democratised in all forms – technology has made it much easier to create and disseminate in writing, films, games etc. In the past, unlike other forms, music was the most immediate way to create and get a response as the process of production and distribution was at least possible, live performance was easier, plus media was relatively accessible for music. Today that is much more general as social media and software have opened up other creative forms.
In fact, what do you think of today's music evolution. No one buys a record these days and everyone has their record collection in their pocket. A good or bad evolution?
Oh I don't believe anything is all good or all bad. I tend to find it fascinating. Obviously the diminishing of actual 'product' has changed our relationship with music. It some ways it is much more egalitarian as music has become what it inherently is: a waveform, we can judge purely on what we hear and it can move easily online. But the reduction of sound to largely mp3 format has impacted on how we think of sound texture and much has been lost. Artists can make music with painstaking attention to detail but the majority of people will listen over buds or laptop speakers.
Also it makes us realise that context is very important – packaging, design, imagery and also how we collectively connect with music as we buy it. It's great that we no longer rely on 'reviews from above' to help us choose but on the other hand do we trust much of the peer-reviewed content online. I don't think I'd buy something just because some complete unknown in Germany for example says its good.
There's good and bad with the infinite shelf space of digital.
I want to ask some questions about Wrangler. How would you describe it and what do you hope to achieve?
Quite honestly I don't really know the answer to either of the questions. To me it is music that is made by three people that could never be replicated by other combinations of artists. That's what makes music so enticing – you set the conditions and see what comes out as a result. The medium which defines it is the analogue technology – on the whole we use older synths, drum machines and modular equipment to write and that's how it sounds. If you asked me I'd say it was rhythmic, raw and dynamic. But I always set out to make music like that.
What do we want to achieve? To continue making it and enjoying the process - both live and in the studio. Hopefully to have enough impact on listeners for them to support us and want us to carry on.
You have teamed up with Benge and Phil Winter. How did you meet, and that's also a lot of talent in one band, not?
I'd like to think there was some talent in there, and I feel very lucky to work with two great people who I admire and trust. Fundamentally we are friends. I've known Phil for a very long time- since the time of Crackdown and Some Bizarre, Benge I met through Phil and his connection with Tunng – Benge and Mike shared a studio.
This summer you'll play a concert in Brussels. What can we expect?
Hopefully a gig that people remember – for all the right reasons. Most of the music on LA Spark began life as live tracks as we like to write in a live context so in some ways they are in their natural state. Benge plays electronic drums, Phil and I play keyboards and I do vocals and voice manipulation so it's intended to be very dynamic.
I always finish my interviews with the same questions. What's your favourite record of all time and please state why.
Oooh that is very difficult. I've done a few top 10s and favourite selections recently and they are completely different each time so I will have to include the caveat 'my favourite record of all time at this moment' (it will be different in an hour's time): Rhythim is Rhythim: Strings of Life
And to end in a funny way… With whom wouldn't you mind to be alone for 8 hours in an elevator and what would you do then?
Well not Hannibal Lecter … Brigitte Bardot – no comment !
Thank you so much.
You're very welcome, mal
Didier BECU
25/06/2014
---