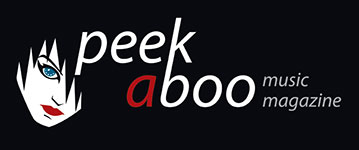 like this interview
---
ANCIENT BARDS
We would definitely like to go out on tour, we want to meet tour fans and we want to bring our music out there!
24/05/2014, Filip VAN MUYLEM
---
Lately many good metal bands release their best album so far & Ancient Bards are one of them. I was curious about it and we know they will come to Belgium in October, the keyboard player was so nice to give us some time for a chat...
First of all, I want to know the philosophy behind the band's name, as it sounds great for an album title, but fitting for a bands name? You sound fresh and energetic, how to rhyme with the band's name?
Daniele: Hello! Well I was very young when I started writing 'The Black Crystal Sword Saga' and at that time I was really into fantasy stories. When I put the story into music I realized that I was doing what ancient bards used to do: they were artist paid by sovereigns to sing their or their ancestors' deeds, they basically told stories like me, and so, since it also sounded pretty good, I thought it would be perfect as the name of my band.
Your sound is very symphonic, how do you work it out?
Our symphonic sound is our trademark. I sit in my studio and create the orchestrations with my pc and some virtual instruments, I normally use the east west symphonic orchestra, and I love its sound!
Was it easy to find a choir who wanted to join and participate? It must a hard job in the studio?
It wasn't easy at all! We needed both professional and non-professional singers, it took a lot of time to find the perfect choir, but now it's consolidated, the group works great together and sounds really epic! Whatever you do in the studio is never easy, luckily we found very hard working people who put all of their heart in what they do, they're amazing.
How is it to bring the songs on stage without the choir (I'm sorry, but I haven't seen you on stage, yet)?
We usually use samples during our live shows to recreate the fullness you hear of the album, just as every symphonic metal band do. The samples contain all the choir parts and all the orchestrations that I can't play myself, having two hands only! Hahahah
If I look back at your history it reads like as if it all went very fast. I know lots of bands who had to play in pubs and small venues or was it the same for you?
I wouldn't say we're that much high just yet! In the past we played in small venues (not in cafes though 'cause in Italy nobody wants to hear a metal band in a cafe), but being six people with a pretty big backline and needing high volume it soon became very hard to find a place to contain us. Every one of us though, with other formations, has a long experience of live music in pubs and clubs.
One of the things that also read like a red line is the very positive press after each release and that in a time where there are more bands than ever before! How do you look at it?
I usually try to read as many reviews as possible. I'm really glad for all the positive comments, but I also take in account critiques and less positive comments, all kinds of feedback are equally important to me because they help me improve our music under every aspect! Negative comments make me work harder and harder, in fact, I hope, you can hear an evolution throughout our releases.
Where do you find your stories for the lyrics? Do you read all the Nordic stories and old time Japanese stories?
I love Japanese stories like Final Fantasy (videogame), anime and manga... also I love fantasy movie like Lord of the rings, and so on… these are the main inspiration for me!
What are your favorite stories and what is so attractive in it? Mine for example is the Snorra Eda.
Actually I don't have a favorite story... maybe the best one for me is the story narrated in Final Fantasy VIII. It's a videogame, but I really loved it!
In the bio you are compared to Within Temptation, but honestly: you are way better (I was more thinking about Kate Bush & Celine Dion at some moments)! With whom do you really want to be compared with or stand on a stage with?
Sara's absolute favorite singer is Céline Dion, so I'm sure she'd be pretty happy to know about your association. Personally I don't like comparisons, they can be used as a term of reference, but I find it useless and unnecessary to determine which band is better than the other, every band is just like every human being, unique in its own way, the rest is a matter of taste. So I'd say we wouldn't want to be compared to any band, if it's possible.
Have you ever performed live with a real symphonic orchestra behind you?
No, never, but it would be great!! Maybe in the future!
I run into Van Canto recently and I was thinking: why don't you try to work out one song like they do, just to see if it works (only vocals and a drum)?
It's really easy!! Because we all are "off-key", (not Sara, obviously! hehe).
A lot of changes happened, how hard was it each time to find somebody to jump in and perform on a high level?
We were pretty lucky, Rimini, our hometown, is full of great performers and jaw-dropping musicians!
I checked Spotify and seem like 'To the master of darkness' and 'Gates of Noland' are so far the most popular tracks, does it seem natural? How do you see it?
Actually, I don't know! Maybe "to the master of darkness" and "gates of noland" sound catchy and fresh! Or maybe, because they are the first 2 songs of the album!!
I just reviewed the newest cd and I must say I really loved the artwork, can you say something about it? Who contacted Felipe Machado Franco?
Felipe Machado Franco is a great designer; he made cover artworks for bands such as Rhapsody of fire, Luca Turilli's Rhapsody, Blind Guardian, and so on.. He contacted me in 2010 after the release of TAOTK. I loved his artworks from the beginning!!
Feel free to comment or come back at something you read in my review …
Well it's really a good review actually! Nothing to say about it other than thank you so much for your beautiful words!!
'A Greater Purpose' sounds at some point like an X-mass song or like the American National Anthem, was that the purpose? What is the main story of this song?
Hahah no it wasn't! I'd say its causality because I honestly don't even really get which part makes you think of that, but music is great for this too, everybody perceive things differently. This song basically takes us in Daltor's mind: he is fighting Sendor while thinking of what a great responsibility he has on his shoulders, the whole world depends on him.
What are the lyrics of 'A new dawn Ending about'? The Closing of a chapter? What will follow?
It's the final chapter of the first part of the saga, it revolves around the epic battle between Sendor and Daltor announced at the end of Soulless Child. On our next release part two will begin, but I won't spoil the story right now ;)
In October you'll be on stage in Belgium, can you tell us more about it, as it's going to be a female only festival! (Metal Female Voices Fest)
Yes we will play at Metal Female Voices Fest for the first time, from what we've heard it's awesome and we're looking forward to it!
I suppose that there are bands on that stage that you like too or want to do something with (vocal input or lending a guitar player)? Can you drop some names and tell us why?
I haven't checked the line up yet, so I can't say for sure, but the list of people we would like to work with is endless! There are sooo many talented musicians!
What are the nicest venues you played on?
We really liked playing at Estragon in Bologna, supporting Over The Rainbow, the Fosch Fest stage in Bergamo was fantastic and the crowd was awesome!
What is the next step or the next big dream?
We would definitely like to go out on tour, we want to meet tour fans and we want to bring our music out there!
Do you have something to close this interview?
It's been nice to chat with you, thank you very much again for the nice review, and a big thank you to all the readers, I hope I'll see you at MFVF! Cheers!
Thx a lot for your time and I really hope to see you on stage!
They will play in Belgium, click for more info: metalfemalevoicesfest
This is what I gathered so far for the Metal Female Voices Fest.:
http://www.peek-a-boo-magazine.be/en/interviews/aria-flame/
http://www.peek-a-boo-magazine.be/en/interviews/xandria/
http://www.peek-a-boo-magazine.be/en/reviews/xandria-sacrificum/
http://www.peek-a-boo-magazine.be/en/interviews/diabulus-in-musica/
http://www.peek-a-boo-magazine.be/en/reviews/diabulus-in-musica-argia/
http://www.peek-a-boo-magazine.be/en/interviews/ancient-bards/
http://www.peek-a-boo-magazine.be/en/reviews/ancient-bards-a-new-dawn-ending/
http://www.peek-a-boo-magazine.be/en/reviews/arkona-yav/
Filip VAN MUYLEM
24/05/2014
---