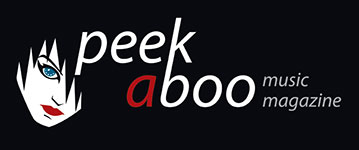 like this interview
---
DIABULUS IN MUSICA
We love to play at the Metal Female Voices Fest and we can't wait to go back!
25/06/2014, Filip VAN MUYLEM
photos: © Fernando Lezaun
---
I loved their latest album and noticed they will come to Belgium in October, so I had a good reason to ask my questions... And metal isn't always a rock'n roll life, see for yourself...
First of all, what is the philosophy behind this name?
Diabulus in Musica is a Latin medieval word which means 'the devil in music'. It was like that as they called the triton or the interval of the augmented fourth (three tones). The medieval ear was used to hearing perfect fourths and perfect fifths. The augmented fourth, being half-way between these two most common intervals, was about the worst discord imaginable. That's why they thought that the devil was inside the triton.
As Early Music is my favorite style in classical and actually is what I usually sing apart from metal, I chose this name. It was perfect for us not only because of the meaning it has to me, but also because it sounds a bit dark, as our music sometimes. We like this 'dark romantic aesthetic' as well as Early Music, so we thought Diabulus in Musica was the name that fitted us the best.
You are a Spanish band; it must have been hard getting where you are now and keeping up the good work? How hard do you feel the crisis nowadays?
We are very lucky to still have a job, so fortunately we are not suffering as many families in our country are doing now. Of course it has been hard because we don't live on the band and our salaries are not high (as you can imagine), so we have to deal with our regular jobs and working for the band too, with no time and no money, this isn't the idea of "rock-star" people have, is it? ;)
How did you manage to be signed by a big label that Napalm Records is?
Our former manager showed them a preview of "The Wanderer" and they also saw us live. It seems they liked what they heard/saw and they decided to sign us ;) It was a big honor!
How good do you know these label mates: Van Canto, Xandria, Delain & Ancient Bards? I think you at least toured with 3 of them?
Not really, we have shared stage with Delain a couple of times and with Xandria and Van Canto I think we coincided only once at MFVF.
You will play again on the Metal Female voices Fest, not for the first time, so how was it in the past?
We love to play there and we cannot wait to go back! We shared many great moments with fans, organizers, stuff and other bands. There is a very special atmosphere and a very direct contact with the audience. This is what makes MFVF so special. Besides, it was the first festival that gave us the chance to play outside our country and repeat! So we are very grateful to the promoters and the audience who wants us to come back! That's the reason why we always try to do something special there.
What can we expect this time?
We always try to do something special there. We usually take a small choir with us and try to do something extra than "just playing". For sure this year we will do something special too, but it is soon to give details!
The festival is also known for putting up new cooperation's and working out new bands and bounds. I must say it's one of my favorite ones as they really create an amazing vibe, how do you feel and see it?
Totally agree. The atmosphere is so special and it is always nice to have the chance to meet the fans too. It is like a familiar big celebration!
You launched recently a new CD (I completely loved it), it's called 'Argia', what does it stand for?
Ow thank you so much! "Argia" means "Light" or "clear" in our regional language, Basque. This title somehow reflects how we feel now. Gorka and me had to start from scratch when the other band-members left. It was very hard at the beginning, but we both alone managed to write new songs, find new band-members and play some live shows in only one year. I think this is why the inspiration came so fast and this is also the reason why for me this is the most personal and honest album so far. It comes directly from personal experiences we both have lived the time after the departure of our former band mates.
Can you say something about the artwork?
The cover was made by Stefan Heilemann, he is a great artist that catches the essence of each album easily. It was the first option he gave us and we absolutely loved the idea as it represent very well the story behind. We could say it represents our own rebirth after the sink of DiM's ship.
Can you say something about this one 'Furia de Libertad (feat. Ailyn Giménez)'? I read a lot of positive comments, so how did you work it out?
I'm happy that people liked it, because it was our first song in Spanish and I wasn't sure if it would sound well actually, I'm not used to listen to metal in Spanish! But many Spanish and Latin-American fans were asking for it and I decided to give it a try in this album. Actually when I composed this song I decided the lyrics would be in Spanish as the song talks about the Spanish situation nowadays and also the music has that Spanish flavor. The song is dedicated to all the victims of the political and economic crisis (and also crisis of values) in our country. I immediately though about Ailyn to sing this song with me because we became friends and we both are from Spain. Besides, we have different voices that complement each other very well, so I asked her if she would like to take part in this song. She likes a lot the band, so she immediately accepted and I was very happy to have her beautiful voice in one of our tracks!
Same goes for this one: 'Encounter at Chronos' Maze (feat. Thomas Vikström)', I totally loved it!
Thank you! We needed a very special voice for this duet. I must admit that this song wrote itself. Gorka started with the verses, but he wasn't sure. When I listened to them I could easily hear inside my mind the choruses and even the voices on them, so I continued with the song. Then I was wondering who was that male voice I could hear inside... We wanted a versatile male singer who could give to the song a "music theatre" touch, even operatic. Thomas is an amazing singer; he has actually sung a wide variety of styles from classical to metal, so he was the perfect candidate. I contacted him and sent him a rough demo of the song. I was so excited when he accepted and he told me he really liked the song and my voice! It has been such an honor for me to sing with him! This song talks about reincarnation, just imagine you find someone special and then your soul starts to "remember" and you realize you had already met him/her in other life; you got separated long time ago... It is a real drama for a music theatre piece! ;D
How does it feel to sing in Spanish and in English? Is it hard to do during a concert, as both languages have a different feel and sound?
I'm used to singing in English, but Spanish is my mother language so I don't find it difficult, just a bit weird at the beginning, but as soon as I recorded "Furia de Libertad" I liked how it sounded too. In fact, we haven't had the chance to play it live yet, we didn't include it in our last show, but for sure we will in future concerts. Anyway, I'm used to sing in different languages as we do it in classical repertoire and also with DiM I have sung in Latin and Basque.
Where did you record the clip for 'Inner Force'? Was it at the Spanish coast and in some weird industrial site?
The video was recorded in two different places. The first one is a bunker hidden inside the mountains of the Navarrese Pyrenees. Franco obliged to build a lot in the border just after the Spanish civil war and the 2nd World War because he was afraid of an invasion by the Allies, but (fortunately) they were never used. The 2nd place is a beautiful beach of stone surrounded by cliffs in Bizkaia (Basque country).
It must have been a hard time in the studio: mixing all the instruments, all the voices and all the different influences? Did you had a battle plan and a clear idea from the start or was there some room for something more organic and lucky shots?
When we write a song we usually do it completely, I mean with all the arrangements, but sometimes when we listen to the final result is when we really can pay attention to the general sound and then decide if we need to include or remove some elements. We have plenty of elements in our music, that's why it is really important to give space to each section or instrument so that the sounds don't compete among them, otherwise it would be a complete chaos and something impossible to mix. This is the most difficult part in my view, to find the balance between all the elements. We usually want to listen to every detail, sometimes I even feel a bit disappointed when I work that much on some orchestral or choir arrangements and then realize they cannot be heard as I would like. Same happens with the compression, I would like to listen to my vocals or the orchestra with a more real dynamics, as we are used to listen to them in classical music, but this is metal and if you want to achieve a powerful sound in the band and want all the elements to be heard, sometimes you need to sacrifice the rest. That's why I find really important to decide which elements we want to be more present depending on the part of the song. Anyway, I think Jacob Hansen did an amazing job with the mix, I suppose we must have driven him crazy with so many tracks! But everything sounds powerful and clear, he is a great professional!
If you have some time, feel free to read over my review and comment or ask me a question (just to change the idea of an interview a bit). I noticed that you received tones of reviews and did tones of interviews; so far I couldn't find any bad note that must be absolutely thrilling? I must admit I called it a well-crafted Diamond and was really amazed about it!
Yes we are absolutely thrilled; we didn't expect so many good reactions! I remember your review, it was one of the most enthusiastic and beautiful ones! Thank you so much! I specially loved the fact that you really caught all the emotions that are beneath the songs, it is especially important for me as a musician that people feels something when listening to our music, this is the best prize I can get! You also noticed all the different elements and moods in the album, that's great!
Is there something you still want to achieve? Work together with another artist?
We always try to live hand to mouth, so that every little achievement is like a gift. We have never been pretentious, we make music just because we really love it and we are very grateful about having the chance to spread our songs out there and to collaborate with awesome artists, some years ago we would have never imagined that we would be where we are now. On the other hand, I would lie if I didn't recognize that we would like to have more chances to play and of course our dream would be to just live on music, or at least survive!
Anything else to close the interview? A note for the fans?
I just want to thank everyone who has supported us in some way. You know we are not living easy moments in the music industry, so your support is more important than ever! Hope to meet you all in the road one day. Love, Zuberoa.
They will play in Belgium, click for more info: metalfemalevoicesfest
Click underneath for the:
This is what I gathered so far for the Metal Female Voices Fest.:
http://www.peek-a-boo-magazine.be/en/interviews/aria-flame/
http://www.peek-a-boo-magazine.be/en/interviews/xandria/
http://www.peek-a-boo-magazine.be/en/reviews/xandria-sacrificum/
http://www.peek-a-boo-magazine.be/en/interviews/diabulus-in-musica/
http://www.peek-a-boo-magazine.be/en/reviews/diabulus-in-musica-argia/
http://www.peek-a-boo-magazine.be/en/interviews/ancient-bards/
http://www.peek-a-boo-magazine.be/en/reviews/ancient-bards-a-new-dawn-ending/
http://www.peek-a-boo-magazine.be/en/reviews/arkona-yav/
Filip VAN MUYLEM
25/06/2014
---