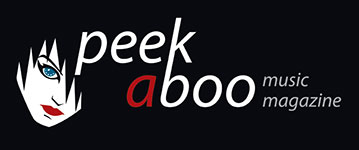 like this interview
---
NON-HUMAN PERSONS
Sound is a very important part of my work, I really want to make it unearthly and powerful.
23/06/2014, Didier BECU
---
Peek-A-Boo has found something for you. A hidden gem in Berlin. Their name: Non-Human Persons. Their sound: well take the melodies from Soft Cell, add the melancholy from Snowy Red and the irresistible touch from say Sixth June. Something like this, but above all: something like Non-Human Persons!
For me Non-Human Persons are a brand new name. So I guess it's time that you reveal the world who and what you are…
Mito: N-HP is our new child. We had many releases and live gigs worldwide before that, but under various project names like recently Fuka Lata, The Last Kiss or much earlier LeeDVD. All of them were the way that paved N-HP.
Lee: We were taken away by an idea of great ape personhood and nonhuman. We were almost obsessed by that idea. We talk a lot about consciousness, about animals, spirituality, body and soul.

I tried to find some information about the band on the net, but that wasn't easy. Is this because you like it to have a bit obscure or is it because the world won't listen yet?
Mito: No Fear album is the first step under a new brand, so it looks this way, so far.
Lee: You can Google around for our previous project names, so on this way you can find much more about us.

Your sound is very 80's related, especially the analogue minimal synth ones. Were they an influence?
Mito: It's no straight influence to our music. We are inspired by life itself. But of course we use many different genres from different times like Kraut Rock, Techno or Minimal Synth. The point is to build up our own world.
Lee: We just love that specific feeling only arpeggios can give you. It's like being a rider on the storm or like that scene in where Atreyu rides on the neck of Falcon in that Never Ending Story-movie. And that sparkling frequencies only analog synths can give you.

If you hear music like yours, you tend to think that so many bands have forgotten how to write a good melody. Agree?
Mito: I don't think that much about other bands as you do because of your profession, I'm trying to concentrate on my works and never compere or analyze music of others. For me melody is a very important part, it let me put more emotions into the music.
Lee: I can find in your question a hidden complement. For me melody is a transmitter of emotions and this way you can create an atmosphere which let you complete a message of the song. Yes, I really care about melody. Or maybe I'd say I'm cursed by melodies which are mutating in my head all the time.

Yes, it was a compliment! You are based in Berlin. I still have the ideal vision about that town, but I don't live there! Is Berlin still a perfect place to find perfect synthetic sounds or has it become more underground like anywhere else?
Lee : Naturally you can find perfect synthetic sounds over here. Everyone wants to play in Berlin. Of course, there is a very strong and specific underground scene going on here.

You're also related to k-Dreams Records. Can you tell us something about it?
Mito: It's our own label. Five years ago we didn't find a label which could release our music and do more for us than we can do ourselves. So, it was natural and conscious decision to set up our own record label. It's also about freedom and complete independence. For now, I can say it was very good decision to do it that way.

I was overwhelmed by your sound. I guess I'm not the only one, how are the reactions in general?
Mito: Sound is very important part of my work, I really want to make it unearthly and powerful. I think live shows are the best occasion to hear how it works. During our concerts all of our machines- not computers- can show their full possibilities. We use only synthesizers to play rhythms, bass and melodies. There are no other machines in our set beside a mixer. I think the sound which is created in an analog machine in real time is more intensive and more touchy than for example the sound made by samplers or computers. This sound can really touch you also in a physical way. It can take you into another space.

Is there a chance for an upcoming album in the future?
Mito: We just released No Fear, so for now we started to play this live and sometimes rearrange songs into more open structures, which is very interesting and give us lots of pleasure. That's why a few weeks ago we decided, we will regularly share these improvised piece. So, in the next few months we will be sharing digital tracks on k-dreams's soundcloud-page. It's worth to be in touch with our soundcloud, because they will be only available for a short time.
Lee: We are treating these situations as an experimental workshops. It's a great occasion to communicate with our audience. We don't want that our music go away so it's a second reason to share.

How would you convince our readers to listen to Non-Human Persons?
It's melodic, a bit melancholic new wave electronica with a hint of techno. It's for those who have a needle in the heart, for those who are looking for relief for the soul which is lost by the pace of a body to nothingness.
Didier BECU
23/06/2014
---