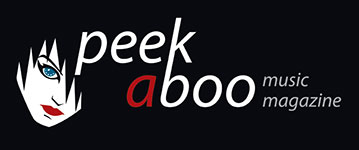 like this interview
---
MARCEL VANTHILT
I am not an icon, icons hang in old Russian churches!
10/06/2014, Didier BECU
---
The new single Paracetamol by Marcel Vanthilt (one of the founders of Arbeid Adelt! and indeed the VJ who brought Laibach to MTV) is awesome. I'm not saying that because I'm supposed to do so, as I'm not. It's simply because Marcel has reinvented himself by mixing weird electronica with crazy lyrics. Peek-A-Boo thanks Marcel and Starman Records to talk to us because Marcel is simply everywhere these days. Just turn on your TV….or no, according to Marcel that's a waste of time!
Hello Marcel, it might be strange to do an interview with you in English, but I always say to friends who don't know your music that they can listen to your stuff as no one exactly knows what you're talking about, except yourself. So how important is the language for you?
Què? I don't know nothing. Of course, language is important, I have never even thought about writing in English, that's why this sentence is quite krakkemikkig ("unnatural"). Dutch or Flemish are so natural and exciting to me (you can combine words, make up new words, give existing words totally new meaning), that I automatically write in Flemish. I sometimes think in English (when in London) or French (when in Brussels) or even German (when in Cologne). I wish I'd speak Catalan or Spanish so I could think and write in those languages. Maybe I should go and live in Barcelona to learn it: café cortado por favor!
With the current reunion from Arbeid Adelt! In mind, I was a bit surprised to see you pick up your solo career again. Why was that and how much differs Arbeid Adelt! to your solo music?
It doesn't differ that much, that's true. It was due to circumstances that I'm going solo. Jan Vanroelen & Luc Van Acker (the other two from AA!) were too busy to put time in a new AA!-record. And I ran into Kristof DJ4T4 Michiels (Hof van Commerce) who was very keen on working together. As a fan of Hof van Commerce myself, I didn't think twice. We hit it off quite quickly and had several songs and plenty of ideas ready in no time. We're working on a full album, but I thought it was a better idea to release surpise records before that. So now there's the maxi 12inch vinyl 'Paracetamol', later on this year there will be more new stuff, with the album to follow early 2015.
With your new single I really had an Arbeid Adelt!-feel, in the sense that it sounded like the work from a man who thinks that everything is possible. Am I right?
Yeah, everything should be possible. I did a 'serious' album with Ad Cominotto with Dutch poetry, about 10 years ago, with very fragile songs and plenty of unusual samples. I did a pubrock album (with guitar, bass & drums), about 5 years ago, as the band Z. So this time I thought it was time to pick up where I left it halfway the 80's, with electronica! The album should be quite weird but listenable for today's ears, who are very spoiled with good stuff, so it's a (here we go!) challenge: argh, can I puke now?
This question is tricky, but I wanna ask. You are a TV-star, even my old mum knows who Marcel Vanthilt is, so in a way you don't need that musical career. How do you find the force to keep on doing that and are you never tired of proving yourself?
It's a very clear choice I'm making: I will keep on making music in all kind of ways because it's very creative and brain stimulating, it has nothing to do with proving something to myself. What else should I do? Watch TV? That's such a waste of time.
I really need to ask you this, Marcel. As I'm old I am one of those guys who was watching every week Away From The Pulse Beat on MTV. Back then we needed a VJ who told us what was hot and what was not. Today lots of things have changed, even totally. What is your opinion about the current music landscape, especially industry wise (downloads, no sales….)?
Can I write an 200 pages long essay on this one? This is such a complicated question... The industry side has changed completely, the whole sales thing has collapsed. But... the music is still very alive. So probably a records company has to become also a managements office and distributor of merchandising and a sales agent of music (to advertiser, to internet providers). It's more complicated, that's very true, but the best thing is: music is still very alive, also with the young generations.
What is the thing that Marcel Vanthilt is most proud of?
At the moment: 'Paracetamol', it's fucking awesome! I mean that. I also like my website a lot, it's just renewed: www.marcelvanthilt.be... I'm putting pictures and texts on it almost every day, it's a great diary. And in general: I'm proud of the book I wrote about my father. And, maybe, a couple of records, it's difficult to judge yourself, especially when you're never satisfied like I am.
You know you're an icon even if you always have stayed yourself. An enormous respect for that, but do you have icons or heroes yourself?
I am not an icon, please! Icons hang in old Russian churches, mostly the Holy Mary or Jesus and his posse. My icons still are: David Byrne (Talking Heads), Pablo Picasso, Salvador Dali, Luis Bunuel, Elvis Costello, Fernand Léger, Kamagurka, Jack White, Suicide, Pieter Breugel, Jacques Tati, Ben Elton, Louis De Funès, Nigel Williams, Alex Agnew...
Let's finish this talk with some tips for the summer, Marcel. What do our readers have to do to spend a splendid summer?
Swim naked in a cold river, somewhere in hot southern Europe!
Didier BECU
10/06/2014
---