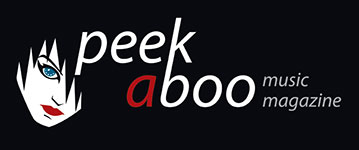 like this interview
---
CLICK CLICK
Our musical paths take us into many directions, which is probably why we're hard to label, but I think this time with TNS we got the balance of soundscape and rhythm spot on
30/05/2014, Peter DOLPHEN
---
Hello Click Click! For those who are not familiar with the band can you, in short, give us a small history?
DS: Those Nervous Surgeons formed in the early 80's, split a year later and Click Click was born comprising of just us Smith brothers who set out on our own gathering others along the way. We released our first record, a 7inch EP (the silver one) in 1982 on Lung Function records, born out of Bute St, Luton, an almost derelict ex hat factory where we used to rehearse, record and party hard. I would say that the cassettes recorded there during rehearsals are amongst my favorites, they have the edgy rawness that is hard to capture on a studio album, and unfortunately I don't think these will ever see the light of day!
AS: Click Click started back in the early 80's as a two piece electronic rock band. From 1982 to 1989 we were augmented by Jon Morris (synth and topless dancing), Jenny Prestana (viola and musicianship) and Graham Stronach (guitar and meat free pizza). We have recorded four albums, four singles and two EP's and have just finished our fifth and possibly final album. We have never officially split up and probably never will. We do not consider ourselves to be a part of the EBM scene. We never started out trying to be anything other than Click Click.
What about the name? The band was formed way before the commercial computers, so I guess it has nothing to do with 'clicks'?
AS: Click Click is the sound made by a very old light switch in a very old farmhouse in Cornwall, England. It is the sound of something coming on and going off again. The name originated through necessity. We had just terminated Those Nervous Surgeons and had teamed up with a guitarist (who had all the right equipment but couldn't play very well) and his bass playing friend. A gig was coming up. We didn't have a name. I was in Cornwall and switched the bedroom light on. I liked the sound. I suggested it to Derek. He thought it sounded just fine. No, it's not very glamorous and it has nothing to do with guns or electronic music, but it was spontaneous and it sounded right.
DS: The name Click Click comes from the simple act of turning on power, electricity basically, nothing to do with computers as no one had them when we started out.
Some see Click Click as one of the pioneers in the electro/industrial scene. What were the biggest influences in the beginning?
AS: My earliest possible influence probably had something to do with standing in the middle of a fairground and stamping my pre-teen feet to Bits and Pieces by The Dave Clark Five while soaking up the sound of the generators and bumper cars. Later I'd become addicted to the sounds of 60's science fiction – Space Patrol, Thunderbirds, Quatermass and the Pit, Doctor Who – television shows featuring the experiments of unknown electronic pioneers and the BBC Radiophonic Workshop. As I got older I favored the music of Can, Amon Duul II, Faust and Neu. I was also heavily into British and American psychedelic rock, The Mothers of Invention, Hawkwind, Oscar Sala and (through reading the sleeve notes on "Tago Mago") Karlheinz Stockhausen. I don't think anyone actually goes looking for influences, they just happen; and if your musical tastes are diverse enough and if you're not afraid to listen to something your peers may find "uncool" then the influences will come along automatically.
DS: I don't think we were pioneers at all, we just liked using electronic machines to make our noise and if other people like our noise then that pleases me. If we have influenced others, that's a great bonus. As for influences, the first record I brought was They're Coming To Take Me Away, Ha-Haaa! by Napoleon XIV –read into that what you want.... Later I began listening to what is called Krautrock with a bit of Stockhausen and psychedelics thrown in for good measure; add to this early memories of old black and white horror and science fiction films and the picture is complete. Funny things influences, it's normally once we've finished a track and listen back to it for the first time that I begin to hear them for myself.
And what are the influences today?
AS: The news, or should I say the news we're not being told.
DS: See what he did there? Pay attention. Today I listen to most genres of music ranging from dubstep (Burial) to drone – at the moment I'm listening to Haxan Cloak. My favorite drummer is Jaki Liebezeit and always has been.
AS: Influences still come from 70's Germany and the British Post Punk period; bands like Wire, 23 Skidoo and The Pop Group. But the list is endless. I find influence everywhere. Machine noise, rusty gates, flue pipes, Eno, Moondog, Spirit, Brian Jonestown Massacre, Palma Violets, Christopher Young, airports, caves – everything that makes an interesting noise.
In those days, the gear you used was not as extensive as today. What did you use back then? And what is the difference today? Do you still work with the same kind of material?
AS: We used whatever we could get our hands on but the basic kit consisted of two Akai reel-reel tape decks, Copicat and Powertran delays, an 808, a couple of Wasps, a Marlin synthesizer, a melodica, a mouth organ, Graham's guitars and Derek's drums. All of our recordings (until Bent Massive) were put together using the above equipment plus a Movement MkII drum machine. Computers began to take over during the recording of Bent Massive, and it shows. It's a lot easier being inventive when you're equipment is limited. DAWs and plug-ins are far too convenient when looking for something out of the ordinary and experimentation can suffer as a result. We use computers now but we also add a lot of live instrumentation to the mix. If you listen hard enough to the new album you'll hear a melodica, a guitar and an autoharp but you'll probably think you're hearing something else.
DS: In the early days the equipment was very basic to say the least, but it meant we had to be more creative in how we achieved the sounds we heard in our heads. When we started we had no samplers, we'd use cassette players to record speech from TV, cutting and splicing what we needed onto tape. To drive everything, before the 808 arrived, we used a basic drum machine put through a spring reverb and a phaser and a very battered drum kit with even more battered cymbals. We did have a wasp synth and a Wem Copicat - very hi-tech for us - which all helped create our own style of music.
Do you consider yourself as 'special' in the scene? How do you think that you are different?
AS: We're not special, we're Click Click and we don't really know what scene we're supposed to belong to. We're probably as mystified as Front242 and Skinny Puppy as to why we're labelled as an EBM act. We are nothing like them and they are nothing like us. Our label came about purely because of a marketing ploy invented by Kenny Gates at Play It Again Sam. We signed to PIAS just before "This Is Electronic Body Music" came out. Sweet Stuff was on the album (arguably EBM). It was a case of "instant marketing" and we had a genre to sign up to. The problem was we never consciously aimed at any particular genre. Click Click has always been about combining elements of rock, industrial, experimental, cinematic and post punk music while maintaining our own identity. It's only now, with a new album to promote, that we've come up with a term that suits our way of working; so if you're looking for a box to put Click Click into, choose the one marked Industrial Psychedelia.
DS: We're only different because we don't make music that fits a specific scene, I don't believe we can really be put into any definite musical category; yes, we are an electronic band, but there's nothing special about that.
About the new album: If I can rely on Wikipedia, the name of this latest release (Those Nervous Surgeons) was also the name of the band before the change to Click Click? Is it a sign that you are grabbing back to the older sound?
AS: We started work on the new album knowing it could be the last and we needed a title that would represent that fact without actually saying goodbye. We began working together under the name of Those Nervous Surgeons back in 1977 so we decided to end the collaboration with the same name. We felt as if we'd come full circle and the title and the sound of the album had to reflect that.
At certain moments I get the feeling you do not know very well which path to follow. I hear the old soundscapes from the older releases and some held-back EBM which do give a hint of the Yakutska-period. Which do you prefer?
AS: I haven't listened to any of our back catalogue in years. I've sampled it, but I haven't examined it in any great detail.
DS: Our musical paths take us into many directions, which is probably why we're hard to label, but I think this time with TNS we got the balance of soundscape and rhythm spot on.
AS: Our audience consists of independent thinkers. They might all be dressed in black but that doesn't mean they all enjoy the same aspects of our music. Some are dancers, some are stoners, some are lost, some are lonely, some are rich, some are poor and some take what we do far too seriously, but all of them take something personal from our work and because of that we have to change direction as often as possible. I've always felt more comfortable with the slower, atmospheric pieces and I did promise myself to put father back in his chair (he fell out during Mercy) so I guess you could say I'm more of a soundscape person; but I like to tap my foot as well, and I like songs that move along at pace.
If this album would be the last one, from all work you have produced which would be your personal masterpiece?
AS: If we'd written a masterpiece we'd be much better known than we are right now, but since you asked I'd have to say Clang! It's no masterpiece but it's one of the first songs we recorded (it was going to be the A side of Sweet Stuff) and it contains more invention in its three minute lifespan than anything else that followed.
If you could choose one track of any other band: which one do you think: why did I not make that track?
AS: Eardrum Buzz by Wire.
Can we expect a visit on Belgian stage?
AS: These days I prefer the studio to the stage, probably because we no longer have the personnel to create a truly menacing environment for a live audience, but you never know. Be careful what you wish for.
DS: I'd love to tour in the future however it's hard to find promoters willing to 'take the risk' with us. We'll have to see how well the new album is received and examine the logistics.
Any last words towards our readers?
AS: Don't forget to register to vote and don't expect anything to change unless you're prepared to do something about it. And keep away from far right politicians; they tell more lies than the idiots currently in charge.
DS: Don't let the bastards bring you down – do as you would be done by – remember Karma will get you in the end!
Thank you for the interview!
Peter DOLPHEN
30/05/2014
---