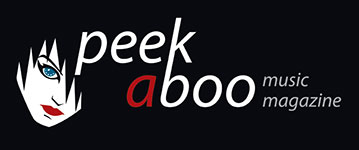 like this interview
---
PAULINA CASSIDY
We ARE spirit!
13/04/2014, Ron SCHOONWATER
---
The multi-talented PAULINA CASSIDY (sketches, writing, art and music) released with "Sugar Wingshiver" an album filled with lovely Dream pop. Like with all her work her music is filled with fantasy, imagination, emotion and sounds spiritual. Time to ask her some questions:
Can you tell us what drawn you into the fantasy and spiritual world?
I think this is something instinctual, since childhood, to be drawn to the spiritual; which is quite different than fantasy, but may not seem separate to those who prefer to cut themselves off from something that is around and within. Most people are drawn to the spiritual whether they realize it or not. We ARE spirit.
Calling you multi-talented is an understatement. Can you tell us more about all your activities? Print/ art, writing and music.
I'm first-off a visual artist, but the music is also a main passion in my life. The more I work with varying facets of creativity, the more I discover how connected they all are. Each brings clarity and light to the other. When I write, it doesn't come without the companionship of music, or visuals. They all work that way for me. Dance, as well... movement also helps me to expand my creative horizons.
How would you describe your music on 'Sugar Wingshiver'? What was your inspiration?
It could described as 'dream-pop'. Or experimental ethereal. My inspiration? All types of music; especially ambient. I've been listening to a lot of ambient and 'soundscape' music these days, such as 'Zeit' by Tangerine Dream. Awhile back, I had Zeit on repeat for a month straight. I get obsessed with certain pieces of music and will listen to it for long periods of time. I love the sort of music that gets into the psyche; its rhythm and texture acts as a quiet and beautiful pathway to strange places. It really takes hold and its flavor influences all types of blossoming creations.
I noticed that you've been making music - and albums - for a long time, can you tell us more about it? (because we didn't hear a lot from you here in Europe).
I started putting together little songs when I was a little girl; recording them as a teenager. I never really did anything past that because the visual art has been everything. But then in 2009, a good friend passed away. We shared a lot in common in our musical tastes. Her passing reminded me that the communication of sound knows no boundaries, and that a good way to say 'hi' to those who have gone before us might be to make music. Once I reopened those musical gates, the songs, coming from I-do-not-know-where, poured through. I now have 5 full-length CDs and an EP.
If you compare your albums, what are the biggest changes with your last album?
The one that came before 'Sugar Wingshiver' was 'Lost in Oz'. It's all over the place in regards to upbeat tracks and slower 'dream' tracks. It's a fun CD. But I learn more and more about music production with each album so I think SW is my 'cleanest' yet, meaning that it's probably my best produced album so far. There's never any shortage of learning something new in music production. It's exciting though tremendously challenging.
What is your musical inspiration, what kind of bands/ music do you listen to?
A lot of ambient music moves me to the core, such as (aforementioned) certain Tangerine Dream albums, Vidna Obmana, Steve Roach, Black Tape for a Blue Girl, Bjork, Bowie, Sigur Ros, Thom Yorke, Stoa, Cranes…. the list goes on. I love the places music takes me. I love seeking and finding 'hidden' gems of music, and falling under its spell.
On your webpage I don't see any live shows - do you (want to) play live shows?
I think it would be an interesting experience, but I'm not sure whether playing live would ever be something I could prepare myself for. I'm happiest creating the music in my studio instead of traveling with it or taking it outside of my 'comfort zone' I guess you could say. But one never knows…. I shouldn't really say that I won't. Maybe one day. I need to keep possibilities open for things like that.
How did you end up with Projekt records?
My husband and I have both been collecting Projekt releases for over 10 years. Projekt's been an influence on not only my music, but my visual art. I submitted a few holiday songs to Sam for their new holiday 2-disk CD, 'Ornamental'. My 'Frosty the Snowman' was well-received. After I wrote Sugar Wingshiver, I became an official Projekt signee, which makes me happy. There really isn't any other music label out there like Projekt.
If 2014 is the year all your dreams come true, which three wishes would you do?
- to have all of my art pieces compiled in a series of books; and hey! I've already begun the process with a new art book containing 200 pieces.
- for more and more people to wake up and get health, by eating healthier, living healthier. Healthier people = healthier happier world and more self-empowerment.
- to finally figure out how to fly without a broom, the way I do in dreams.
Something you always wanted to say, but never was asked…
I'm envisioning that you're asking me about the effects of an exotic fruit. I'd tell you that papayas are especially silky and delicious. They're good for your heart, good for your eyes, and good for your skin. If papaya were music, it would be ambient mixed with distant tribal drumbeats. But don't eat the seeds. They're as bitter as hell.
Ron SCHOONWATER
13/04/2014
---