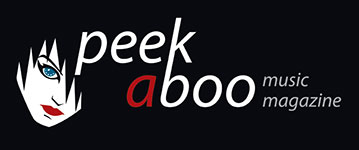 like this interview
---
SOFT METALS
Electronic Romance in the Shadow
28/03/2014, Pascal VERLOOVE
---
Patricia Hall and Ian Hicks, a couple in real life and electronic duo named Soft Metals on stage, released last summer a second album titled Lenses on Captured Tracks. They like to play with their synthesizers and drum machines to generate soundscapes and songs that are so different from one another that they don't (and very intentionally) don't want to belong to just a single style. Added to this recipe you get Patricia's sensual voice, with sometimes gloomy lyrics producing a unique electronic experience.
In addition to just releasing an album with remixes of some of Lenses' songs they are also about to embark on a European tour (stopping in Brussels on the 24th of May) and Patricia has very kindly told us a little bit more about their creative processes …
The cover of your first album showed two persons about to kiss. Lenses shows another couple again about to kiss, actually a still from the movie you used as video for Tell Me, which clearly shows them kissing non-stop for 4 minutes. So, there is recurring theme here about the kiss. Is something you already planned when your first album was released ? Will you continue that theme ?
Patricia: We didn't plan to continue the theme of "prelude to a kiss" on the 2nd album. I stumbled across the image and video and it just seemed fitting to us when we started to think about album artwork. Lenses examines romance, relationships, reproduction, through various perspectives. The image being a still from a videotape puts one in the position of voyeur. The idea is to look at one's own life and about things in different ways- logically, emotionally, viscerally, or even completely removed, the outsider. We won't continue that visual theme. Ian and I are taking a new approach to songwriting on our next album and that will reflect in the artwork, too.
Many of your songs, on both albums, could be qualified as "dance" music. Do you often go into clubs and do you sometimes hear your music in clubs ?
Patricia: Yes we go to clubs, but we're picky about what dance clubs we go to. There's so much boring and bad commercial dance music out there that we're not interested in. In LA, Mount Analog puts on good dance events. They've had Voices from the Lake, Legowelt, Xosar, Mutant Beat Dance, Silent Servant, Veronika Vasicka, Profligate. Part Time Punks is a great club night, too. It is more about live acts. We love the synth-centric nights. Michael Stock, the host, is a great DJ and I find myself on the dance floor there, but it's not traditional dance music. I've heard our cover of "Hot on the Heels of Love" and "Tell Me" played there before. JD Twitch, one of our favorite DJs in the world has played us in some of his mixes which is a great honor for us. I've heard it played in clubs here in there, but we're not a straight forward dance project. My lyrics are probably too much to think about to be some sort of club hit. Our music is in a sort of liminal space that appeals to the body and mind. My hope is for people to get lost in a trance thinking about their lives, the universe, while letting the body move, shaking up your molecules, escaping the mundane.
Most of the songs on Lenses are short, only about 4 minutes or less, and the entire album is about 36 minutes. So, did you, yourselves, feel that there was more to offer with some of those songs and decided to make a remix album ? Who chose the songs to remix ?
Patricia: The songs are shorter on the new album because we were trying to be more concise with our songwriting- not let things go on for longer than needed. In our live sets there's a more raw, improvised element to the songs so we draw some parts out if we feel like it, make things noisy and harsh if we get the urge. The last song on Lenses, "Interobserver" is quite long and repetitive and the changes are very subtle. We wanted to lull the listener into an introspective, hypnotic state with that one. We would have liked for the album to be longer, but we were working on a deadline and didn't have additional songs that we were ready to share at that time. I don't want to fill the space with something that wasn't right just to clock in time. I'd rather hold back. The remix album is something that I think of as completely separate. It's our music or an element of it through the lens of our friends. It's really more about them. We have a lot of talented musician friends that wanted to remix us and Mecanica wanted to put it out. I am impressed with what they did with the songs. We let the artists choose which song they wanted to remix.
This remix album seems to be released as a collector object only. Deluxe vinyl, 450 copies only. What is target audience for this album and why did you make it rare on purpose ?
Patricia: We don't have a target audience in mind. You can get digital versions of the tracks if you want. The record is a very beautiful object. You can admire it for the appearance alone, but it's meant to be played. It was an expensive record to manufacture. Mecanica is a new independent label and we're not a super famous act. It makes sense to have a smaller pressing for this. However, I think that 450 copies doesn't make it too rare compared to some dance records that come out with pressings as limited as 100 copies.
You moved from Portland to LA. Was that for personal reasons (maybe the weather ?) or did you want to move away from the "Portland Scene" you were associated with, bands like Chromatics, Glass Candy or even the Canadian neighbor of Cosmetics you have toured with?
Does LA bring you some new inspiration ?
Patricia: Ian and I moved to LA so that Ian could attend grad school at Cal Poly Pomona. He just finished in March and got his master's degree in Urban Planning. We love the Portland scene and still feel like we're a part of it. We visit Portland quite often and have lots of friends up there and we're still friends with all the above mentioned bands. I don't know about LA bringing us new inspiration. We like it here and I think it's a great city for bands, but in terms of getting new ideas from here I don't think it's made much of a difference.
Both albums feature several instrumental tracks. When do you decide that one track will remain without vocals and why ?
Patricia: We start each song improvising together on the synths and drum machines. That's our favorite part of making music- writing strange melodies, rhythms, making mistakes, strange sounds. We want to include that in our public output because music doesn't have to have words. Sometimes I think words can take away the mystery of a song. We have tons of exciting instrumentals that I attempt to sculpt into more structured type songs with vocals, but it doesn't always work out. You can lose a lot of magic when you cut too much of the weirdness away or impose a specific meaning to it. Language has it's limits. With our public recordings we tried to make things more accessible. We thought that would work better on a label like Captured Tracks. Recently we've been given the encouragement from Mike Sniper, the owner of Captured Tracks, to be as weird as we want to be which is exciting to us. I love to sing, but I also love to play. I've always hoped that people would have an open mind about us not having words in every song and let us do instrumentals if we want to.
Your first album was very constant in style, all tracks where in the same mood if we can say so. Lenses offers a much bigger variety of styles, from dance (In The Air), chillout (When I Look Into Your Eyes) or minimal, nearly ambient (Interobserver). Did you consciously work to get different moods on the album ?
Patricia: It wasn't a conscious effort. It's just that we have many moods and many synths that will really change the character of the sound. I think the variety makes things interesting. We always want to try new things. I understand that some people aren't open to all styles of music. The hardcore purists probably don't know what to make of us. We just need the freedom to try new things in order to stay interested.
Pascal VERLOOVE
28/03/2014
---