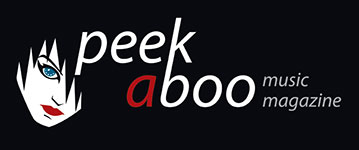 like this interview
---
KARAWANE
There's a lot of creativity and you need to keep busy to let it flow.
12/02/2014, Didier BECU
---
Peek-A-Boo is always on the run to discover new talent. Karawane from Holland for example. Indiedreampop to lick your fingers from.
Hello Anne, let's start wit that name. What does Karawane mean?
Karawane is named after a poem of dadaist: Hugo Ball. Which is a poem consisting of nonsensical words. So, in theory it should mean nothing. But, after I released the first single and introduced this new name, people told me that it means curlew in Arabic. For me band names are always a struggle. I would rather work under my own name, but there's a problem with that… You'll find out why in the next question.
I also understood that this is a project by someone who does everything herself. Why? Because you don't want to be involved with others or is it just because you like it that way?
Well, here we go…. I don't know why I ended up doing everything by myself. I think there are two main reasons. It's got something to do with impatience and control. During the recording process all the instruments were already in my home studio. I could have called a bass player for instance but then I thought; why explain a bass line when you can play it by yourself. And this grew a little bit out of hand.
And the same for all the artwork and video's. It probably sounds like I'm a horrible person to work with, but I just really like to do these things on my own. Because of this there are a many imperfections. I'm not a professional video artist or what so ever, but in my opinion there's a charm in these home made creations. There's a lot of creativity and you need to keep busy to let it flow.
You're not a newcomer as you're already more than ten years in the music industry. High and lows?
I played for ten years with my former band LPG. We got signed by a record label before we ever played one show. There were lot's of highs; of course releasing your first album. Touring with bands like, The Cribs, Zita Swoon, Spinvis and so on. First shows outside Holland, our music in a worldwide Nokia commercial. The lows, well, for a while we were recognized as "the band from the phone commercial", it was pretty hard to get rid of this image. I studied at the art academy in the same period. Touring and studying was hard to combine but in the end, there where more high than lows.
A simple question this one, just try answer it! Why do you make music?
This is hard to explain, for me it has to do with a little bit of Synasthesia. Creating little worlds (literaly) that only exists for a couple of minutes. This is for me an important criteria, for my own music and the music i listen to. It can work in many different ways but if a song can create an atmosphere or can evoke images then only it is worth listening to.
I also understood you choose the most weird locations to record your music. Tell us something about this!
I combined my studio with my atelier. there's an anti-squat organization in the place I live, which provides temporary locations for a really low price, but also for a short period. For me it worked out really great; different locations, meeting different people and of course, different acoustics you have to get used to. For instance, I recorded in an old cinema and it was a great place for recording reverb. And the military complex was great for recording bass… I don't know why but it worked.
The other reason was the noise… my neighbors already know each song on the album I think. Some of them liked it, some of them hated it.
I confess that I haven't heard that much of your material but I was thinking of Slowdive when I heard your music? Agree?
Yes, especially for the latest single 'Sleep'. But there are a lot of different styles on the album, but there's this dreamy kind of feeling to it, so I can imagine the reference.
Anyway, anyone who poses with a teddybear must be a daydreamer, not?
Haha, well, two months ago, this bear was my only bandmate. You can do everything on your own but you need a shoulder to cry on once a while. And in this case, a hairy one.
Your album has been released on Excelsior Records. I automatically start thinking of bands like Bettie Serveert. How did you end up on there?
It goes a long way back, twelve years ago I recorded a demo with a friend in my parents living room, just for fun. We never wrote a song before and just thought let's start a band and record an album. We recorded a demo with one crappy microphone and a really old computer. We made two copies and sent it to them. And, surprisingly, they were interested. So, it started as a joke but it all worked out well for me and enabled me to develop myself as a musician.
Talking about your album. How would you describe it?
It's really hard to describe… There are so many things going on at the album, because it was made over a period a two years. Lots of different things happen in such a long period of time. For me, the main thing for the album was to let my creativity flow. To not think about concepts, styles and what other people would like to hear and so on. I hope people will listen to the album and see it like an adventure and a celebration of creativity. It's up to the listener to decide what kind of feeling they attach to the songs. I hope, the little worlds I created, can live their own life in other peoples heads… That means a lot to me.
I wanna end with two questions I always ask. What's your favourite record of all time and please state why….
Wow, there's so much to choose from… Let's do something relative new.
'I see a darkness' by Bonnie Prince Billy. Great tunes, feel and lyrics. It sounds like he recorded this album in one evening, and somehow when you listen to the album it is more like witnessing the band playing live than listening to a well produced and recorded album. This doesn't happen so much to me today. You can hear small mistakes and sometimes it's a bit out of tune. But it still sounds absolutely fantastic.
With whom wouldn't you mind to be alone with in an elevator for 8 hours and what would you do then?
Van Dyke Parks, eight hours to convince him to make arrangements for the second album. It's going to be a complete torture for this poor man..
Do teddy bears speak?
Yes, a forgotten language invented by the Maya's long time ago. And they have a dark sense of humor too. But this totally depends on the stuffing.
Didier BECU
12/02/2014
---