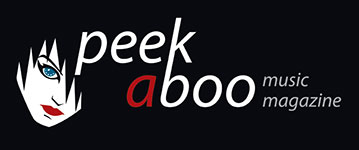 like this interview
---
ARKANE
Support The Greek Underground Scene!
06/01/2014, Filip VAN MUYLEM
---
At a certain day I got a message: if I wanted to do an interview. Honestly: I only knew a few bits and pieces about this one (however I'm a big fan of Dead Can Dance and Daemonia Nymphe), so here we go …
My classic starter: what does ARKANE mean?
Arkane Anvmx: Arkane derives from the word Arcane which means mysterious , obscure. This Monicker perfectly fits my project's concept: musically and aesthetically, as it reflects the accurate vibe of mesmerising seductive sentiments that I try to transmit to the audience thus transferring them to a maze of sonic mesmeric trance.
Can you describe your music bit for the people who don't know yet?
ARKANE music is an extravagant experience that seduces the imagination and elevates the senses … Mesmerism meets Seduction… Music, Performance, Artistry and Inspiration collide for a Decadent mixture of Celebration with Avant-Garde -MESMERISING SEDUCTIVE ART.
I noticed that artwork is very important to you, can you say a bit more about it? Who does the photoshoots and where do you find these nice venues?
That Is Correct, as I combine the sonic seduction of my music to certain aesthetical artistic artwork that my music refers to... This occurs to be Masked Masquerade Naked Female Models From Very Prominent Professional Photographers. I have found them while surfing on the net …. Imagery Is very important for ARKANE as it is very deeply connected to my music , fulfilling the musical and aesthetical concept to its vast extend.
I also read that you are influenced by Stanley Kubrik's 'Eyes Wide Shut', can you say something more about it?
The imaginary world of art, beauty, eroticism, seduction, mesmerism, allurement, mystique which is highly presented on EYES WIDE SHUT Has Heavily Influenced me... The Ritual Scene on This Movie is Definitely the Epitome of What ARKANE sounds Like if it was A movie …
You are related to Daemonia Nymphe can you tell us more about it?
Spyros Of Daemonia Nymphe Is My brother... Together With him we Formed this project back in the early nineties... I left Daemonia Nymphe in 2000 when I formed xARKANEx... That was The First name Of ARKANE … I have Played and Contributed only In The First Daemonia Nymphe single and albums (THE BACCHIC DANCE OF THE NYMPHS and TYRVASIA ).
Do you ever work together with your own project?
We Haven't Worked Together Since 1999, when I did The Recordings For the xARKANEx Album "Arcane Elitism".
How hard is it as a musician/artwork lover to be a Greek?
It is And Always Has been very hard... Before Even The crisis occurred here Art In Greece is not recognized by many as the majority of the people here are into "cheap Entertainment " … If You wanna be popular and recognized you have to follow this commercial supermarket music... Unfortenately this has become the culture here since many many Years … There is off course some really good projects In Greece which prefer to stay underground and create Art... So Support The Greek Underground Scene! It has many Diamonds such as ARKANE , DAEMONIA NYMPHE, CHAOSTAR, SEPTIC FLESH, SIVA SIX ,SUBHEIM, ARTEMHS among others...
How hard are these times for you?
As Hard As any Citizen of this Country … Greece Is dying … With Unemployment up to 60 Percent In youth population, Spending Cutting in Health , Education, Public Service, Wages and Pensions In conjunction with the highest Taxes in the World! All you end up with is Total Destruction... The Worst of it all is that nobody sees a light out of this dark Tunnel... Living With No Hope decimates you !!
Can you tell us something about your last album from 2013, how good did it run?
MESMERIC MASQUERADE SEDUCTION 2013 ARKANE Album was Not very well Received to be honest... This is Due To various Reasons with the most important being,- LETS FACE IT- Music as we all know it is totally Dead!!! The end of MySpace has utterly affected Arkane … On the other hand Arkane is art therefore I do not appeal to the masses – but if you ask me to compare the 2008 Arkane release "enraptured serene mesmerism" to the 2013 release "mesmeric masquerade seduction", the differences are enormous! Very few people actually order and buy physical CDs nowadays … I reckon this year will officially be the end of physical releases, or it will either be released on limited editions for die hard fans only...
Soon we'll get some new material from you, can you say something about it?
Scheduled For 2014 A New ARKANE Single/Album With A Similar Yet Different Approach As - The New concept Delivers Mesmerising Seductive Art of Neoclassikal Musik Meets Metal - Experimenting -MESMERISING SEDUCTIVE ART 2014... It is All On An experimental Stage At the moment right Back in my head and it needs a Hell full of Time and Effort To accomplish it... It would be most probably be released as a Download Mp3 Single this time...
Have you planned any gigs for the future?
ARKANE Has Never Performed Live ! It is Exclusively A Studio project and That will always Remain As Far As I am Concerned.
How do you feel about Paganism?
Paganism Is The Ancient Ethnic Religion Of Greece and Europe In General... I Respect The Religion Of my Ancestors, as I respect all Religions despite the fact if I agree with their philosophy or not... I am Not So Much involved into any Religion But I certainly like The Tradition Part Behind it.
What do you think about religion and the actual global situation?
Religion is the need of every individual to get in touch with The "superior Force " above him … Humans feel so "little" and Weak in front of The Forces Of Nature For Example... Off course Man Can be a Small God if he finds the hidden Potential Inside him but besides that he has always been in need of finding answers to eternal questions that had tortured him for far too many years... Therefore Religion was Created to Cover that loss... Personally I am always in search of my inner self to what would be the ultimate truth after the physical end … Now About The Global Situation I am Afraid I am Not very optimistic on that matter... The Economical Elite above had been Planning on this disaster for far too many years... This Elite cannot be anything Else than pure Misanthropists who use the politicians as their puppets and force the people into obliteration. The whole Economical thing (Also Cultural )has all been a plan of The New World Order, The New Era if you wish, which can be also connected To the coming Of The AntiChrist For Those Who Believe In The Bible … What We are Living Today could be Found In Numerous books in The 90's or before that but We were all ensnared back then in our Materialistic world of Deceit and Consuming Hallucination … I strongly oppose the Modern world and Despise the Dictators of our freedom !!! They Can Take our earthly possessions but they cannot take our Hearts and Souls !! Something For The end...
Any last words?
Thank You Very much For This Interesting Interview Anyone Interested In MESMERIC MASQUERADE SEDUCTION Album (2013) Can email ARKANE at seductionprod@hotmail.com Also Available Is The ARKANE Debut Album ENRAPTURED SERENE MESMERISM (2008) WELCOME TO THE DARK NEW AGE 2014...
some music link, for the fans:
http://www.youtube.com/watch?v=QuuvXZx9Q3E
Filip VAN MUYLEM
06/01/2014
---