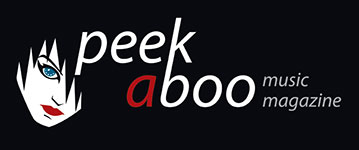 like this interview
---
HERRSCHAFT
Experience anything you can. Experience the forbidden. Make your own idea.
01/01/2014, Filip VAN MUYLEM
---
I started with the review of a single, than the cd (loved them both) and now the interview. Somehow it feels like natural thing and now that I have the answers it seemed to be a good idea to promote this band a bit more...
Herrschaft First of all, from where does the name come? And why in German, as a French band?
Zoé (guitars, bass, electro & production): The meaning of this German word, a bit dated, fits perfectly to the concept that we explore. The aspect of domination of the word fully reflect our vision of the human condition in a world pre-and post-apocalyptic. Moreover, it sounds harsh, just like our music.
Do you have to say something about my both reviews (the single and the full cd)? Both where a nice discovery for me and each one was a reason to go one step further …
Zoé: Should I make a review of your reviews ? (Laugh). I'm glad you discovered the band and liked the music. I saw you did reviews of other bands I made in my studio in Paris, like Skinsitive. Funny.
MaX : Always a pleasure. Well if you liked it, we are waiting for your reviews on our older stuff now!
Am I right to say that you all have a special nickname in the band? How did you decide on the body painting and other colorful aspects of the promo pictures?
MaX (electronica, drums): The artistic direction of "Les 12 Vertiges" was given to Heinrich Von B (from band The CNK). He redefined our graphical universe and he did a huge job. For the band pictures, he was helped by photographer and great friend of ours Quentin Caffier. If you look closely you will see that it's not body painting, it is indeed a red triangle-shaped light aimed at us during the photo-shoot. It was purposely done this way to keep the organic feeling.
You are from France, how big is the scene and how free are you to do what you want?
Zoé: The electro-metal scene in France is totally outdated.
MaX : Unfortunately, during last years a lot of bands sharing the same vision of Electro-Metal resigned, only few are left today. I do not deny French scene is getting bigger, and overall creative, but regarding the real electro-metal fusion experience there is still something missing on the scene and on public acceptance. Well, this said, that does not change our vision in any way, and for sure we will keep doing what we do, the way we do…
How was your interview at La Grosse Radio & Darkskiesradio.com? How much people listened to these interviews?
Zoé: I don't have a fucking clue man. I don't go to these spots to count people who listen to it. I go there to have good time with people. And god, they know how to make guys like us comfortable.
The title 'Les 12 vertiges' how do we have to see it? Who decided about the idea and the red line of the album?
MaX: It's pretty simple if fact, we just wanted to present twelve different experiences, strong, lost, addicted, violent but most of all: lively. Some of the songs were thoughtful, some other raw, but overall we wanted to get straight to the point and create an organic urgency of feelings. Hit the heart. In that sense "Les 12 Vertiges" is definitely more direct than our preceding albums, in its music, and in its universe. And of course, considering the approach, the album title becomes pretty self-explanatory.
'Kimi Ga Yo' is a strange title for a song, what does it mean?
Zoé: That is the name of the official Japanese anthem. The purposes and meanings of this anthem and our song were very similar in the beginning. You can hear a little piece of the official anthem lyrics too at the end of the song, sung by Jessy Christ.
What are the lyrics about in 'Seducing Dementia'?
MaX: This song is quite a depicting one. You can follow the teller in his psychotropic experience, feeling joy growing and spurting up to hysteria, but at the same time beginning to realize the frustration that he cannot express it in any way. As the song goes, the pressure of the joy, and the lack of response from his body drives frustration into pain. And you can hear the teller struggling internally to grasp back any kind of control without achieving it. I'm sure it will remind some definitely-no-fun experience to a lot of us.
What is a Mephedrontrip?
MaX: A contraction of "Mephedrone" and trip. Pretty direct, isn't it ? Well, the song is as raw and direct as the title and for us it was a perfect brutal ending of the album. For the results of this experience I let you discover the song lyrics (laugh).
Virtual medication' is a great song, but what do we have to see the title? What is the virtual medication?
MaX: It must be understood in the sense of Placebo. The chimera around using drugs as a medication.
Is it ok for you if I compared you with Rammstein, Alien Vampires, Freakangel & MM? Who else do you accept to be compared with?
MaX : well it's not for us to tell! We just try to keep our own sound and our rock'n'roll attitude in the middle of all these comparisons.
Zoé: Yeah... Well in fact you know I hate gothic stuff now. I like the rock n' roll way of life of Motley Crüe way better than looking for my home keys in a dark cave with shaved girloyz that stare at me like fishes with white lenses.
For what do the strange signs stand for on the cover, just as the half-naked body?
MaX: Naked half-body to be precise. Well the tree of life is at the center of all explanations, from the organic tree inside the chest, to the kabala tree in the background. Associate this with Latin numbers and Op-art representations to present each experience as a chapter in the booklet, and you will realize how all these organic elements just scream for life altogether.
What are the reactions so far in the press and coming from the fans? Is it hard to get concerts, airplay, reviews …? What's the battle plan and are you happy about how the things turn out, so far?
Zoé: Most of the feedback come from press reviews but the first ones, and the coverage that this album hit seem very good to us. Especially after the long period of silence we had between the previous album and this one. For the battle plan, you know, our new manager is merciless, so…
MaX : We are working both with Code666 and Dooweet for the promotion plan, so far their work has been tremendous, giving us great visibility for our comeback. Reactions from our fans are great, so yes, we are very happy with the way things turn so far. Next step being of course, to show what we've got on stage.
What was your biggest gig so far? Any big gigs coming up in 2014?
Zoé: Can't remember the biggest, man. By the way I probably can remember all the smallest. But I hope this year will be a good year of shows. We are just starting to look for gigs and tour. So guys who read, feel free to contact us for booking !
What else can we expect in 2014?
Zoé: The death of Humanity.
What is your dream for 2014 and especially for your 10th anniversary?
Zoé: We have no dream. As I just told, Humanity will die soon, so what ?
MaX: Ok, IF WE CAN before we die, we'll try to issue a special remix edition for our 10th anniversary. Overall we have had a lot of remix activity for several bands during these ten years, and as well some jewels made by friends (Tamtrum, the CNK, Psychoshop, Dexy Corp_, Temple of NemeSYS,…). It's time to gather all this and present all the work done, so stay in touch for more news in 2014, just before apocalypse.
How hard is it to stay together for 10 years and work things out as you do?
Zoé: We have our little habits now you know. I make the kitchen cleaning, MaX do the toilets and BzD is on drug watching some stupid TV show all day long with the dog. But it works. I like doing the kitchen cleaning. Way better than toilets.
MaX: I know you are having an affair with some other band, bitch. Zoé only stays because food is good.
Anything else you would like to add?
Zoé: Experience anything you can. Experience the forbidden. Make your own idea.
Première date annoncée sur 2014 en France: Orléans avec Prime Sinister ! Rendez-vous le 15 février...
First gig announced in 2014, France, Orleans with Prime Sinister! 15/02/2014... at:
37, Place du Chatelet, 45000 Orléans
https://www.facebook.com/events/278934685592676/?ref_newsfeed_story_type=regular&source=1
Here are the 2 reviews:
http://www.peek-a-boo-magazine.be/en/reviews/herrschaft-les-12-vertiges/
http://www.peek-a-boo-magazine.be/en/reviews/herrschaft-rat-in-cage/
Filip VAN MUYLEM
01/01/2014
---