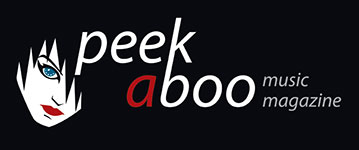 like this interview

---
MUSHY
Now, I want to do something minimal, using more the acoustic guitar (Audio interview)
26/11/2013, Philippe BLACKMARQUIS
---
Mushy (Valentina Fanigliulo), the well-known Italian cold-wave artist, was playing at the London Calling in Brussels last Thursday together with Marie Davidson and Essaie Pas. Her last album, "Breathless" is one of the best releases of 2013, in my humble opinion, with its haunting synth-wave music. Peek-a-boo took the opportunity to have a chat with Valentina.
Listen to the complete audio recording of the interview below or scroll down to read the transcript.
Part 2:
Valentina, what about the name "Mushy". Where does it come from?
For me, the name Mushy has no real meaning. I chose it for the sound of the word. At first, I used it before making music as a nickname for my artistic stuff. So, when I started playing music, it was natural for me to use the same name because it represented my art in the process of growing.

When did you discover that you were going to be a musician in your life?
I had always been involved with music as a listener, as a fan. I had a lot of friends playing when I was a teenager. But I had never thought of starting to play music.

Your parents were pretty much into music, I think?
Yes, I was lucky that they were not into pop or commercial music. So I started my musical culture with underground stuff, rock and so on. I grew up with this kind of sound. After, at 18, 19, I started making music just alone, with no influence. One day, I woke up and found a way to express myself with music.

It was instinctive...
Yes. I didn't think I wanted to make music. It just started like this.

It was the music that appears on your first cassettes? It was more experimental...
Yes. In that period I was more curious about industrial music, concrete music. I started using not synths but objects to create sounds.

What objects?
Everything I could find....

Like Einstuerzende Neubauten?
Yes. I had a connection with that. As I had no device to record my stuff, I used a video camera, then I took off the sound from the video recording. It was so primitive. I was like a child making the first steps. Later I found a way to express more, with synths, guitars, etc. But I never really studied music. It's always been a discovery, to go further all the time...

Do you know more about music theory now?
No. I know notes yes, but it comes from experience. I didn't want to have any lessons, because I knew that something could be corrupted in my feelings.

You're self-taught...
The only thing I did was to take vocal lessons because I'm using my body and if I'm not using it well, I could destroy it.

Then you released your first full length album, Faded Heart...
Yes. Before that, it was only CD-R or tapes. I had the opportunity to record on vinyl before but I thought I wasn't raady. For me, vinyl is the best that you can get, so you have to have something really good. So, for Faded Heart, I thought I wanted vinyl, no other format...

You thought the music was mature enough...
Yes, from an artistic point of view...

And at that time you knew already about Dead Can Dance, Cocteau Twins,... Do you see a link with them?
Yes, of course. I use my voice very close to Lisa Gerrard because I like powerful voices...

Lyrical voices?
Yes. I started to study the lyrical vocals..

With all the exercises with your breath?
Yes.

And now, it's "Breathless"? (laughs)
Ah ah.. Yes...I like the low voices, like Lisa Gerrard but my favorite voices are black voices like Nina Simone, Mahalia Jackson. I would like to have a voice like this...

Let's talk a bit about Breathless, your latest full length LP, which is one of the best of 2013, I think...
Thank you!

How do you describe the evolution you've been through?
After Faded Heart, I wanted to go further and improve my arrangements. I started to do this at home and then I had the help of Alessandro Adriani from Mannequin Records, who gave me a really good help for sound design. He has a very good studio. We recorded everything in his studio, he did the sound design and managed the drum machines. After, we decided to add bass guitar and electric guitar. So I had the help of Alessio Schiavi, from Avant-Garde, the new-wave band from Rome and the other guy on guitar is more involved in post-rock. Together we did a great job.

You also did one track together with Rudy Tambala, from A R Kane...
Yes! He had posted a link to my fan page on his Facebook page saying: 'check, this is good music'. I was so excited! Then we started to chat and I asked if he wanted to collaborate. He said 'Yes but only if you also work with me on my stuff afterwards'. So, right now we are working together on his stuff. I had a great time with him in London when I played with him.

Wat was his contribution on "My Life So Far"?
He put guitar and also some synths and effects. I gave him the track with only the bass line and the voice and he did all the rest.

And he also plays on the album version?
No.

So, only on the 2nd track of the single?
Si, si.

You said that your father was a big fan of progressive music. I noticed some prog aspects in the instrumental 'Always Found Always Lost', something from the 70s, Tangerine Dream, Klaus Schulze, etc...
Yes: I love them. First, I did this track as an impro. Then I wanted to work on it to make something more but at the end I thought it was very good like this because it was a direct feeling.

So you didn't change much?
No, I just took the recorded track and adapted it for mastering.

A bit the way they used to do in the 70s: it was a lot of improvisation back then...
Yeah.. And it's also the only track that was recorded like this, directly. All the other tracks were recorded as a demo and then re-recorded in the studio. That one is really the point that connects me to the past, to my past albums and I really like it.

What has the response been with regard to the album up to now?
I've had great feedback from magazines and people. When I started to play the songs live, I was really happy because people would come to me to say that they sounded better live than on the album. I don't like when the live set sounds the same as the album.

What did you change? The mix?
Yes, also the arrangements, the sounds and also the drum machine. I'm playing alone, so I cannot do everything but I like to deliver something different on stage.

And what about the cover that you did of Snow Red's Baby Tonight on the wonderful compilation '_ever Alive: A Tribute To Snowy Red'?
It was really wonderful. When Michael (Ed. note: Michael Thiel) asked me to do it, I was so happy. Of course, I knew the stuff from Snowy Red. At the beginning, I was feeling strange because it's very different from my stuff but when I listened to Baby Tonight I thought ok, it's perfect for me.

And it suits your style perfectly.
Yes, and Michael told me he was pretty sure that I was going to choose this song.

You were on the same wavelength...
Yes! We did'nt talk but we had the same idea.

Great minds think alike... (laughs)
Si, si..

Are there other Belgian artists or bands that you like?
I love de brassers so much... When I listened to the most famous tracks, I thought 'oh fuck it's really depressive'. You can feel some disease inside. The sound is new-wave, darkwave but they have something more. You can feel the sadness. Maybe it was a dark period in Belgium at that time. There was some screaming inside...

And Front 242, Neon Judgement?
I like them but they are not in the same feeling. I like them for dancing, but I prefer more emotional things.

You played several concerts in Belgium already. First...
First at the FantastiqueNight, then with Led Er Est. So, this is the 3rd time I play in Brussels and I'm really curious about tonight...

Do you think is a revival of cold-wave right now? How do you perceive it? Is it only copying or is it possible to create something new?
It's always possible to create something new but for me, it has to do with new instruments. There was a big revolution when the synthesizer arrived: the music changed completely from rock music with guitars to synths. Now you have computers and all this stuff but we haven't found the right way to change and to make something really new. In all the new stuff, you can find something from the past. I find them interesting and in some way original. The only thing I don't like in this kind of revival is that you have great bands that start the revival but after you have other bands that start to copy this revival.

Can you give me examples?
No... I don't want to give names... (laughs)... But you can hear that there is no emotion in those bands...

They're the copy of the copy...
Yeah, they change their style and their identity...

Picasso said: "Bad artists copy but very good artists steal.." You steal it and then you make it your own...
Yeah... It's like eating: you digest it and then you do something with it...

Do you sometimes have a bad feeling when you have composed a song, thinking 'oh it sounds too much like something else..'?
That happens when I play happy music. (laughs) Because it's not my way, my mood. So, it happens when my music is not depressed, not melancholic... I feel it's not my way of composing...

Are you working on new stuff right now? What can we expect?
I want to change. I want to go back, not to Faded Heart, but to my roots. With Breathless, I think I told everything I wanted to say with synths. Now, I want to do something minimal, using more the acoustic guitar, which I really love.

Do you play acoustic guitar?
Yes, but I don't know what I'm playing. So, I ask other musicians to help me. I just did some tracks. But I want to do some hard work because I have an idea with something psychedelic, and folk...

A bit like Chelsea Wolfe?
Yes, in a way, in the use of the instruments. Also a bit like Black Sabbath... Their tracks with acoustic guitars. And mix this with some voices. I will see what happens. I want to ask some musicians to help me to develop things. So I will be a sort of master of an orchestra.

Will it be a complete change or an evolution?
An evolution, of course. I'm not changing completely my music.

You cannot change yourself. It will alway be Mushy...
Yes.

You also have a side project called Phantom Love?
Yes, it started one year ago. I chose another name because the music is completely different. It's more electronic music for dancing.

Phantom Love is the title of one of your Mushy songs...
Yes, that was the way of connection. It's not another alter ego, it's also me, improving myself by doing something I never did. It's electronic music for dancing with a strong kick. My influence here comes from techno, kraut music... When I had some tracks, it was strange because I played the tracks just to see the reactions. At the beginning, I didn't say it was me. When the first EP came out, I didn't want to tell I was behind it. I wanted to see the reactions of the people.

And the response was good? I like the song "Lotus"...
Thank you. Yes, it was good! Now I'm even starting to do concerts. I had the first one in Rome at the end of October and the second one will be on Saturday in Milan. I like the fact that the audience is completely different from Mushy. And also the organizers are different.

It's another scene.
I like to have another view. Here, I'm more involved with techno, electro nights, no longer new-wave nights.

Let's talk about the split vinyl you did on Weyrd Son Records with Meddicine. It was already a tape originally?
Yes, from 666 Records, the label from Meddicine. We knew each other only via Facebook since the witch-house period. We were in the same label for a tape at ClanDestine. We started a friendship. She said: I want to have a split record with you because I like your music. It will work because you have feelings that I have. She is more into industrial music in a way but I love it because it's also one of my influences. I am more soft, and she brings some strength, so it's a great split to have the two of us together.

So, when can we expect your next production?
It depends how much time I have for recording. Here, I have to organize, like a little factory. I'd love to start a band to play my stuff. It's important to have a good connection with other artists. They have to play my stuff even if I give them all freedom to play how they want. The guys must have the same idea's about what I want and where I want to go because it's not a joke, I really want to achieve something!

OK: we're looking forward to this! Thanks a lot, Valentina!
Thank you very much.
A big thank you to Michael Thiel (Weyrd Son Records) and Elzo Durt (Teenage Menopause Records) for the concert accreditation. Live pictures by Xavier Marquis.

Check our reviews of
- the Mushy/Meddicine split album.
- Mushy's latest album: "Breathless".
Check the complete photoshoot of the concert by Xavier Marquis.
Philippe BLACKMARQUIS
26/11/2013
---